Culture, Food and Traditions in Bangladesh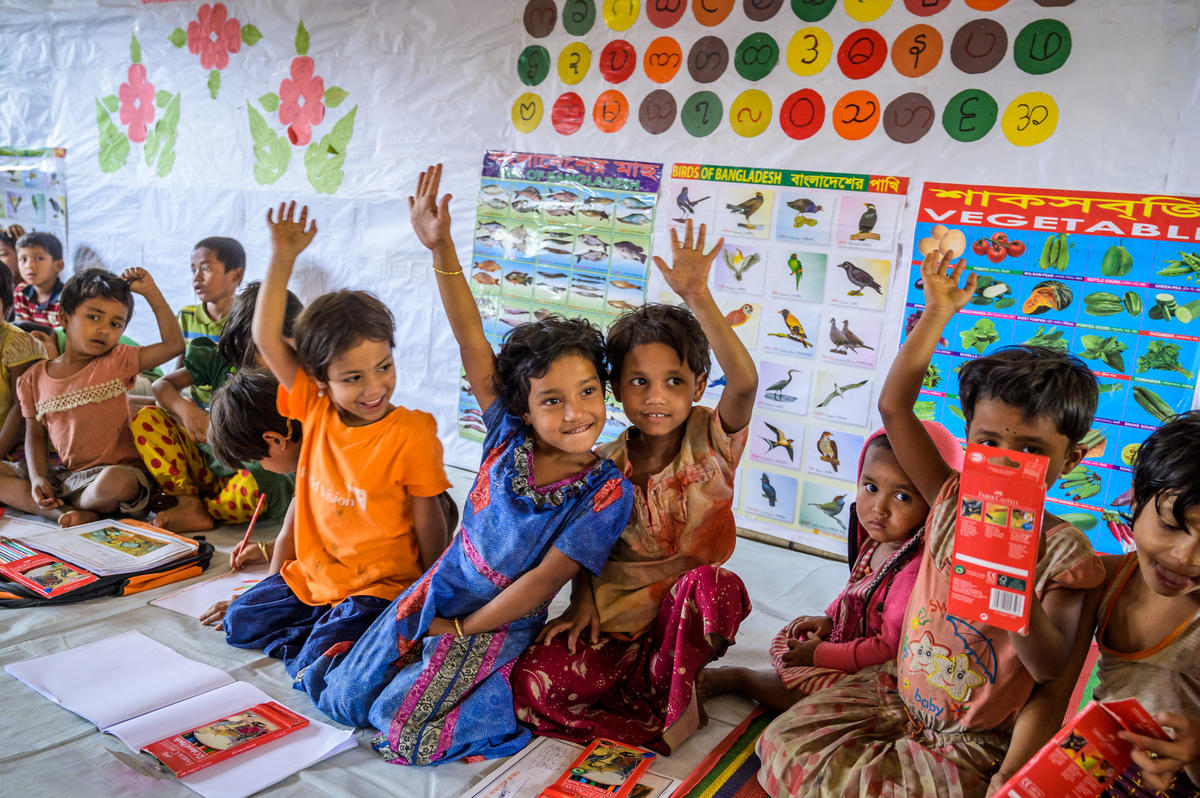 Demographics:
Bangladesh consists of 2.1% of the world's population, amounting up to 164.8 million people. 98% of the population are ethnic Bengalis, and other ethnic tribes make up the other 2%. Bangladesh is considered a developing economy but has experienced fast economic growth this decade — from 2010 to 2017 annual growth never dipped below 5.5%. Also, on the bright side, infant mortality is falling in Bangladesh — down from 45.67 deaths per 1000 live births in 2014 to 31.7 in 2018, ranking the country 61st in the world for infant mortality.
Greetings:
In Bangladesh, greetings vary depending on the individuals' age differences. While individuals of the opposite gender rarely shake hands with each other, men of equal status shake hands in a quiet and soft manner, showing respect by placing the hand over the heart after.
Traditional Costumes: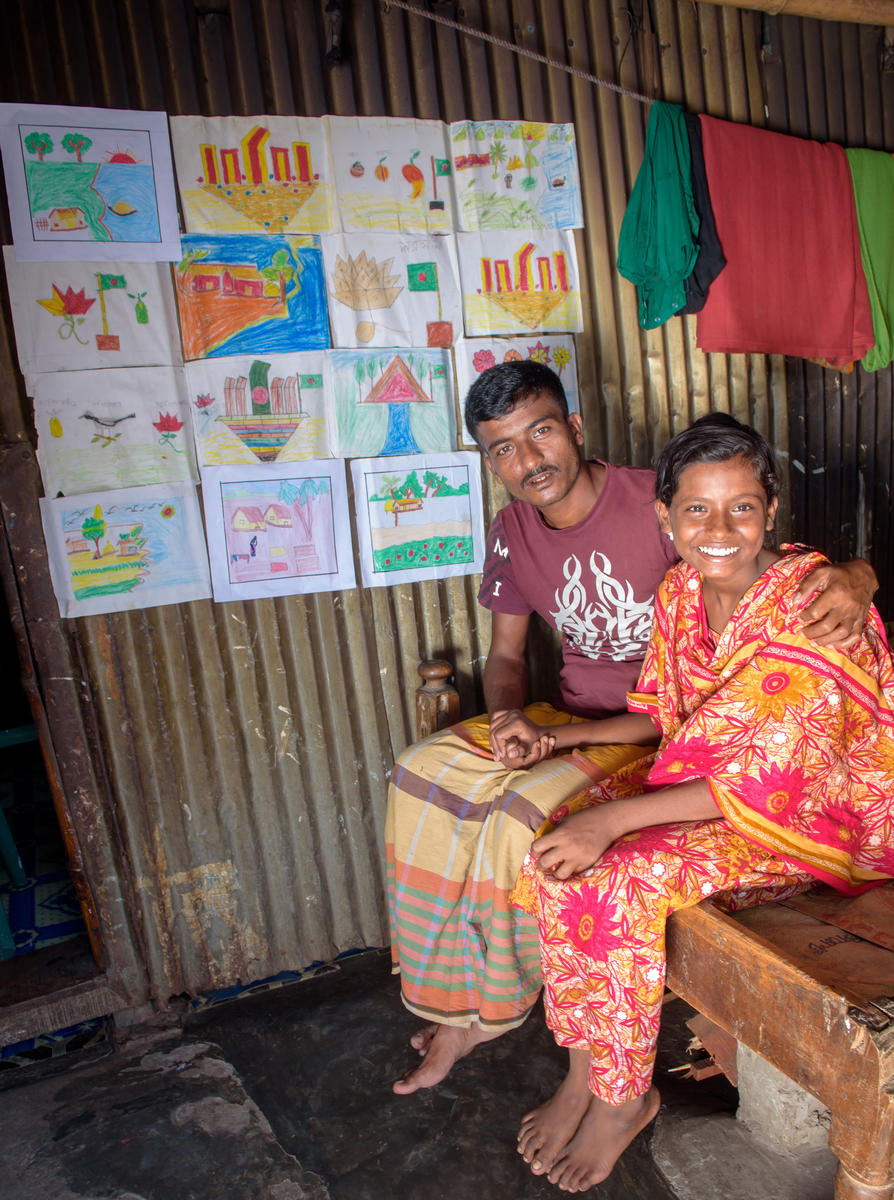 Shayamoli, in a Salwar Kameez and her father in a lungi
 
When it comes to their traditional costumes, men traditionally wear a "Panjabi" or a lungi which is casual wear common in rural areas. Women tend to don the "Sari" while girls wear an outfit known as "Salwar Kameez". These outfits are especially worn during on cultural and religious occasions.
Days of Celebrations:
Locals celebrate a variety of cultural and religious events. However, a few noteworthy days of celebrations are Pohela Boishakh and the National Language Movement day. Pohela Boishakh is the country's official New Year's Day and marks the first day of the Bengali Calendar. It is usually celebrated on 14 April. On the other hand, National Language Movement Day, celebrated on 21 February, is commemorated to remember the sacrifices that were made by the locals to protect Bengali as the national language.
Local Food: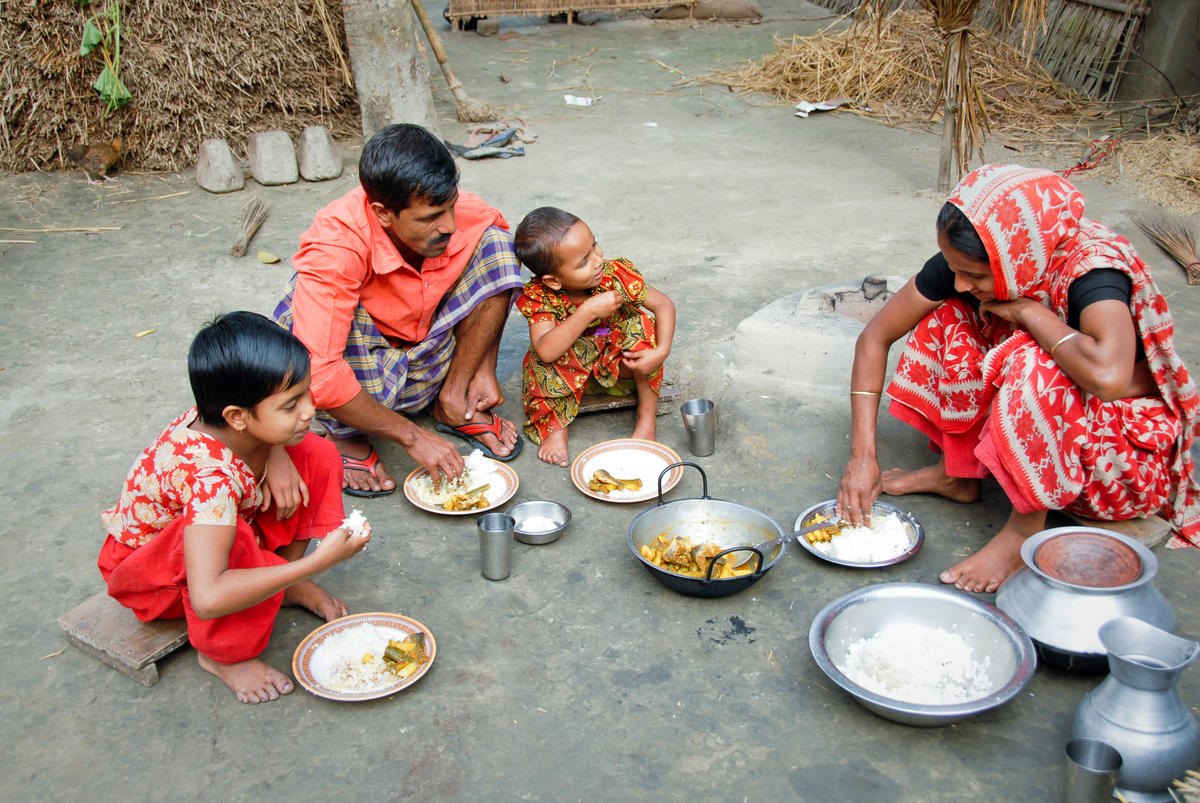 Munni (far left), a World Vision beneficiary, and her family eating
The country is a melting pot of traditional food, with dishes that are special to the local customs and festivals as well as seasonal dishes. For example, during their New Year celebration, locals eat Pantha bhaat (overnight fermented rice) with bhortas (a mash made with vegetables or fish that has been combined with onions, chilli and mustard oil).
However, a local staple usually simply consists of rice served with various dishes like fish, eggs, curries and lentil soup, among others. The country's national fish is Hilsa, also known as Ilish, is also considered a must-have dish for many on special occasions.
Fast Facts about Bangladesh:
Bangladesh is the home to the world's largest mangrove forests - The Sundarbans. The name can be literally translated as "beautiful forest" in the Bengali language.
Bangladesh is a very warm South Asian country, however, the lowest recorded temperature was noted to be 2.8 degrees Celsius in 2018. 
World Vision is reaching one new person with clean water every 10 seconds and reaches three more schools every day with clean water.
 
Learn about the culture, food and traditions of other countries we are supporting
Bangladesh | Cambodia | China | Ethiopia | Indonesia | Jerusalem-West Bank | Mongolia | Myanmar | Nepal | Philippines | Sri Lanka | Thailand | Vietnam | Zambia