Myanmar-Bangladesh: Protect Rohingya Child Refugees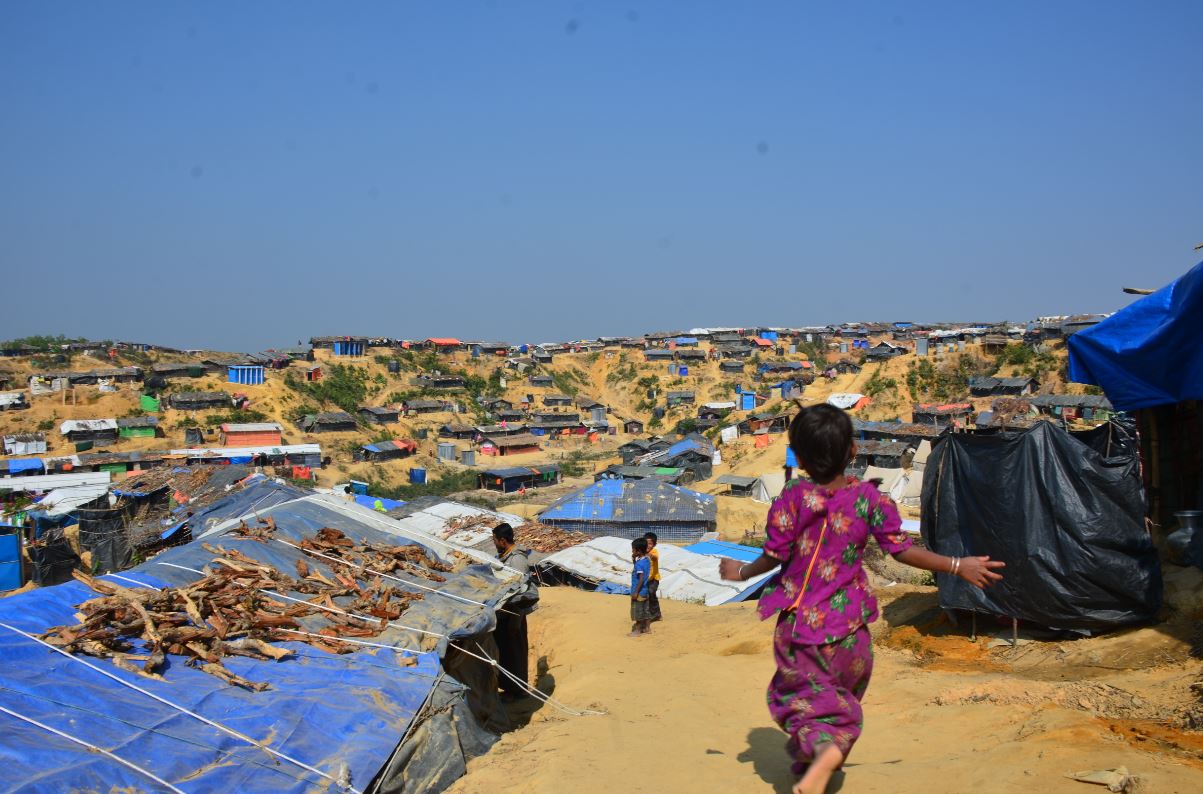 The Rohingya refugees living in the world's largest refugee camp in southern Bangladesh are fearful of the COVID-19 pandemic. Parents want to keep their children safe from the deadly virus. But extreme overpopulation in the camp's small area, inadequate knowledge about prevention and limited access to medical facilities make the refugees especially vulnerable to the virus.
"Everyone is being asked not to leave their homes, and not to go to crowded places. But we have to visit food distribution points, and that is where many people gather. We also don't have enough space to keep a distance from one another in the camp, so it is now a big challenge for us to stay safe," says Hasina, 30, a mother of three children.
The population density in the camps is up to 40,000 people per square kilometre, making social distancing almost impossible. As of 27 May, 26 cases of COVID-19 have been confirmed in the camps as testing continues.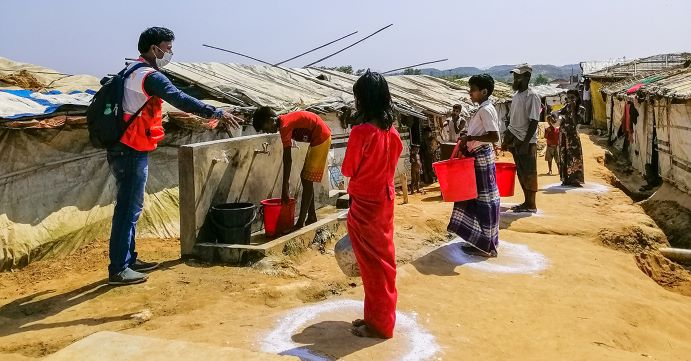 The pandemic poses problems that even daunt veteran humanitarian workers working in the camps. How can we distribute food rations to thousands of families safely? What if monsoon rains damage handwashing stations and contaminate water sources? What can be done to stem growing domestic violence among stressed refugee couples confined to cramped quarters? How to keep out-of-class children safe from exploitation and abuse? The list goes on.
World Vision staff are working hard on the ground, working through all the potential risks and problems, helping Rohingya refugees to protect themselves from the virus. They are disseminating prevention messaging, screening for COVID-19 cases and providing infection control at the camps. To reinforce hygiene practices, they are also distributing soap and setting up handwashing stations within the camp.
No one can predict how COVID-19 will unfold in the camps in the coming weeks and months. But the World Vision team is up for the challenge. Our team on the ground is revising scenario plans daily, nimbly mitigating the myriad of logistical problems complicated by COVID-19. Our compassion for the stateless Rohingya keeps us going, and we pray that you will join us in this fight to protect the most vulnerable like them.
Click here to help Rohingya Refugees to face the pandemic.
--------------------------------------------------------------------------------------------------------------------------------------------------------
Get to Know: Rohingya Refugees
Who are they?
The Rohingya people are a Muslim ethnic minority group, with a population of one-million living in the Rakhine State, Myanmar. Unfortunately, the government failed to recognise them as an ethic group. Therefore, considered 'stateless', the Rohingyas were under threat without legal recourse.
Why did they flee their home?
Armed conflict between minority groups and government military forces has gone for decades in Myanmar. Extreme violence and terror broke in 2017 which forced families to flee to Bangladesh seeking refuge.
What are their living conditions?
The refugee camp is unfavourably located where seasonal monsoon rains and cyclones are a continuous threat. Flooding, landslides, collapsed or damaged shelters, contaminated water
overflowing latrines and widespread disease are often what the refugees have to battle with.
Refugees suffer from psychosocial conditions and physical illnesses that spread easily in overcrowded, unhygienic camps. Diarrhoea, acute jaundice syndrome and respiratory infections are common in both adults and children.
A gruesome reality of refugees living conditions is sexual violence. 65% of the women and girl population in the refugee camps are a witness or survivor of sexual violence. Hundreds of incidents are reported weekly. The women and girls are in need of support for mental health as well as physical health and security.
How are Rohingya child refugees affected?
Lack of protection: Due to extreme poverty, children face unsafe conditions as child labourers, most often gathering firewood or in domestic service.
Vulnerable to diseases: Children below the age of 5 are susceptible to water-borne and respiratory diseases.
Malnutrition: 37% of children between 6-59 months suffer from chronic malnutrition or stunting (under height for the age and may never catch up).
Gender-based violence: Many girls suffer from neglect, abuse, exploitation, or sexual violence and resort to negative methods of coping including child labour and child marriage.
Lack of schooling: Refugees are not allowed to enroll in local education facilities. About 98% of children and adolescents aged between 15-24 are not accessing education.
How World Vision has chosen to stand with the refugees
Child Protection: Strengthening child protection systems in communities and families. Campaigning together with children, parents, faith and government leaders to end violence against children
Education: Providing informal education with protection activities to children aged between 3 to 14 at learning centres. Life skills training and basic reading/math and vocational skills for adolescents aged between 15 to 18
Gender-based violence prevention: Training families, including men and boys to identify and prevent gender-based violence and report violations. Providing vocational training for women to empower themselves economically and socially
Water, Sanitation, Hygiene: Installation of deep wells, latrines, hand-washing stations and bathing cubicles to benefit more than 200,000 refugees.
Food security, livelihoods and cash: Distributing food to nearly 20,000 households every month together with World Food Programme. Supplying fresh-food vouchers to pregnant women and breastfeeding mothers and supporting families to grow vegetables
Nutrition: Preventing and treating malnutrition through supplementary feeding that benefits over 16,000 children every month. Community kitchens and learning centres for women to cook nutritious food for their families
How World Vision is helping the refugees to face COVID-19
Raising Awareness of good hygiene practices and nutrition needs to keep refugees' physical health, immunity and nutrition levels high.
Equipping front-line staff and volunteers with personal protective equipment
Providing COVID-19 screening and infection control at nutrition centres
Click here to make a pledge that helps to create lasting impacts in the Rohingya Refugee Camp.