The Survival Fund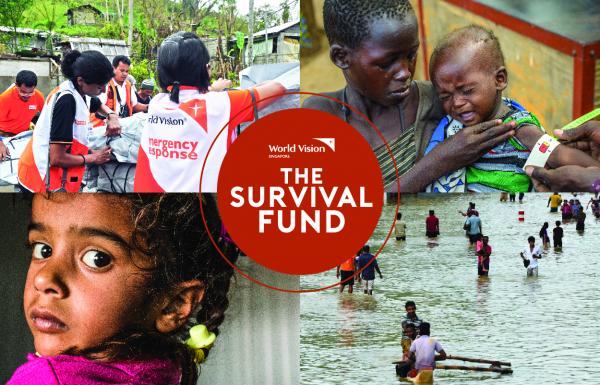 Donate to Disaster Response | World Vision Singapore's The Survival Fund
The Survival Fund represents World Vision Singapore's commitment to ensuring the survival of children in a fast-changing world fraught with more and more disasters, especially as the climate crisis escalates. It helps child survivors and their families in the aftermath of disasters, as well as communities that are exceptionally prone to disasters before they strike. 
When disaster strikes, we are on the ground, quickly providing immediate support – and we stay to help children, families, and communities rebuild for the future.
BEFORE – Growing Resilience:


Before disasters happen, we work with communities to fight climate change to combat natural disasters as well as develop disaster preparedness plans that map out local threats and identify how to save lives and protect property – increasing families' readiness and resilience.
 

DURING – Providing Relief:


Within 24 to 72 hours of the disaster, our global rapid response team is on the ground, making assessments and beginning to provide emergency relief. Within 72 hours of the disaster, our pre-positioned relief supplies are loaded up, transported, and distributed from local and international warehouses.
 

AFTER – Facilitating Recovery:


After the initial response, we work to help families stabilise in the long-term by helping to establish permanent housing, sustainable clean water, food security, access to quality education and healthcare, and recovery loans to rebuild livelihoods and restore children's sense of security
As a supporter of The Survival Fund, you stand in the gap for children before, during, and after disasters. You are the first in and the last out. You save more lives, build stronger communities, and provide hope to affected families.
Donate to The Survival Fund today to save lives. Your gift will go towards supporting our ongoing responses:
Afghanistan Earthquake Emergency Response [Relief]
Abaca Value Chain Development [Resilience] [Fight Climate Change]
Donate to World Vision Singapore's disaster response fund to save lives.
Monthly gifts help us to reach out to disaster-vulnerable communities worldwide on a more regular basis. Donate monthly to allow us to help more communities before disasters strike, and on a more regular basis for greater impact.
My Giving
My Giving is currently empty