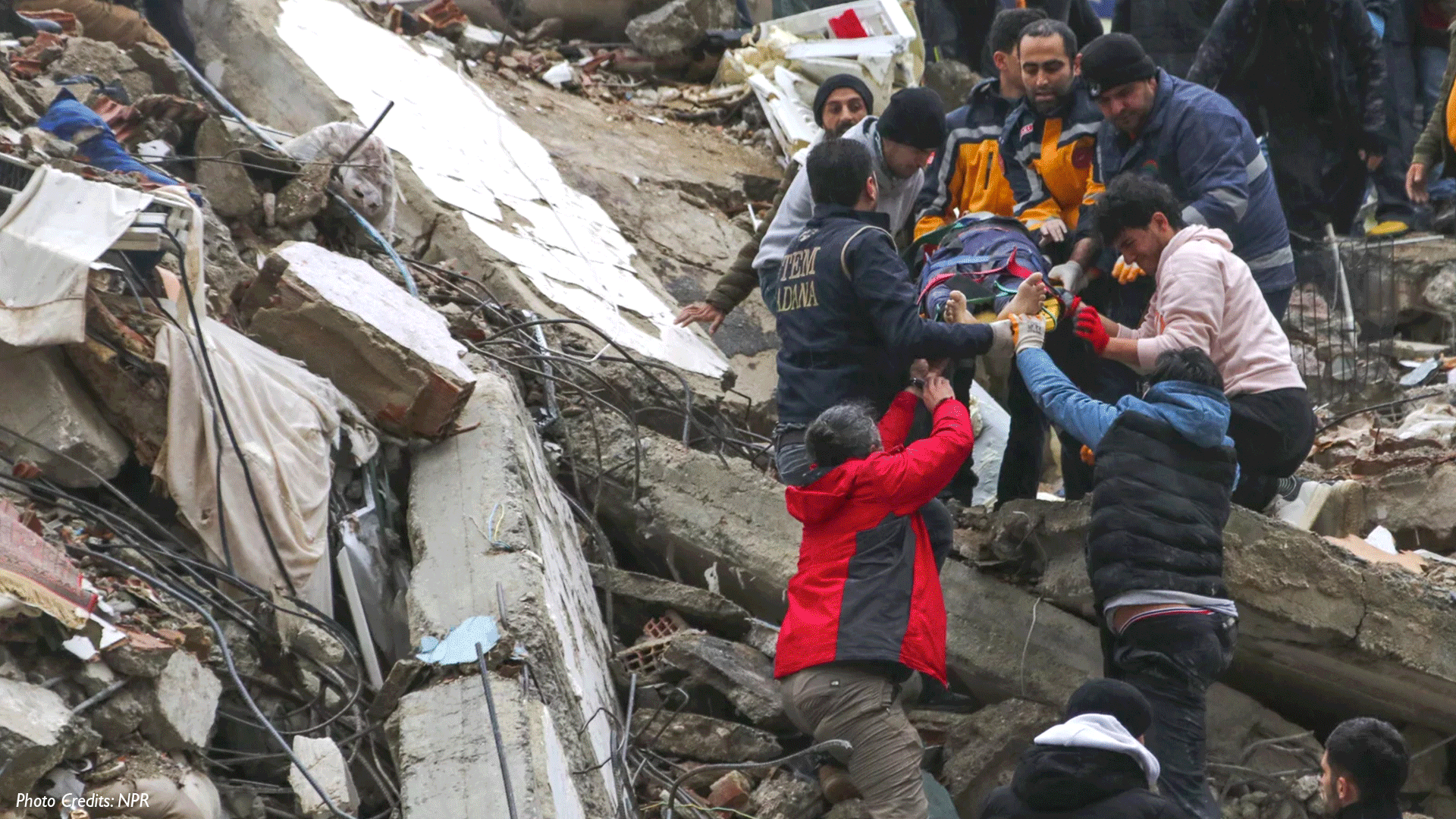 War, political instability, and natural disasters like storms and COVID-19 upend lives.  
The world's disasters are increasing, exacerbated by global crises.
 
---
A 7.8 magnitude earthquake hit a wide area in south-eastern Türkiye and Northern Syria in the early hours of Monday (6 February 2023) morning, killing thousands of people and trapping many others. The number of casualties is rising by the minute, with freezing winter weather adding to the plight of the thousands left injured or homeless and hampering efforts to find survivors. Several medical facilities have been partially or completely damaged.
"While we were sleeping, the house started shaking; I immediately ran to my children; I did not know which one to carry; I could not reach the door, the distance was very far, and a minute of time was like years of helplessness and fear, and the fear continues with the aftershocks. Most of the people are on the streets in the snow and rain, with many destroyed buildings, many victims, and many still trapped under the rubble."
World Vision is on the ground providing heaters, fuel, emergency relief items such as food, water, shelter and winterisation items as well as medical supplies to several health facilities in response to the needs of the survivors of the earthquake. World Vision Singapore has also launched a public fundraising appeal to support the immediate needs of the children and families impacted by the catastrophic earthquake. 
If you and/or your organisation would like to crowdfund for World Vision's Türkiye and Syria Earthquake Emergency Response, please contact us at enquiries@worldvision.org.sg or 6922 0100.
 
---

so children do not need to fear nature
Plant abaca trees and create eco-friendly livelihoods so families can fight climate change and disasters

so children like Ahmed do not need to go to bed hungry
Give food, therapeutic meals, clean water, and life-saving medical care amidst drought and famine as children fight for their lives