World Vision Singapore Launches Public Fundraising Appeal to provide Sudan refugees in South Sudan with relief items
10 July 2023 - World Vision Singapore has launched a public fundraising appeal to support the escalating needs for immediate relief items including food, clean water, child-friendly spaces and temporary shelters for the children and families that had to flee Sudan into South Sudan due to the conflict that broke out on 15 April 2023 between the Sudanese National Army and the Rapid Support Force paramilitary group in the capital of Khartoum. The crisis has spread beyond Khartoum to Darfur, west of Sudan, where hundreds of people are reported to have been killed.
This crisis in Sudan, the newest large-scale conflict in the region, is now into its third month and has led to more than two million people being internally displaced. More than 600,000 have fled to neighboring countries including South Sudan, Chad, Ethiopia and Egypt. The failure of ceasefires to hold indicates that this conflict could go on for some time and innocent civilians will suffer the most.
This conflict could not have broken out at a worse time. People across the region and in the refugee- hosting nations are already facing major challenges with an ongoing and devastating drought, that is pushing millions to the edge of famine. Tens of thousands of children are literally at death's door, many of them are among the 1.5 million people inside Sudan who face starvation. Malnutrition was already widespread, with more than three million children malnourished and reliant on humanitarian food aid.
Sudan is experiencing the highest humanitarian caseload in over a decade with nearly 16 million people, half of them children, in need of lifesaving humanitarian assistance.
"The escalating violence throughout Sudan is very worrying and is putting the lives of innocent civilians, particularly women and children, at risk. This violence has shattered families and communities. With our community partners, we have been able to distribute food to over 150,000 people in several regions since mid-May. The timely delivery of aid is a lifeline for vulnerable children and families caught in this crisis. The more the violence spreads, the more challenging and riskier the situation becomes for communities as well as for humanitarian responders. We call on all parties to the conflict to end the violence and ensure civilians are protected, and provide sustained access so life-saving aid can reach those who need it most," shared Emmanuel Isch, World Vision Sudan National Director.
World Vision is committed to looking into and responding to the needs of displaced people to help them find hope away from home. South Sudan is receiving one of the highest number of refugees from Sudan. World Vision South Sudan is on the ground and has been working with other agencies to provide humanitarian relief to the refugees, South Sudanese returnees, and host communities. Our emergency interventions are focused on providing food, shelter, livelihood, water, sanitation and hygiene, nutrition, and protection, especially for children, mothers, and people with disabilities.
"South Sudan has already been experiencing a hunger crisis prior to the Sudan conflict. The influx of a high number of refugees and returnees into South Sudan is expected to exacerbate the vulnerabilities. The needs are immense. We are thus appealing for donations to address the most critical and urgent needs of food, health, sanitation, water and emergency shelters for the displaced," said Benjamin Tan, CEO of World Vision International Singapore branch.
People in Singapore can visit World Vision Singapore website or Giving.SG website to support our fundraising appeal:
World Vision is actively scaling up our response in accordance with the needs identified. Your donation will go towards meeting the immediate needs of the children and families impacted by the conflict crisis:
• $50 can provide 560L of safe drinking water to affected refugees
• $270 can provide 4 multi-purpose cash vouchers (e.g. for food) to affected refugees
• $540 can provide 6 emergency kits (e.g. hygiene, clothing, bedding) for survivors
• $1000 can provide 2 emergency shelters to vulnerable refugees
• $1500 can establish a child-friendly space where children can receive psychosocial support
World Vision's Humanitarian Relief Work in South Sudan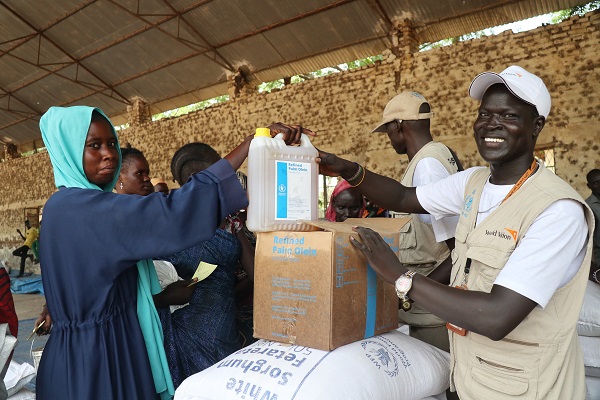 World Vision has distributed rice, cooking oil and emergency nutrition supplements for refugees in Malakal, in the north-east of South Sudan, near the border with Sudan. World Vision has also played a key role in setting up the refugee camp infrastructure in this area. This site had no water then. Refugees and returnees had to use the Nile river for sanitation, washing and collecting water. World Vision connected the camp to the town's water system so that the water from the Nile can be purified before consumption. World Vision has completed construction of four tap-stand concrete platforms, each with six self-closed taps in Malakal to provide the refugees with access to clean water.
Read more on a refugee story in South Sudan: For Fatha and 80,000 others fleeing Sudan, the place called home is no more.