Updates on Myanmar's Situation
June 2022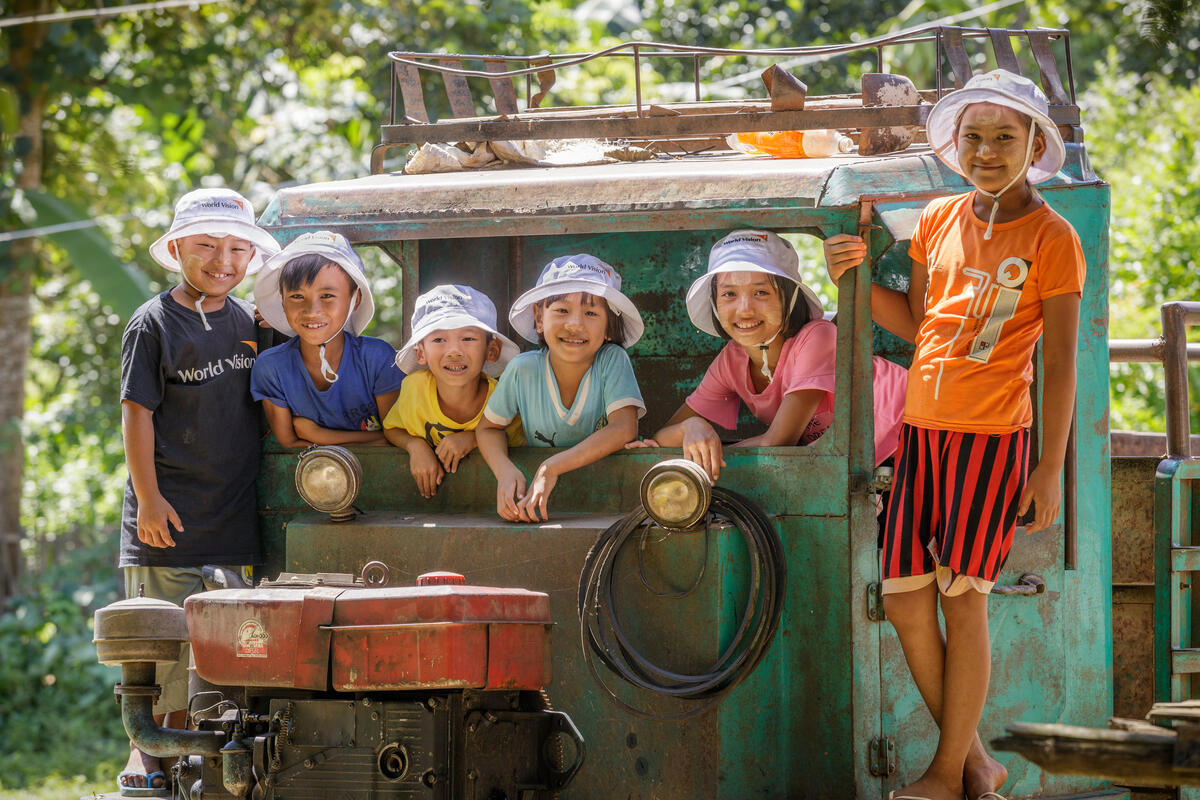 World Vision is grateful for your continued support, which enables us to continue serving Myanmar's most vulnerable children during this challenging time. Their continued safety and well-being are our utmost priority.
Children in Myanmar continue to face unprecedented needs, which are exacerbated by national political, security, and humanitarian crises that limit access to services. The conflict has worsened in the northwest regions of Sagaing, Magway, and Chin in recent weeks resulting in an escalation in the displacement of children and their families. For the first time, the number of displaced people has surpassed one million, with 694,300 people displaced by conflict and instability since 1 February 2021.
The escalation of fighting, with frequent indiscriminate attacks, landmines and explosive remnants of war, has made civilians' daily life a misery. Over 12,700 civilian properties, including houses, churches, monasteries, and schools, are estimated to have been destroyed during the fighting, and those affected are in desperate need of humanitarian assistance. In addition to the constant risk and fear they face on a daily basis, thousands of people across the country are in distress as the price of essential commodities such as food and fuel rises, owing in part to the conflict in Ukraine, which has impacted global supplies.
Thirty-three World Vision's Area Programmes, which directly support sponsored children and their communities, remain functioning with limitations imposed by the current situation. Every week, our staff monitor the well-being of 67,395 children, gathering information through phone calls and/or direct communication with our community volunteers.
The situation in Taikkyi remains stable and World Vision Myanmar (WVM) are able to continue normal operations. The team partners with local volunteers to manage child monitoring, support the most vulnerable families with food items and continue to support income generation activities for families. However, the team is also facing limitations in resuming certain programme activities due to the country's financial limitations.
World Vision is on the ground providing the most vulnerable families with life-saving relief assistance that includes food rations, mosquito nets, micronutrient powder, fortified blended food (FBF) and supplementary foods, education kits, home-schooling resources, reading clubs, hygiene kits, newborn kits, and clean delivery kits for pregnant mothers. Additionally, World Vision is providing child protection and child rights training, adolescent health and reproductive health awareness and life skills training. Through these interventions, World Vision is ensuring that most vulnerable families have basic nutrition, good health, and the ability to survive in the community and protect their rights and dignity.
As part of our livelihood assistance programme, families in various areas have received cash support, livestock, stock feed, organic fertilizers and vegetable seeds. In areas where World Vision operates, people have received COVID-19 awareness, first aid kits and vital medical supplies, such as oximeters, thermometers, test kits, masks, gloves, soaps and hand sanitisers.
In many villages in the Rakhine and Kachin States, WVM has provided vocational training and cash grants for business start-ups as livelihood assistance to families.
If you have exchanged correspondence with your sponsored child in Myanmar around this time of the year, we would like to inform you that local postal services remain disrupted, along with healthcare, transportation, education and other public services. Additionally, due to the current political crisis and continued COVID-19 restrictions, sponsor communications (sponsor letters, e-letters and child reply letters), will be delayed.
With your understanding and strong support from sponsors like you, World Vision has been able to operate in Myanmar, helping the most vulnerable children and communities for almost 30 years. Our work, implemented by almost 700 employees, has impacted the lives of 1.3 million people including 558,767 children through over 50 development and humanitarian programmes. Join us in our prayers for a peaceful resolution in Myanmar so that children will be able to enjoy life in all its fullness.
Click here to extend more help to the most vulnerable children in Myanmar.