Twice displaced, Nikolay and his mother take refuge in Romania
Twice they've run from war. Twice they've had to leave their home. But for a mother and her son, the pain is still the same.  
Elena and her son, Nikolay, escaped Ukraine two weeks ago. A university dorm-turned shelter has provided them with a safe place to stay in Bucharest, Romania. Though Nikolay is only eight years old, this is the second time Elena has had to take him away from conflict. 
In 2014, the family fled to the capital city of Kyiv to escape the bombardments happening in their home city Donetsk. Nikolay was only 10 months old. The family sheltered in Kyiv for a month, before eventually moving to Odesa.  
When the conflict began again in February, Elena immediately remembered the fear and uncertainty she felt when they last fled their home. But this time is different. The conflict is further into Ukraine than it was before. Instead of going to Kyiv, their only option was to go across the border. Elena's husband and father remained in Odesa, sending her on ahead to Romania to protect Nikolay.  
"It's like a nightmare. During the first war in 2014 you had the possibility to go to other cities in Ukraine, but now there aren't cities where we can go to be safe," Elena says.  
In addition to this, Nikolay is no longer a baby. Now eight years old, her son has an understanding of what is going on back home and worries about his father and the state of Odesa. Elena believes it is important for Nikolay to understand. She tries to explain the conflict to him, in hopes that he will know the truth about what they are going through.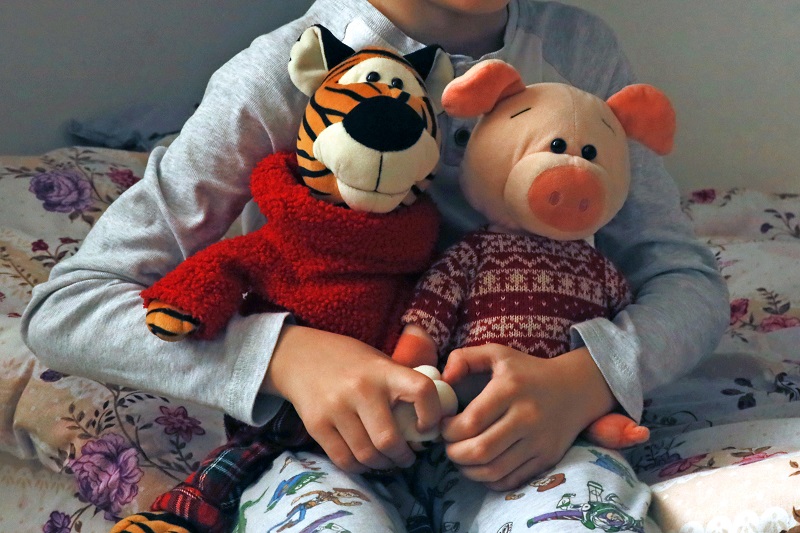 With his stuffed tiger and pig at his side, the only toys he was able to bring from home, Nikolay keeps busy with art and online school. His teacher is in Bulgaria, so his class is able to continue meeting virtually. When class is over, Nikolay likes to draw. 
"I really like drawing. It makes me happy. I'm drawing the heroes from computer games, films and cartoons," he says.  
Elena is eager to return home to Odesa and is strengthened by the knowledge that at least for now, their home is still standing. She is insistent on remaining positive in spite of everything that has happened and wants the world to remember the importance of hope and kindness.  
"You can't lose hope. If we survived the war in Donetsk that means we can do it again. We have to have hope and we can't lose our kindness. We must help other people and not let this experience harden us," Elena explains.  
Over the past two weeks World Vision has delivered $100,000 worth of food, hygiene items, telecommunications equipment and baby supplies to RomExpo, an overflow shelter in Bucharest that although not hosting refugees yet, is providing about 600 people a day with essential supplies.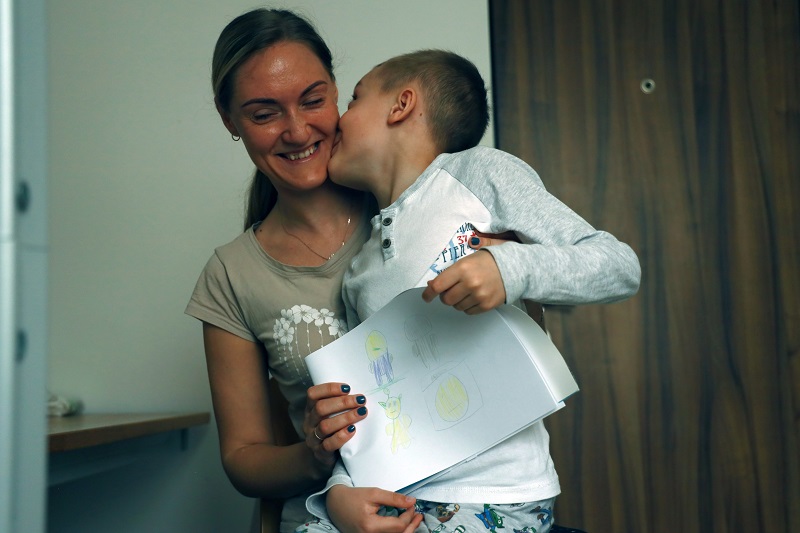 How can I help children and families made vulnerable by this crisis?  
Donate

to help children and families forcibly displaced by the crisis in Ukraine.  
Pray for peace to be restored quickly and that children and families will be protected from harm.
Advocate add your voice to call for peace in Ukraine and protection for affected children and their families.