Sudan crisis: "I returned to South Sudan with nothing…"
Home is where our heart is. But where is home? 
The crisis in Sudan is driving South Sudanese refugees living in the country to return home, only to find themselves lost in troubled borders with no homes to return to and constantly living in fear of the unknowns.
When we met, Ajang, 35, she was struggling bare-handed to set up a makeshift tent in the transit camp in Renk, a county in South Sudan's Upper Nile region where most of the arrivals – Sudanese refugees and South Sudanese returnees – enter through one of South Sudan's border points. She and her five children walked for almost 20 days to escape the escalating conflict in Sudan. They were South Sudanese refugees living in Sudan, and the conflict forced them to return to South Sudan. Sadly, for thousands of South Sudanese returnees like them, it meant returning home with nothing.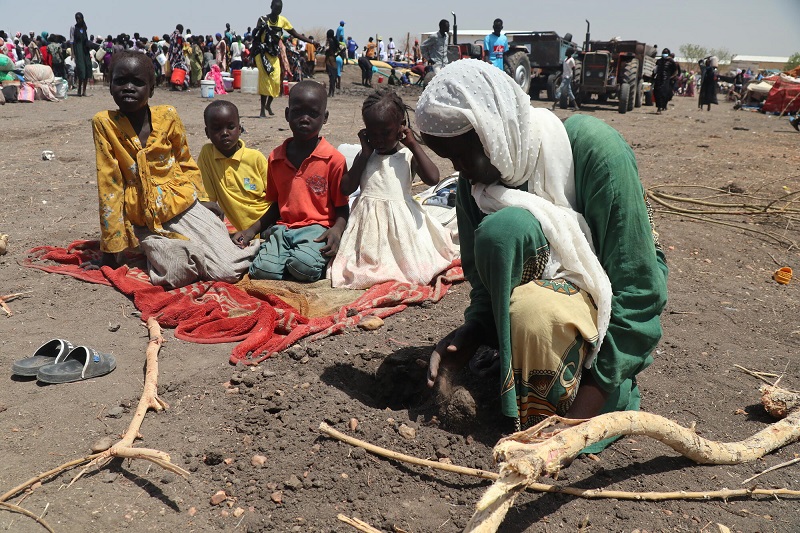 Ajang and her children, as she starts to put up their makeshift tent. 
Ajang said the long walk back to South Sudan's border was horrible. They were tired and hungry. Their feet were sore and blistered.
"Ameok, my 10-year-old daughter, and I took turns carrying his younger sibling as we walked without knowing where we were going and only hoping to reach a safe place," she recalls.
On arrival at the border, Ajang and her children were transported to the Renk transit center, where thousands of mothers were already staying.
"For two days, we slept in the open field. There were mosquitoes at night. Then, during the day, the heat was too much to bear," she says, adding that she had to go to the nearby bush to collect wood she used to construct a makeshift shelter.
"Yes, there is food, but it's not enough. Daily eating of boiled sorghum and pulses (beans) is unhealthy for children. As a result, many children are sick with diarrhea, and the water is not so clean as well, causing us to have colds. The dust gives us cough too," she adds.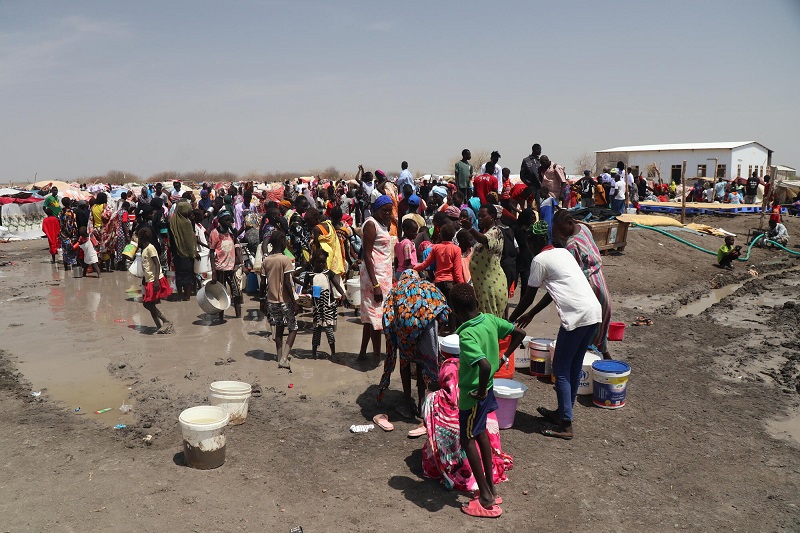 Both Sudanese refugees and South Sudanese returnees fetch water from a nearby water source.
To Ajang and many other returnees, returning to South Sudan was the most challenging decision they had to make, considering the ongoing hunger crisis and ongoing tensions in some parts of the country. 
"I sold my home in South Sudan when we fled to Sudan for safety, and now, we're coming back with nothing. I am unsure of my children's future and where to settle even if we are transported back home. Why should our life be this difficult," she laments.
Ajang and her family left South Sudan to escape from the country's civil war that displaced over two million people.
"Since the 2013 South Sudan conflict, Sudan became our home. We never thought we'd experience another war and be uprooted from our homes again. We were living normal lives away from violence. Saturdays were usually a happy day for my children, where I cooked their favorite meals. Sadly, that Saturday, 15 April, shocked us with the sounds of gun fires, bomb explosions, and screaming people. so many dead bodies on the streets," Ajang shakes her head as she narrates.
Ajang's family was originally from Warrap state. It will take them a week to travel by land onboard public vehicles should they decide to return to Warrap from Renk. The travel is not only costly, but also unsafe.
"Going home (to Warrap) seems so impossible. I do not have the money to spend, and I do not know if we'll survive the travel, especially when it starts raining in this place. I am losing my mind. We need help."
According to the United Nation's humanitarian coordination agency, UNOCHA, over 50,000 arrivals from Sudan had been recorded as of 11 May.  Most of the arrivals enter through Renk, and the majority are South Sudanese returnees.
World Vision is on the ground in South Sudan and has been working with other agencies to assess the needs of the refugees, South Sudanese returnees, and host communities. Our emergency interventions focus on providing food, shelter, livelihood, water, sanitation and hygiene, nutrition, and protection, especially for children, mothers, and people with disabilities.