Planting roots of change | Fight Climate Change Impact Stories
In conversation with Allan Masbay, one of the farmer partners of World Vision in North Cotabato, Kidapawan City. 
Kidapawan city in the North Cotabato province is situated at the foot of the highest peak in the Philippines – the known Mount Apo. It is also known as the city of fruits and highland springs. These communities are mostly composed of the indigenous people who were considered the early farmers in the area. 
Abaca farming is the dominant livelihood generating income for indigenous communities like us.  However, in the last 10 years, Abaca farming as well the farmers who did it dwindled due to the use of adulterated abaca planting materials resulting in crop losses. Sourcing reliable local Abaca suppliers have been a challenge.
During one of the meetings with World Vision, we recommended reviving Abaca farming because we find it useful to preserve our forest areas and at the same time provide income to families. When World Vision distributed 10,000 hills of tissue-cultured Abaca, farmers in our community started planting Abaca and we have gained a positive response. 
 
In 2019, World Vision and its partner government agency conducted a training where we taught the processes of making use of Abaca to produce by-products like fashionable hats, slippers, placemats, and other marketable yet practical items. It gives us inspiration and encouragement that Abaca is a promising commodity that needs our support to generate income for our farming communities.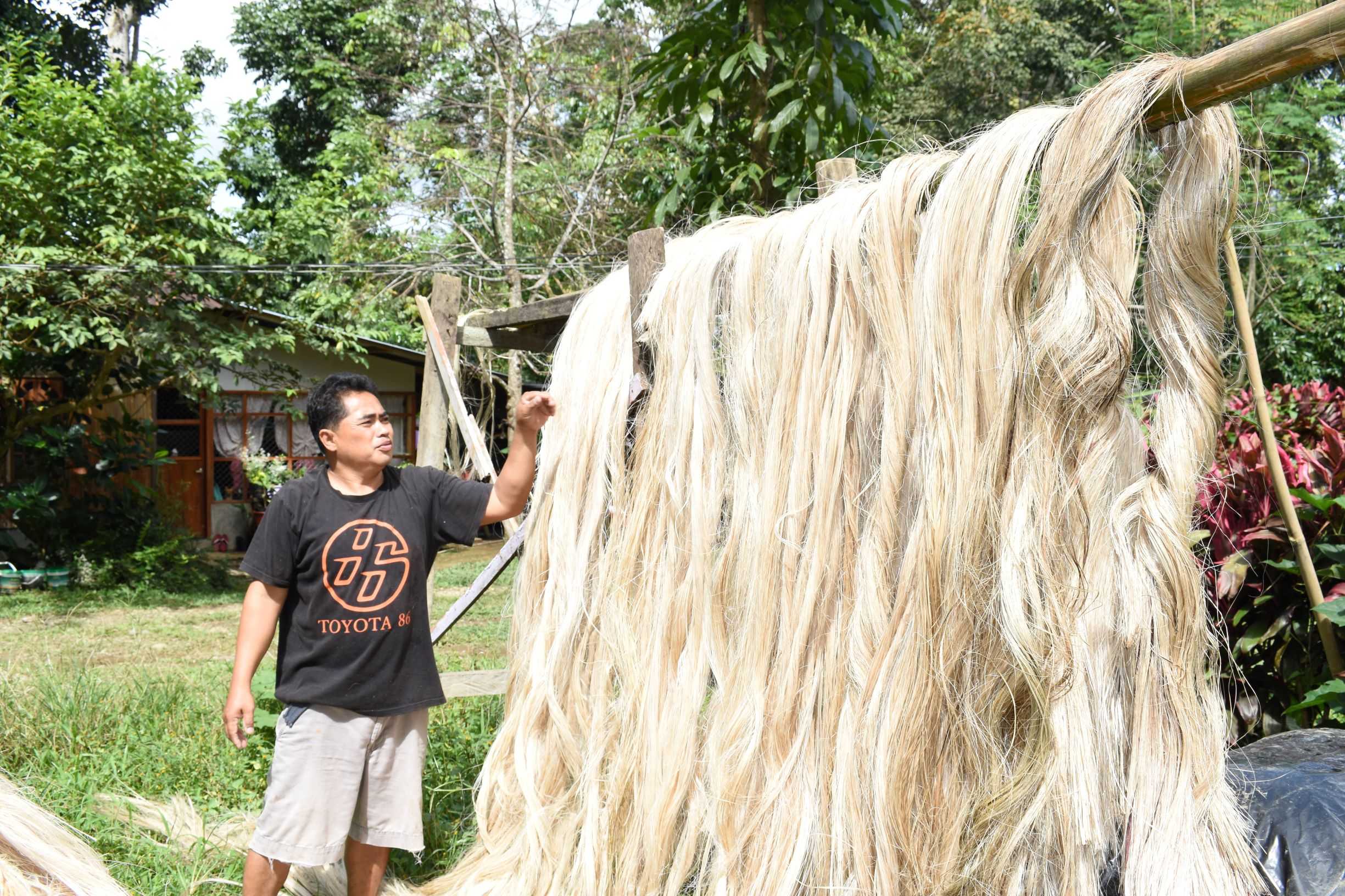 According to our elders, since the 1970s, the local environmental bureau already has seen the need to preserve the watershed area. Since most of the people living within the range of almost 45,000-hectares of a watershed are indigenous people, who usually practice the "slash and burn" way of farming, the personnel from the local government unit offered them a livelihood project to help control the gradual cutting of trees while others were hired as "forest ranger.
I can still recall that between 1980 to the 1990s, we needed to wear coats because of the thick fog covering our area. the weather was so cool. When the banana plantation started to operate in some parts of our community, some farmers started to cut trees. Our weather condition then was greatly affected and became less cold.
When I was still the village leader in 2007, I passed a resolution that controls the cutting of trees. This highlights the provision that farmers or local residents need a village approval before he/she can finally cut a tree. Till today, the practice remains effective and ongoing. To help maintain the watershed area, the local government unit, and the local water district, allow the people to inter-crop Abaca among the trees without disturbing the natural vegetation. This adds to the income, especially among the indigenous people.
We are also grateful that we received support from World Vision for this Abaca project. I am confident that more farmers will benefit and that our target is to cover at least 45 000 hectares of land, integrating abaca will become more feasible.
World Vision initially set a meeting with us to conduct preliminary activities such as consultation meetings with potential government partners. We are hoping to have more meetings among our farmers and other beneficiaries who are still preserving the indigenous knowledge system on Abaca production. We will also identify current gaps in abaca farming.  
We are planning to validate the proposed area for the abaca nursery, and later source quality abaca sucker suppliers within the area.
We know that this is still a long journey. Yet, we are looking forward to it as it will not only give us the opportunity to earn extra income out of our farm crops but at the same time emphasize our core responsibility in caring for our environment. It will help control the effect of climate change by preserving our trees, especially in our watershed areas.
Abaca will always be part of our farming and will be part of our children's journey and future as well.
---
You can find out more or support the Children of Climate Change fund here.