Mongolia: Meeting My Sponsored Child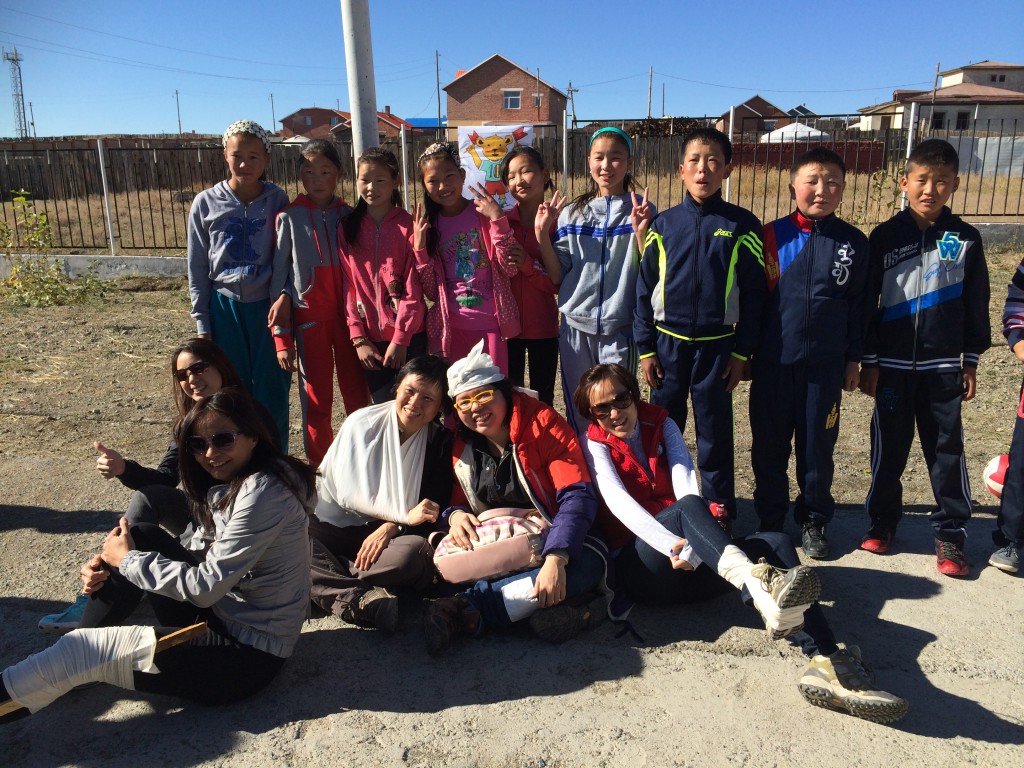 The team of 25 trippers participating in a Disaster Risk Reduction training with the children where they learnt some simple first aid techniques.
Join the family of Child Sponsors and transform a child's life for good!


Mongolia – an exotic and faraway land; a country that I knew very little about. So when our Human Resources department presented World Vision's list of children up for sponsorship*, I chose to sponsor a child from Mongolia; out of curiosity more than anything else. That was 4 years ago. Little did I know then that this decision would lead to an eventual trip (company sponsored!) to that very country to meet with my sponsored child.
We arrived at the capital Ulaanbaatar on the morning of Sep 7th, followed by a 9 hour bus ride out south to Arvaikheer, the capital of Uvurkhangai province, an Area Development Programme (ADP) of World Vision. That bumpy 430km trip gave us a little glimpse of this vast country, of blue skies and endless rolling grasslands.
We learned from the local World Vision team that the town Arvaikheer has expanded significantly since the 2008 and 2009-2010 blizzards wiped out entire livestock. With their livelihoods destroyed, displaced herder families moved into the town, putting a strain on its infrastructure. Unlike in the country's south where rich coal and copper deposits are being mined on a large scale, here on the grasslands, work is seasonal and difficult to come by. Often, only temporary menial types of jobs are available. Many therefore turn to the bottle so alcoholism is a major problem, leading to domestic abuse and families breaking up. The fallout are the children, who get bounced around from parents to relatives. Many would end up running away and living on the streets.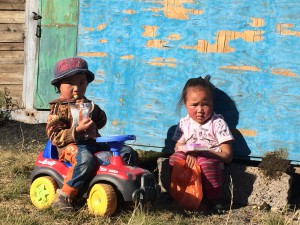 To break free of this cycle, the children need access to basic essentials like nutritious food, hygiene, and education. World Vision's strategy to engage the local authorities in the ADPs they operate in, ensures that there is community involvement and continuity of the long term development programs put in place once the ADP ends and World Vision pulls out of the area.
My highlight of the week-long trip was definitely the face-to-face meeting with our respective sponsored children. All this while our communication with them was only through letters, postcards, and photos through World Vision, so we were looking forward to meeting them. I met with my own sponsored child as well as those sponsored through the company, three girls together with their families, and they were more than a handful! Luckily two fellow trippers agreed to help out, and thanks to them things turned out well. Communication was halting at first due the language barrier, but with the help of the local translators, we got most of our messages across. To help break the ice, the organisers prepared group games and dances, which were thoroughly enjoyed by both children and sponsors alike. It is heartening to see only the kids enjoying themselves, but also their accompanying family being equally as enthusiastic. The fact that some of them had to travel up to 8 hours to be here, is perhaps an inkling of their commitment and belief in the programme.
These child sponsor visits were not only fun but served an important purpose. The face-to-face session fosters a sense of personal connection, a realisation that behind those pictures, postcards, annual progress reports and newsletters, there is a person not unlike that of our own child, brother, sister, niece or nephew, who is living out her/his existence in less than ideal circumstances. And that it does not take much to help; to make things a little better.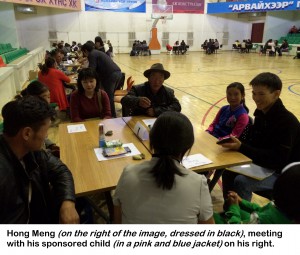 The writer of this post works for Silicon Connection where each employee is encouraged to sponsor a child as part of the company's Corporate Social Responsibility initiative in support of World Vision since 2003. The company matches each contribution. At present, employees sponsor 20 children from 8 countries – Cambodia(2), Laos(4), Myanmar(1), Thailand(2), Vietnam(3), Philippines(4), Mongolia(3) & Zambia(1).
If you're interested to join World Vision on a trip to visit our communities, do check out our Trips Calendar to find out more!