Former sponsored child, first in his village to graduate from college!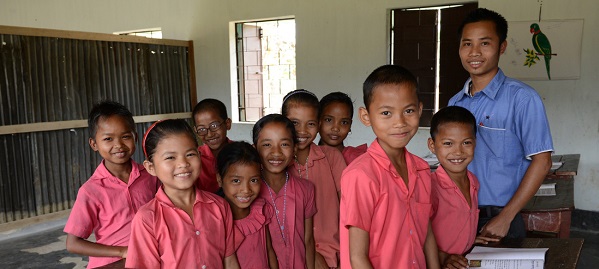 In India, a former sponsored child was the first in his village to graduate from college—an accomplishment he credits to his World Vision sponsor.
He finds solace among books and literature, devouring pages and volumes to nourish his insatiable mind. When he's not reading or studying, Lalramsan Halam is preparing lessons for his eager charges, schoolchildren in his northern India homeland. The 25-year-old teacher declares it's his "responsibility to invest in the future generation."
Lalramsan, the first in his village to graduate from college, credits his academic accomplishments to his World Vision sponsor, who delivered hope, encouragement, and a future.
"I had my sponsor support me in my journey to acquire knowledge that comes from being educated, so now it's my responsibility to invest in the future generation of my village, so that the cycle of giving continues," he says.
"It is a great feeling to know when someone cares for you and wants you to grow and develop. If it wasn't for the kind support of my sponsor, I wouldn't be able to achieve my goals. The support alone was enough to motivate me."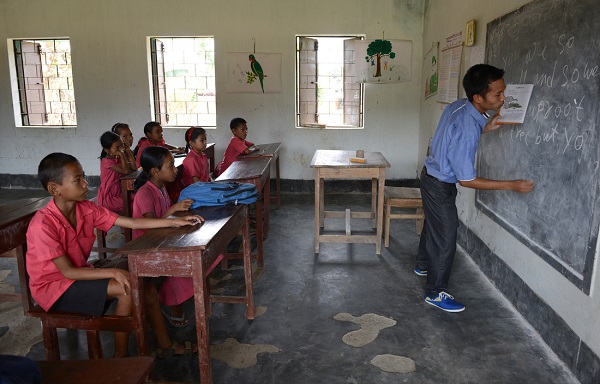 HILLS OF HARDSHIP, PANGS OF HUNGER
Lalramsan remembers his family's daily toil in the forests of North Tripura, a remote part of India, isolated from the rest of the country by mountains and bounded by Bangladesh.
He remembers being cut off from the possibilities of going to school, gaining an education, and securing his future. Each day brought with it a new set of battles, ones Lalramsan's family found difficult to fight.
"We were one of the poorest families in our village," says Lalramsan. "My father couldn't afford to buy us books. But I desired to study, so I begged children to give me their used books."
With no steady source of income and many little mouths to feed, finding a means to survive became the biggest challenge confronting his father, Sumtielngul Halam. Sumtielngul never went to school and never learned to read and write. The family suffered, as the uneducated are marginalised here.
"Wood cutting was all that I could do," says Sumtielngul. "Every day, when I went in search of wood, I kept telling myself that if I didn't get money today then my children would not get food. I had no steady source of income, and that made it difficult for me to provide for my family's basic needs."
Constructing a solid and sturdy house was also beyond their reach, confining them to a perilous hut in disrepair. Rather than being a safe haven for the family, the house became the place they feared the most.
"Our home was just a thatched hut," Lalramsan says. "During rainy season, water leaked from the roof, and it used to fall on us when we were sleeping. We didn't feel safe living in the house at all. During strong storms, we had to abandon our home and take refuge somewhere else, fearing that the roof would collapse on us."
Lalramsan's educational aspirations also took a beating as his father struggled to cope with the expenses of sending him to school. "Without education, life is darkness, and there were times when I thought I would not be able to come out of that darkness," Lalramsan says.
HOPE FOR TOMORROW
Child sponsors helped release his family and others in the village from the grip of poverty by providing clean water, education, and economic opportunities and training.
"I was overjoyed when I got educational material from World Vision," Lalramsan says. He was sponsored from 2007 to 2014.  "I still remember what I used to get: fresh set of books along with lots of stationery and a bicycle to go to school."
Read and ride he did. As part of World Vision's economic development assistance programme, his family received a piggery as well as saplings to begin a rubber plantation, which has now become the main source of income for the family. His father was among 2,000 farmers in North Tripura's Ambassa district to develop new skills, including organic faming and pest management.
"I am so happy for my aged father," says Lalramsan. "He no longer has to struggle cutting wood, which is a lot of hard labor. He sold the pigs, and the money he got was invested in our education. We were able to buy things that we couldn't afford earlier."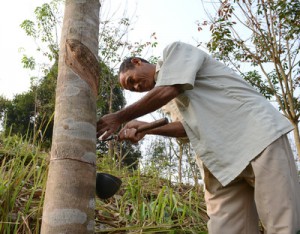 Now, Sumtielngul focuses on taking care of the rubber plantation. The training he received to manage the plantation helps maintain the farm and increase the yields each year. He is earning a steady income, which has restored his dignity.
"Once we are able to tap all trees, we will get at least US$583 a month. That money will assist my sisters to complete their schooling," Lalramsan says. With the provision of shelter material provided by World Vision, Lalramsan and his family now have a safe and secure house—and one that can withstand storms.
Join the family of Child Sponsors and transform a child's life for good!