Defying all odds, sponsored child earns MBA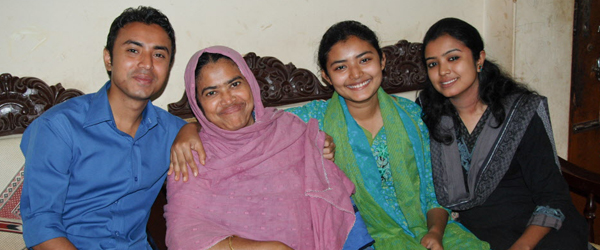 Growing up in a poor part of Dhaka, Bangladesh, Razia Akter's (above, far right) greatest wish was to escape the harsh reality of her family's poverty. She dreamed of becoming a NASA astronaut and traveling to the moon. An avid reader, she yearned to explore places she read about, like the Great Pyramids of Egypt.
But it was child sponsorship and education that launched her out of desperate circumstances. And she landed not on the moon but in a bank — still light years from where she started.
In her childhood, Razia saw her father struggle to make enough money to provide food for the family and rent for the small tin shed room they called home. To augment his meager income as a driver, Razia's mother cleaned houses.
"The area where we lived almost looked like a slum," says Razia, now 28. "The living environment was just chaotic and horrible. It is quite hard, to a growing child, to live normally in such a condition."
Reading was an escape from her family's difficult life. She enjoyed learning, and it showed at school.
"I always used to secure first place in my class," she says. "That gave me boundless joy and happiness, as well as to my family members, at least for some moments."
Those moments of joy began to mount after World Vision enrolled Razia as a sponsored child when she was 7 years old.
"It was my turning point for a change in my life," she recalls. "Being a sponsored girl, I got special care."
Razia soon had access to healthcare, educational support, and more. She received letters from her sponsor, which she still has today.
In one letter, her sponsor wrote, "All of our family members love you so much. Never stop going to school and having dreams because it is certain if you keep trying, some day you will get good results." Razia listened to those words. When she graduated from high school, neighbors were flabbergasted.
"Many of our neighbors asked me how my daughter had made it," says Razia's mother, Ojufa Begum. "Their question was very genuine because the reality of such children like my daughter, who are born poor, is normally they drop out from school."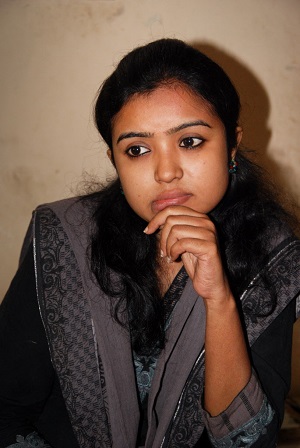 Defying the odds, Razia pushed forward. She graduated from the University of Dhaka, earned an MBA, and landed a job in a private bank as a junior officer — a prestigious position in a desirable industry. She's also involved in cultural activities, anchors a children's cultural TV programme, and recites poems at local events.
More importantly, she's a role model for her siblings, who both became good students. Her younger brother, 24, is finishing his bachelor's degree, and her younger sister, 16, is just beginning to plan her educational path.
"If I would have given up my education, my younger brother and sister could not get any direction from anyone in my family," Razia says. "If I was unsuccessful, their history could have been written another way."
While others may be satisfied with a good job and a better life, Razia still aspires to more.
"I want to work for the development of the disadvantaged and the deprived community because I know the techniques of winning in life struggles," she says.
Already, Razia is giving back and helping others. While in her third year of undergraduate studies, she decided she didn't need World Vision's support any longer.
"She requested for us to stop helping her financially, to give that support to poor students," says Aninda Rema, manager of World Vision's project. "We were amazed. She is compassionate for the disadvantaged children."
Now Razia plans to pursue higher education in public health, development studies, or environmental sciences. She recently earned a three-year scholarship to study in Australia, after which she will move back to Bangladesh. She's grateful for the opportunities that she has had and recognizes how different her life could have been without an education.
"I could have been engaged in child labor or married early if I stopped schooling," Razia says. "I am thankful to World Vision as well as to my sponsor for doing this for me."
Join the family of Child Sponsors and transform a child's life for good!