Corporate Social Responsibility through Child Sponsorship
In today's socially conscious society, everyone strives to do good. Increasingly, organisations are weaving in corporate social responsibility (CSR) into their business models with the broad goal, simply, to contribute and give back to the well-being of vulnerable communities.
World Vision works with these companies to create partnership solutions that align with company goals and missions in unique and impactful ways.
Here are some examples of how corporates in Singapore partner with World Vision to make that lasting difference through child sponsorship:
Impactful CSR through child sponsorship
Chuan Teng Petroleum Pte Ltd is a well-established company dealing in supply and delivery of industrial oil, automotive oil, marine oil, greases & specialty petroleum products. Both Qing Wen and her husband manages the business. They started their child sponsorship journey in 2003 after learning about World Vision's work through a newspaper article.  Currently, 15 children are sponsored by them while another 76 children are sponsored under their company's name as part of their CSR. "I believe big organisations like World Vision can bring true help to those in need. Although I do not have time to visit and write letters to these children, I know they are well taken care of and I am happy to do my part in contributing to their lives." Qing Wen said.
Chuan Teng Petroluem Pte Ltd was one of the recipients of World Vision's Humanitarian Impact Awards in 2018 at the One Humanity One Hope charity dinner.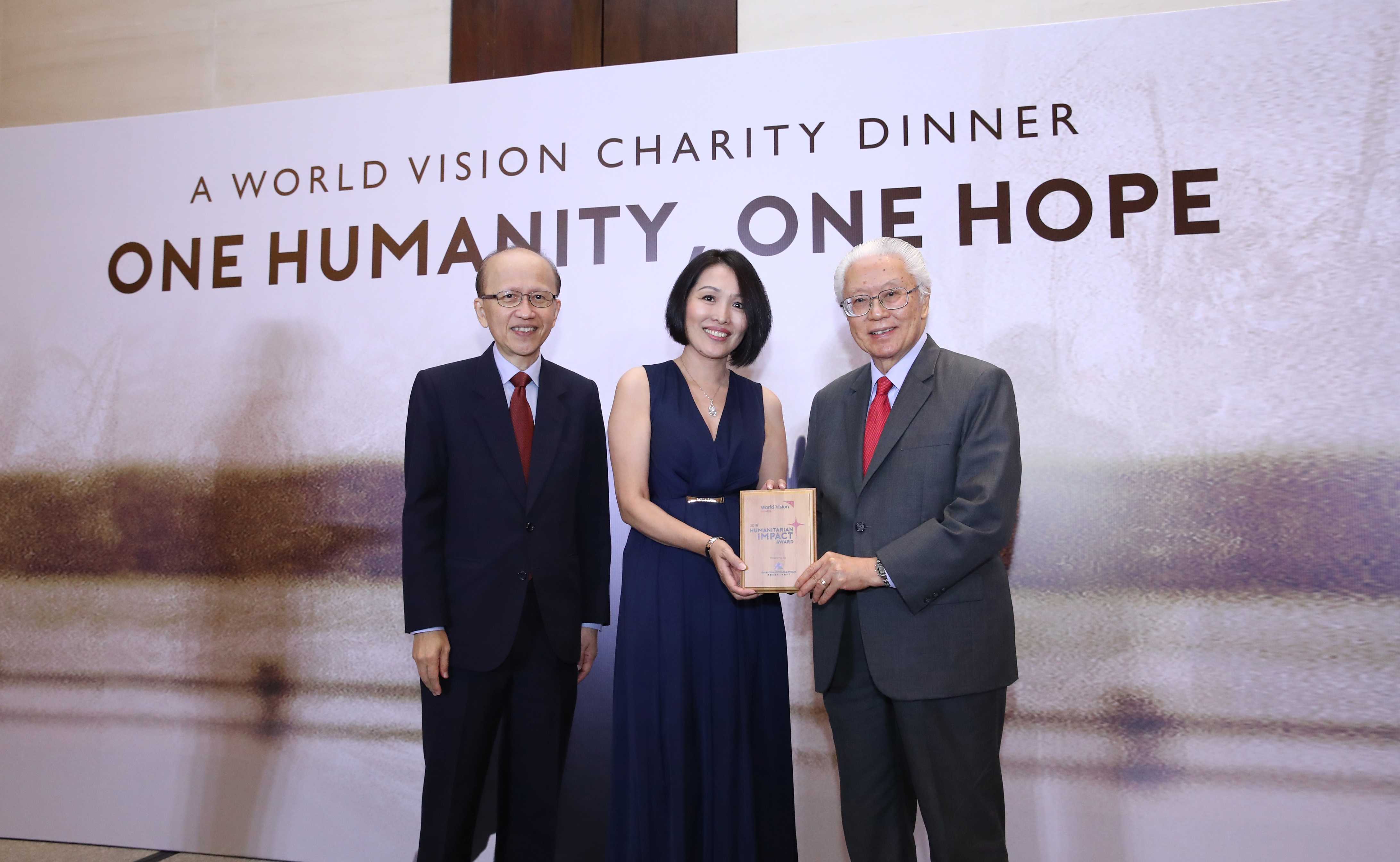 Qing Wen receiving the Humanitarian Impact Awards plaque from Dr Tony Tan (R), Singapore's former president and Mr Liew Heng San (L), World Vision's Honorary Advisor and former Central Provident Fund CEO.
Every staff a child sponsor
Silicon Connection is a locally distribution company serving the semiconductor industry. Since 2003, they have committed to sponsoring a child for every full-time employee. Each employee can also opt to co-sponsor their child. Currently, they are sponsoring a total of 25 children from different parts of the world. "World Vision is very organised. The last thing we want is a lack of system to see through long-term projects like transforming communities. World Vision has a good balance between hot-headed passion and cool-headed execution." said K C Tan, the founder of Silicon Connection.
Staff are also actively involved in the sponsorship process and journey. In the office, there is a huge global map that features pictures and letters of their sponsored children. In addition, each year the company will fund 2 employees to visit their sponsored child in the respective country. "These trips will allow our employees to get to see their sponsored child face to face, bringing warmth and encouragement to the child."
As a growing small and medium enterprise (SME), the organisation is ready to sponsor more children if and when the company expands. "We have budgeted a fixed percentage of our net profit for CSR purposes, and we make sure that there is minimal impact on our own cost competiveness in the marketplace." K C is committed to supporting World Vision in the long haul and encourages other SMEs to do the same too. "I believe there are SMEs that will respond to genuine initiatives without hidden motives like tax deductions. In that case, World Vision actually provides great value by stretching their dollar contribution to alleviate one of the greatest evils present today – extreme poverty."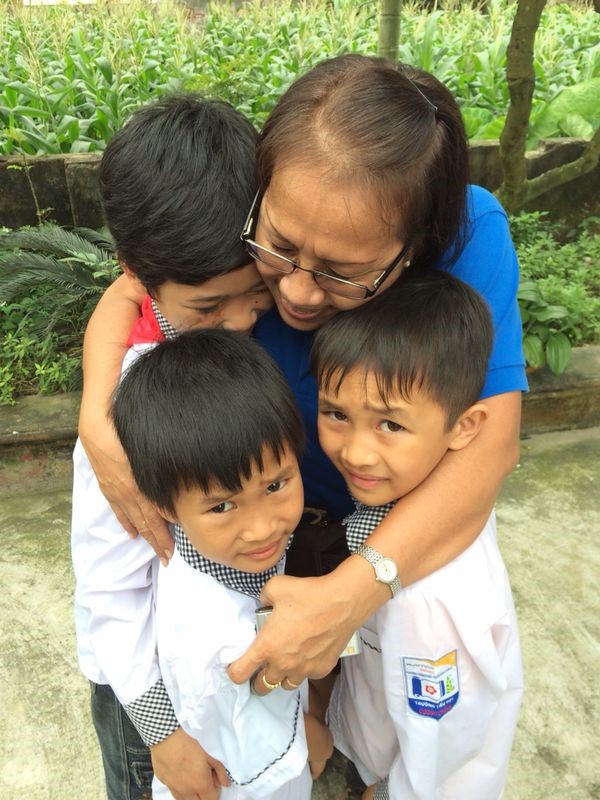 Hannah, a Silicon Connection staff visiting sponsored children on a World Vision trip to Vietnam in 2014.
Read more about Chan, another Silicon Connection staff who has travelled to Mongolia to visit his sponsored child, here.
Spreading the joy of child sponsorship
The Advisors Group Pte Ltd is a financial services provider group consisting of six agencies. One of the agencies was started by Dorothy Chong. Dorothy has been sponsoring children since 2010. Just a year into sponsorship, in 2011, she was challenged to eventually sponsor 100 children. Since then, she has committed to reach the target by sponsoring more and more children each year. Currently, she is sponsoring a total of 77 children.
In addition, she has been an avid World Vision advocate for her company. "One of the core values within my organisation is to give back and we do so by partnering with a charity organisation every year." She has reached out to her agents and in turned, her agents have reached out to their clients. Small-scale sharing events about World Vision's work and thanking her clients for their contribution have been incorporated as part of her business operations, so she can reach out to more people. "Through these sessions, I want to inculcate the joy of giving and the joy of seeing how our child sponsorship contribution has improved the lives of children and families around the world. This never fails to motivate me to keep on helping and I hope that others would see it the same way too." As a collective, they have also sponsored children from Zambia as they hope to be able to travel to Zambia together when the opportunity arises. "It will be good company bonding as well!" she added.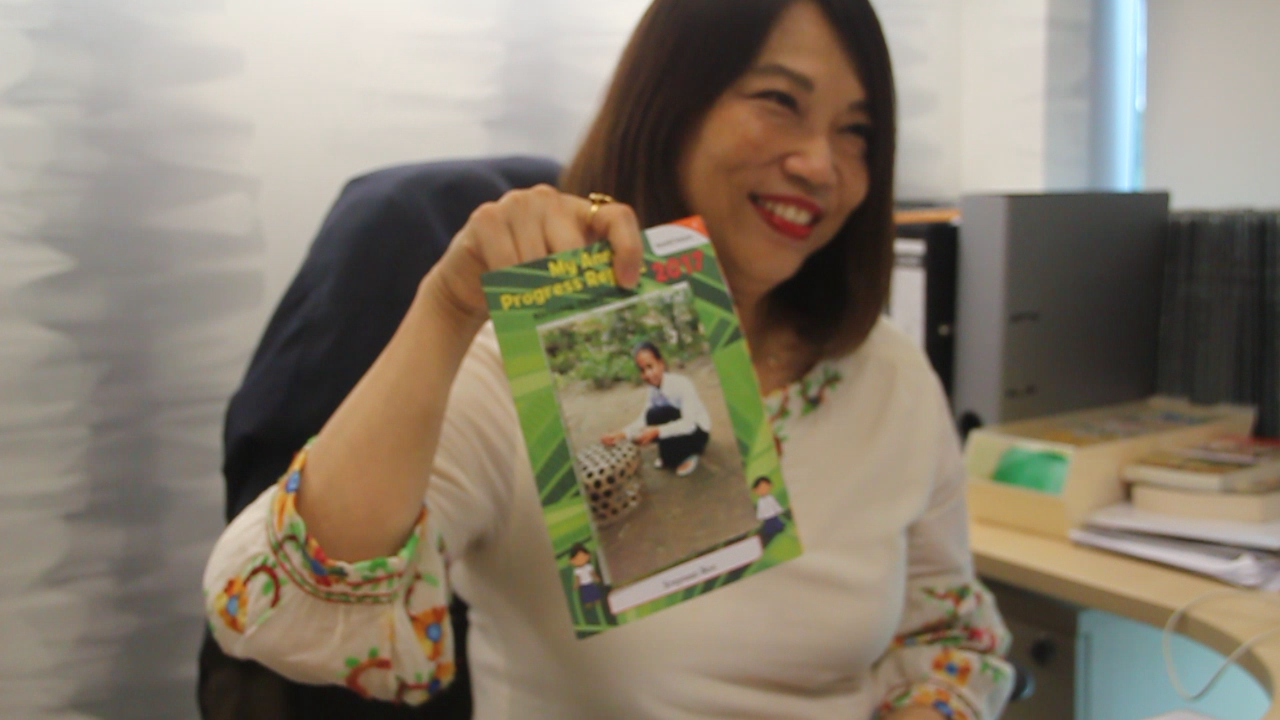 Dorothy at her office showing an annual progress report from one of her sponsored children.
Gifts for hope through child sponsorship
Ingram Micro is the world's largest distributor of computer and technology products. They are one of the newest addition to World Vision's corporate partnership programme. In 2019, they approached World Vision to partner alongside their CSR programme. As an organisation, they rallied their employees and sponsored 12 children. In addition to lunch time talks organised by the company to increase awareness about World Vision's work, they have also invited World Vision to their annual dinner and dance event to spread the word and to garner more donations and child sponsorships. Interactions by the staff and sponsored children were also encouraged as the staff pooled together their funds and resources to purchase gifts for their sponsored children.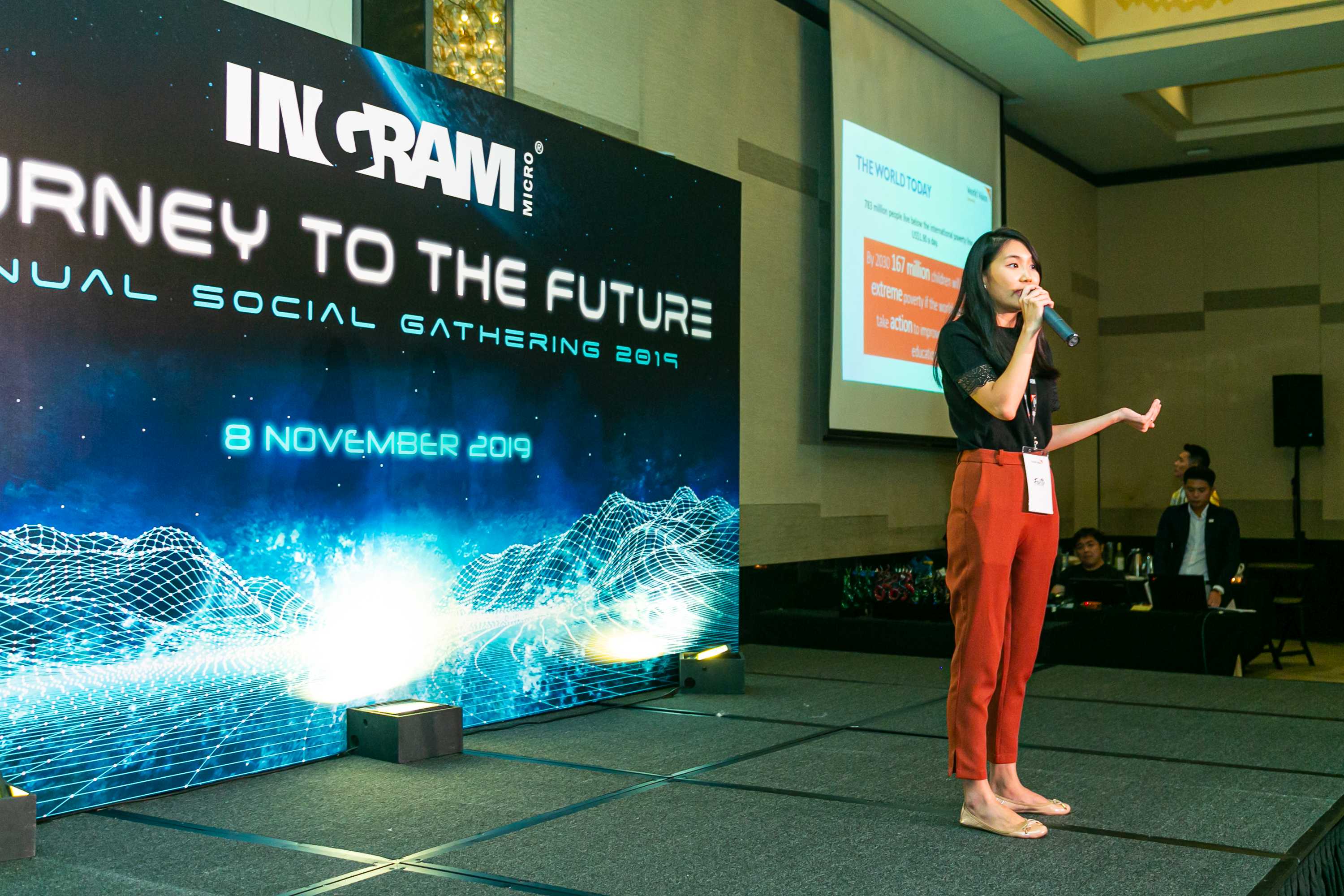 World Vision staff presenting during Ingram Micro's dinner and dance event.
Get in touch with us for a discussion on how we can help the CSR plans for your business in Singapore.