Bo Kluea, Thailand: Highlights from an Intern's trip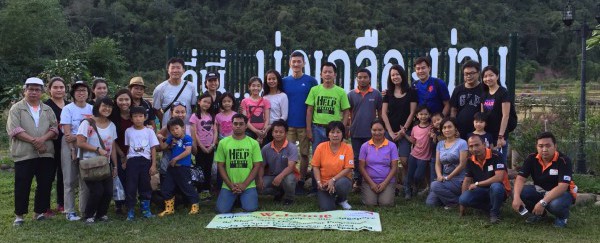 Being an intern, I did not expect to get the opportunity to go on an overseas work trip. So when my boss offered me the chance to go to Bo Kluea, Thailand with her I was thrilled. Even though I bore the expenses of the trip myself, I was thrilled not just because I love travelling, but also because I would get to learn more about the work World Vision does.
In preparation for the trip, I helped to put together the trip notes which included the itinerary. Whilst going through it, I imagined how each activity might turn out. Everything I had imagined it to be was nothing compared to what really happened during the trip itself.
We visited a few schools and a day care center. Baan Salai Day Care was the first we went to. We interacted with the kindergarten aged kids through songs like "If You're Happy and You Know It" and "Hokey Pokey" and taught them simple balloon sculpting. We also helped to refurbish the day care's worn out walls by giving it a fresh coat of paint.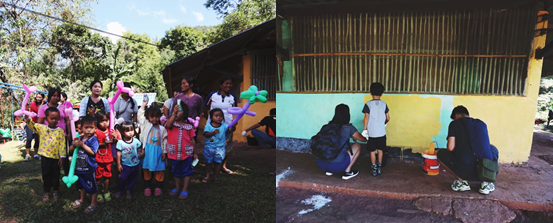 Whilst we were there, the World Vision Thailand staff shared how the Breakfast Project that World Vision played a part in implementing; has had a very positive impact on the malnourished children at the day care. Many children are malnourished because their families and the day care cannot afford to give them nutritious food. The Breakfast Project provides them with the ingredients and cooking equipment needed to prepare healthy meals for the children. Most of the children who took part in the project have gained some weight and are much healthier now.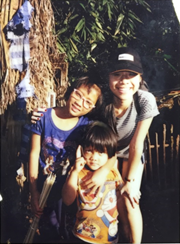 After that we went on to make a few house visits to families supported by World Vision. 9 year old orphan, Nicha is from one of the families. She lives with her Grandmother and a few other relatives in a wooden hut on stilts. They were located in an extremely secluded area and do not have access to many amenities. Back in 2010 Nicha's house and all her family's belongings were burned down due to a fire accident. This was when World Vision stepped in to help support the family.
Nicha was extremely shy at first. She did not dare to go near the World Vision staff, let alone speak to them. Despite this, the staff continued to make regular visits as Nicha needed help for an optical problem which affected her sight. World Vision also provided the means needed for Nicha to attend Primary School. The past 5 years of support from World Vision has caused Nicha's condition to improve remarkably. I could tell when I met her. Instead of wearing an eye patch, she wore a cute pair of pink specs and was not shy when I tried speaking to her. She did not run away and had fun taking pictures with us. I would not have guessed that she had behaved so differently before if the staff had not told me.
Following the meet with Nicha and her family, we started to build a chicken coup. This would allow them to rear chickens for income and self-sustenance. The ground and wooden frames for the coup were already constructed by the WV staff. All we had to do was put up the roof materials, attach the wire mesh to the sides of the coup, lay out the bedding and finally put the chickens in their new home. It sounds like a simple task that we could complete in a jiffy since there were so many of us working together, but we actually took quite a long time. I helped to attach the wire mesh and had to redo a few areas to ensure that there were no gaps between the mesh because even the smallest gap could allow a snake to creep through. I learned how much energy and effort goes into constructing such a structure, but above all I learned how something so simple like a chicken; which us Singaporeans just think of as food; could mean a whole livelihood for others.

Meeting her and hearing her story was definitely the highlight of the trip for me. This showed me the importance and impact World Vision's work has on the people they work tirelessly to support. I realized how World Vision's long-term presence changes the lives of the needy. The continuous support brings about much more change as compared to a one-time handout or short-term support.
The biggest take-away I have from this trip would be meeting the families such a Nicha's and witnessing how they can be so happy with so little. To me, they are living with the bare minimum. They do not possess or have access to many things I consider necessities in life and yet they can still be so content. This is something I will always remember; to always be thankful for everything I have been given. 
Experience the joy of child sponsorship!

Written By:
Samantha Fong, Intern at World Vision