Ngee Ann Polytechnic Kickstarts Service-Learning Projects with World Vision
SINGAPORE, 15 January 2018 – To support the nurturing of young social leaders who are empathetic, service-oriented and passionate about championing social causes, World Vision signed a Memorandum of Understanding (MOU) with Ngee Ann Polytechnic (NP) last Saturday (13 Jan). The MOU will allow for the co-creation and execution of service-learning projects by NP students, in conjunction with World Vision.
In addition, this MOU will make many more meaningful opportunities available for students to be equipped to be well-informed and effective social advocates, through internship opportunities as well as mentorship and applied learning in the area of social enterprise.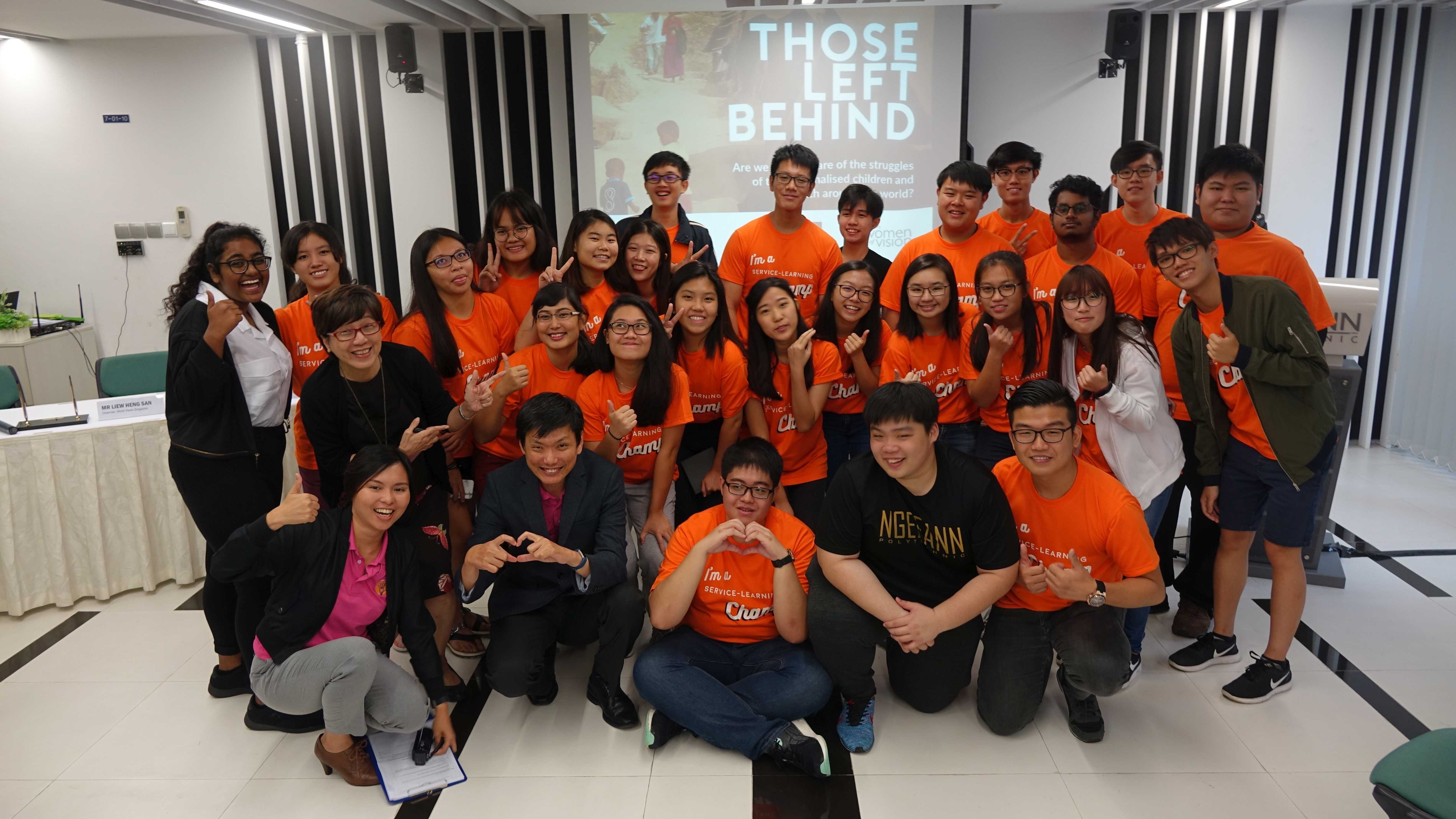 Group Photo of the NP Service-Learning Champs who will be championing and advocating for different social causes.
Building on the Service-Learning modules and Youth Expedition Project that the students have been through, NP has also kick-started its new Service-Learning Champs Network with some 70 students currently on board. For a start, these champs would be supporting WVS's Survival Fund with a fundraising project. The Survival Fund is a new initiative that aims to provide aid to the victims of humanitarian crises, through support programmes that enhance the resilience of vulnerable communities before disasters strike, and facilitate the rehabilitation and recovery of these communities.
Later in the year, about 20 champs will embark on an international service-learning project in Son Tra, Vietnam, where WVS has been supporting intervention programmes that strengthen the economic development prospects and child protection capabilities of urban poor communities, as well as their resilience against natural disasters.
There, the champs will be involved in enhancing the economic prospects of disadvantaged Vietnamese youth through the facilitation of workshops on life skills and employability skills. They will also engage in community service activities that will expose them to the needs of the wider community in Son Tra. In addition, the champs will be involved in scoping out a social enterprise project, under the guidance of a Singaporean business volunteer mentor.
"Cause-inspired youth from NP will be able to combine what they've learnt as students with authentic service in World Vision's Area Development Programmes for disadvantaged communities. And when coupled with mentorship from industry business leaders, they will have first-hand experience of what it takes to develop rigorous and sustainable solutions to socio-economic challenges in the region." said Mr Liew Heng San, Chairman of the Advisory Council of World Vision Singapore.
Mr Clarence Ti, Principal of NP added: "This partnership with World Vision Singapore, with its networks in over 100 countries and expertise in working with underprivileged communities, will be significant for our Service-Learning Champs Network and allow us to step up our international Service-Learning efforts. We want to encourage our students to champion social causes they are passionate about and we hope to groom a generation that is empowered to change the world."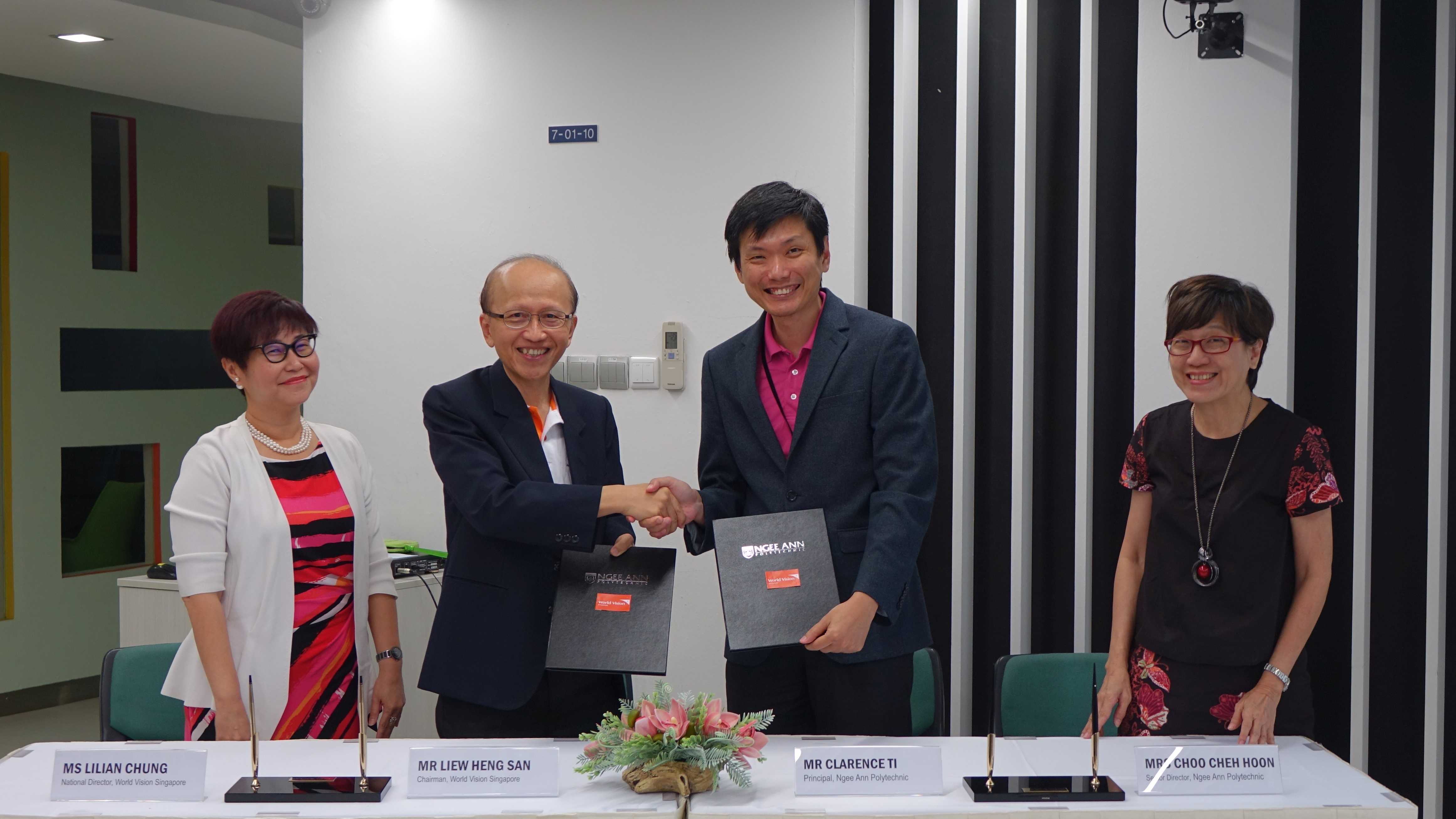 A MOU was signed between World Vision Singapore and Ngee Ann Polytechnic on Saturday (Jan 13) to advance Service-Learning efforts through creating more meaningful opportunities for students to be active social advocates here and abroad.
For more information, photos, picture stories and media interviews, please contact:
Fiona Soh
Director of Resource Development and Communications
World Vision International (Singapore)
Tel: 6922 0108 / 9830 2934
Email: fiona.soh@worldvision.org.sg