Strengthening Communities for Child Well-being in Mindanao, Philippines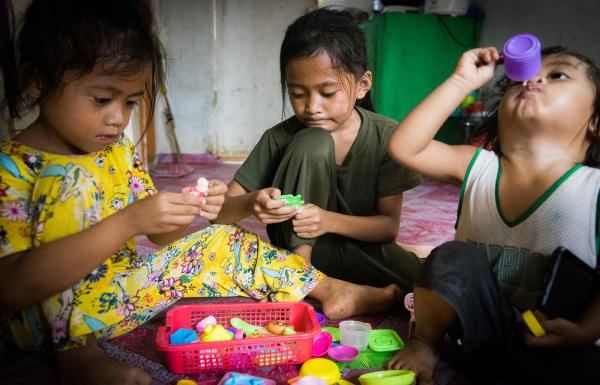 In 2017, an armed conflict (known as the Marawi Siege) broke out in Marawi City in Mindanao. Large parts of the city were overcome by the militants for five months, with fierce fighting, bombings, and killings, displacing and trapping more than 360,000 people. Lives and livelihoods were lost, infrastructure was destroyed, and children were traumatised. After being forcibly displaced from their homes, many Filipino families and children suffered through an uncertain existence punctuated by health and education problems.
Five years on, while the city is gradually recovering, businesses are opening and families are returning to their homes. There are still many families in the most affected areas who have not returned yet to their communities.  Almost 17,000 of them are still living in transitional shelters and host communities that often lack the necessary services for health, education, water, and food.
Almost 24,000 displaced children were out-of-school after one-third of the schools were damaged.
Only 15 out of 39 health facilities in Marawi are functioning
70,000 children below five years of age are chronically malnourished 
Explosive remnants of the war continue to kill and maim children. There are also persistent attacks and threats on schools, particularly in indigenous communities. 
Children living in coastal areas are at risk of earthquakes, landslides, and tsunamis
World Vision aims to
Improve

children's access to education services

, especially among displaced and marginalized children.
Support schools to

improve the quality of education services

through literacy support, life skills, and peace education for displaced children.
Support

alternative learning systems and technical-vocational training

for

out-of-school children and youths

. 
Protect children from violence and the impact of natural and man-made disasters while in school
Support schools to

conduct training on child protection

and

set up child protection mechanisms

as well with disaster-preparedness activities to ensure schools remain safe environments for children
Improve

health and nutrition of at-risk/malnourished children

Support

malnourished children with the necessary interventions

, educate parents on child care and nutrition, rehabilitate/construct health and WASH facilities
Click here to find out more about other interventions in Children in Crisis.
My Giving
My Giving is currently empty