Livelihood support for families in Taikkyi, Myanmar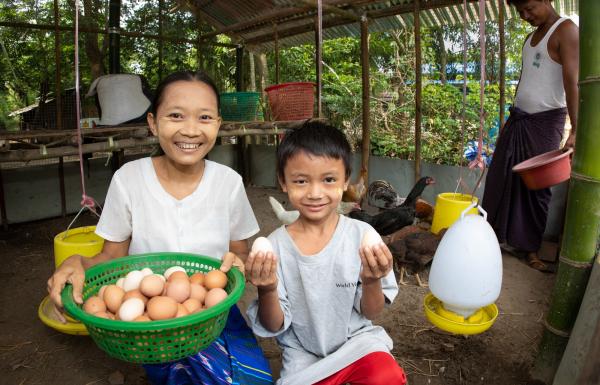 Two years after Myanmar's military staged a coup against the elected government on 1 February 2021, continued conflict and socioeconomic distress are worsening the humanitarian situation in Myanmar. Along with Eritrea, Ukraine, and Yemen, Myanmar is still one of only four nations in the world with "extreme" access restrictions.
Many families are finding it more difficult to sustain livelihoods than ever before. This loss of livelihood has had a compounding effect, making many families vulnerable, and getting food on the table is increasingly difficult, especially in conflict-affected and peri-urban areas. The country's food security situation has deteriorated due to widespread poverty, eroded livelihoods, and alarming rates of hunger and malnutrition. One-third of the 17.6 million in need of urgent help are children. 
Agricultural households, small-scale farmers, and those depending on livestock farming are the most vulnerable to food insecurity because of a combination of issues, including reduced access to agricultural materials and a decrease in the market value of their produce.
You can help crisis-affected, vulnerable families in Myanmar have enhanced capacity to restore, protect and develop their livelihoods opportunities and strengthen their resilience:
Agriculture Loans: Support a struggling family with farming necessities like drought-resistant seeds, hoes, fertilizer, irrigation kits, and harvesting equipment so they have enough to eat and earn a living.

Small Business Loans:

Empower women living on the edge of survival to own successful small businesses - running grocery stores, sewing, creating handcrafts, and more.
When you equip a vulnerable family with microfinance, you are helping them to make money to feed, clothe, and educate their children. As loans are repaid, funds are used to provide loans for other families. Your gift keeps on giving, and giving and giving.
My Giving
My Giving is currently empty