Improve Child Health in Schools in Ho Chi Minh City, Vietnam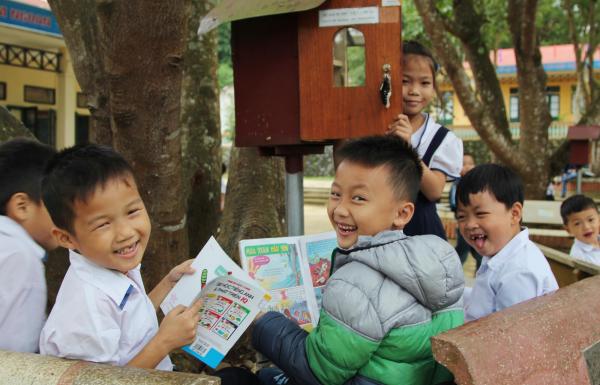 District 4 is located at the center of Ho Chi Minh City, and is considered the smallest district in the city with the biggest population of around 176,988 people. About 4% of the population is living below the poverty line (earning less than 2.89 USD per day). Locals depend mainly on services, labour work, or small businesses for income.
The population continues to increase despite the lack of infrastructure. Many of the urban poor live in tiny, tight and dank houses, sometimes several generations in one. Unstable homes, along with urban crises such as crimes, poverty, unemployment, divorce, drug addiction, polluted environment, and infectious diseases, have caused a serious impact on children`s health and living quality. High rates of infectious diseases occur every year in District 4, with one of the main causes being identified as environmental pollution, the dumping of garbage into the canals by locals, and limited personal hygiene practices.
Key Challenges:
Favourable environment for mosquitoes – District 4 is often affected by high tides from nearby rivers, leading to floods in the streets and alleys which cause a wet and stagnant environment for mosquitoes to develop and spread infectious diseases, especially dengue fever and hand, foot & mouth disease
Lack of wastewater system in communities – existing wastewater systems in the area are either lacking or broken, but not yet repaired due to tight local budgets
Lack of hand-washing facilities in schools – most schools are equipped with some clean water, sanitation, and garbage collection systems, but not enough in both quantity and quality to meet the needs of students
World Vision aims to:
Reduce the risk of infectious diseases in children, through improved environmental & personal hygiene conditions in communities and schools –
Upgrade wastewater systems in one of the urban slum wards and one of the schools
Set up hand-washing facilities in 15 primary & secondary schools
Provide solid waste bins to the 15 schools and households in urban slums
Establish and operate waste management boards in the communities
Educate children, community leaders, and teachers on the environment and personal hygiene, to prevent dengue fever, HFM disease, etc.
Find out more about work among vulnerable children in the cities.
My Giving
My Giving is currently empty