Improving Nutrition and Protection for Rohingya Refugees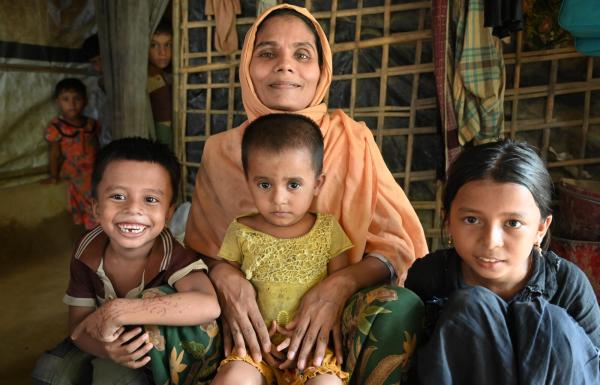 The influx of more than 740,000 Rohingya people who fled from Myanmar to Bangladesh starting in 2017, due to atrocities and human rights abuses, has led to a major crisis. The government of Bangladesh planned to relocate Rohingya refugees from the overcrowded camps of Cox's Bazar to Bhasan Char, a remote slit island in the Bay of Bengal. Bhasan Char lies in the historical path of cyclones and its remote location creates challenges for the delivery of humanitarian aid. The Bangladesh Navy was tasked to construct a total of 1,440 buildings, including 120 cyclone shelters, to relocate 100,000 Rohingya refugees. Since December 2020, approximately 32,000 Rohingya refugees have been relocated.
Challenges in Bhasan Char:
Gender: Adolescent girls are the most vulnerable, with child marriage, child abuse, and rape being very common phenomena. Adolescent girls are often faced with teasing, abuse, and sexual violence with no psycho-social support groups to turn to. There is no safe place where adolescent girls could enjoy, learn and share, and be themselves. They also do not have the much-needed hygiene/dignity items.
Health and Nutrition: Food ration only lasts till the middle of the month. Households have little cash of their own to supplement it.
Education:  There are no child-friendly spaces and the availability of school supplies, qualified teachers, and educational opportunities remain great challenges.
Water: Latrines, bathing cubicles, and water taps are available but these are not functioning properly due to lack of maintenance. The water supply is irregular and unavailable at night.
World Vision aims to
Establish a multipurpose center, which serves as a

child-friendly space

as well as a place for girls to gain an education/skills development and seek psycho-social support
Form and strengthen

community-based child protection committees

to better prevent and respond to abuse, exploitation, violence, and neglect against boys and girls.
Distribute

dignity kits

Install

handwashing facilities

, particularly for women, girls, and children
Establish

plots to grow Moringa

(a superfood rich in nutrients) and a processing unit to distribute products made from Moringa such as powder, pods, and capsules to 2,000 families focused on women and children. 
Click here to find out more about other interventions in Children in Crisis.
My Giving
My Giving is currently empty