Tackle the Global Plastic Crisis while Protecting Children and Empowering Communities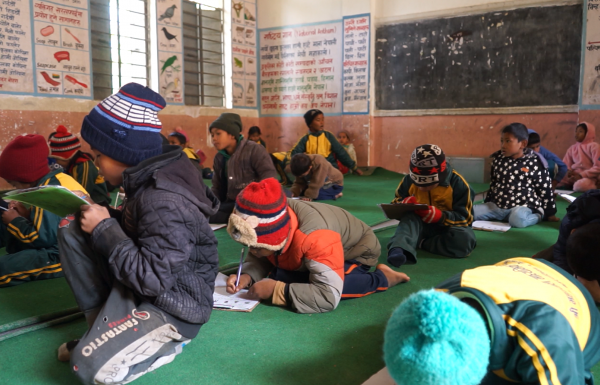 We are living in a time where there will soon be more plastic than fish in the ocean. In Nepal, around 4.8 million plastic bags are used daily. The mismanagement of plastic waste in the country has caused an overflow of landfills, choking rivers, and threatening marine ecosystems, causing a negative impact on Nepal's agriculture-focused economy.
Concurrently, the 2015 earthquake in Nepal forced the country to rebuild rapidly, causing most buildings to use corrugated galvaniSed iron (CGI) sheets as roofs. These poorly roofed buildings place children at the mercy of climatic conditions like heat, cold, and rain. When the sun is beating down, the heat is radiated in by thin CGI sheet roofs can cause indoor temperatures to increase by 10 degrees celsius – during the summer, outdoor temperatures can peak at 42 degree Celsius. In schools especially, the CGI sheets roofs create a lot of sound from the rain or hail during the monsoon season, disrupting the learning environment.
World Vision has the solution to reduce plastic waste and improve the children's learning environment – Polyfloss! 
Polyfloss is a candyfloss-like material that is made from plastic waste. It can be used for building insulation and protecting children from the elements.
Help us to bring Polyfloss roofings to life. Your donation can help to protect children and empower communities by: 
•    Reduce plastic waste by collecting and managing local waste plastics for recycling purposes
•    Educating local community members, including children, on the environmental impact of plastic waste
•    Equipping vulnerable families to manufacture Polyfloss for income
•    Enhancing existing CGI sheet roofing in schools with Polyfloss material as an insulating layer to improve learning environments
Goal: 59,191 plastic water bottles (500ml) repurposed to make 23 classrooms safer, protecting 191 students from extreme temperatures 
For every $70, 28 plastic water bottles (500ml) can be recycled. 
Learn more about World Vision's ongoing efforts to fight the impact of climate change on vulnerable children. 
My Giving
My Giving is currently empty