Youth for Change Conference 2016: From the Classroom to the World
On 8-11 December 2016, we participated in the Youth For Change Conference, organised by World Vision (WV), in Phnom Penh, Cambodia. This event aimed to equip youths with skills and knowledge to enact real change, and to connect like-minded youths all over the world.
Through the sharing sessions by many humanitarian experts, we gained insights into the nature of work in the areas of international development and poverty alleviation. Here are a couple of things we've learnt:
Firstly, we learnt that when trying to help, it is extremely important to not assume the needs of our beneficiaries and to always prioritise their perspectives.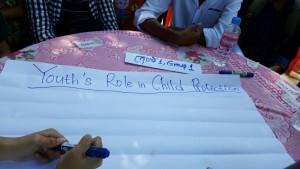 Secondly, we should not underestimate the strengths of our beneficiaries. We should tap on those strengths to empower them and motivate them to enact change for themselves
On top of gaining theoretical knowledge through the plenary sessions and workshops, we also had the opportunity to visit WV's Area Development Programmes (ADPs), which allowed us to get a first-hand look at the real work that was happening on the ground in aid of poor communities. It was definitely an eye-opening experience.
While learning and equipping ourselves with relevant skills and knowledge to enact change, we were also reminded that the heart behind wanting to help others in need is also extremely important. In this field of work, empathy is vital for continuous dedication, especially when the impact of our work might not be seen immediately. We often doubt our abilities to make a change, and so harnessing such values encourages us to not give up and to keep pursuing our passion to help the less fortunate and create a positive change in society.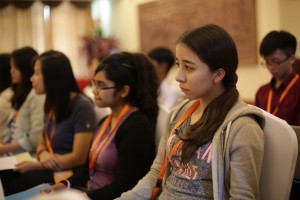 We were also privileged to meet, interact and establish connections with renowned professionals who have successfully created social change. We were personally inspired by Mona Sherpa, the Deputy Country Director of HELVETAS in Nepal. Her passion is really contagious and she showed us many examples that demonstrated the power of social campaigns organised by youths.
The sharing by Sébastien Marot from Friends-International was also memorable as his personal account of how he started from nothing to get to where he is now really encouraged us to 'just do it', which is a motto he personally takes pride in. Another impactful speaker was someone closer to home. Lim Chong Tee started WateROAM when he was still studying at the National University of Singapore (NUS), which is where we are studying right now. He showed us that no one is too young to be a change-maker. Even in the midst of the busyness as a student in NUS, it is still possible to achieve real change with determination and perseverance. His example gave us lots of hope and invigorated our passion further to be change agents ourselves.
On top of being inspired by experts, it was also extremely empowering to connect with like-minded individuals from all over the world. There was a Culture Night, which involved participants from the different countries showcasing their diverse cultures through engaging performances. The informal interactions helped us to deepen our friendships with participants from other countries.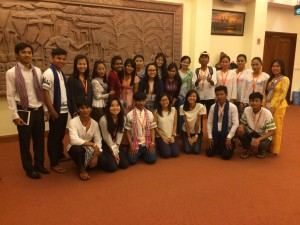 In order to embrace the multicultural aspect of this conference, each participant was required to share a room with a participant of a different nationality. Coincidentally, our roommates were Cambodians and soon, we became really good friends. It was really nice finding out about each other's culture and discovering that even though we stay in different parts of the world, we are still similar in many ways: listening to K-Pop songs, being busy with school work, but most importantly, sharing a passion to help others. Our roommates were interns in World Vision Cambodia. When we asked why they wanted to intern there, they simply answered, "Because I want to help people."
On top of all that, we had the chance to have meals together, to just chitchat, and to exchange ideas. Many of them are now our Facebook friends, and so we have been able to keep in touch since the conference ended. Our Cambodian friends were also sweet enough to create a Facebook chat group named 'Singapore-Cambodia Friendship', which we thought was really cute.
For us, one key highlight of the conference was the 'Developing an Action Plan' activity, in which we were tasked to identify a social issue we would like to tackle, form groups, and formulate an action plan with fellow participants. Throughout this activity, we were guided by different experts as well as WV representatives who provided valuable feedback. It aided in building myriad perspectives and broadening our levels of critical thought. An added bonus was that I was able to apply theories I had learnt through my course in Social Work. It was definitely exciting to apply what had been learnt from the textbook to enact real change. Both of us are currently working on our projects and we are excited to see our plans unfold into real-life action!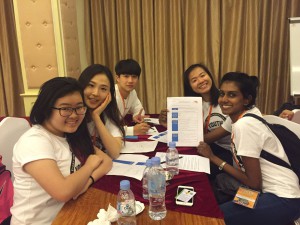 Overall, we are deeply grateful for the learning opportunities and the new and valuable friendships forged with like-minded youths across the globe. At first, both of us were unsure about whether to participate in this conference, but we are so happy that we took the plunge and we definitely left with no regrets. So if you are passionate about, or even just have the slightest interest in, international development and poverty alleviation, we recommend that you sign up for future conferences! 
Written By:
Evelyn Agatha & M Shamini