Youth For Change: Akhi, From Child Labourer to Servant Leader
The number of poor people in Bangladesh is estimated to double from 32 to 64 million people, affecting 40.9% of the population, as a result of the COVID-19 pandemic. According to data from World Bank, unemployment rates have reached an all-time high of 5.3% in 2020 compared to 3.36% in 2010. A research paper by the United News of Bangladesh in 2020 also estimated that COVID-19 had pushed 16.5 million people, mainly rickshaw-pullers, transport workers, day labourers, street-vendors, hawkers, construction labourers and other informal labourers back into poverty. In particular, the Khulna and Dhaka districts have suffered the highest COVID-19 infections and deaths across the country, the 3rd wave of COVID-19 in July 2021.
17-year-old Akhi used to work in a shrimp processing factory to help support her family, enduring long hours of working in dangerous conditions. Constrained by poverty, Akhi had dropped out of school after passing class five, or primary four in the Singapore Education System. After World Vision Bangladesh removed her from child labour, Akhi was unable to return to school as she was too old to reenter the education system. World Vision then enrolled her in a vocational school where she learned important life skills, including how to sew. World Vision also provided her with a sewing machine and fabric to help her launch her own business. Soon after, Akhi was sewing custom three-piece dresses, shirts, trousers and more. She quickly found success selling the clothes she had created, along with ornaments and hand-beaded bags at her mother's shop.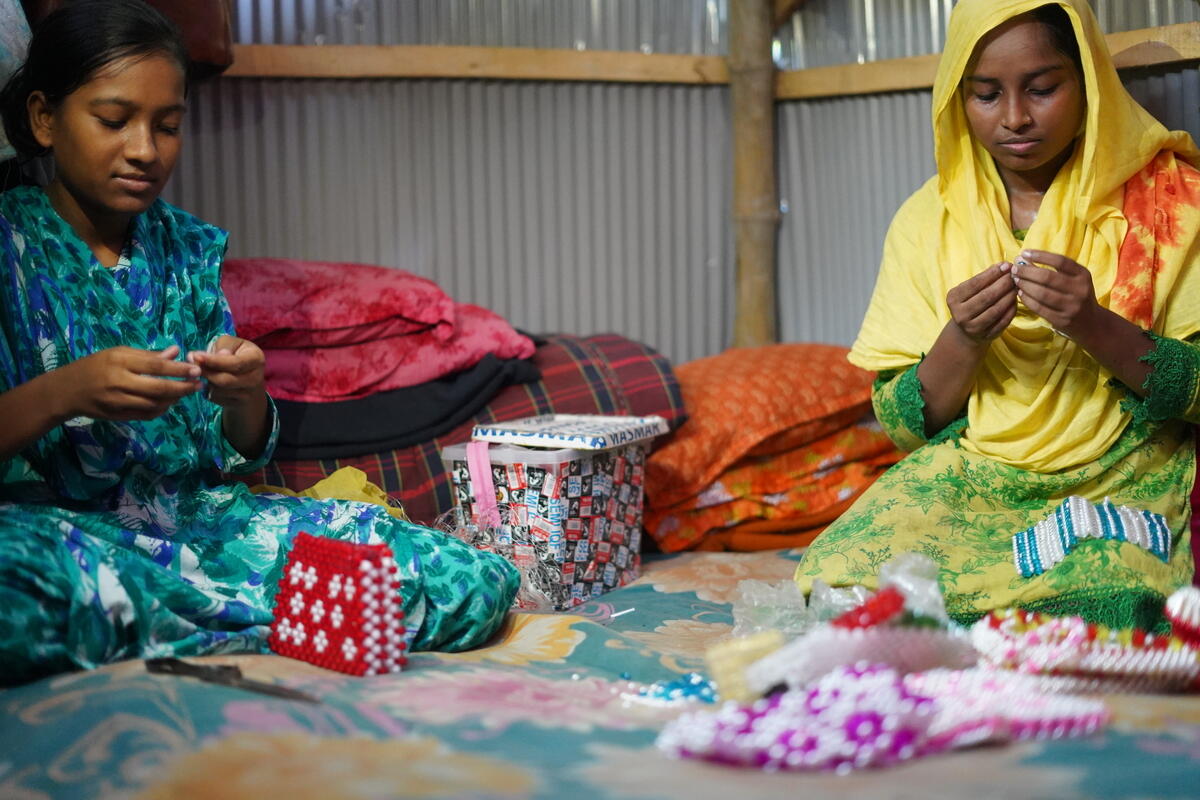 (Pictured: Akhi and her sister making beaded bags with the skills they learnt from vocational school.)
When COVID-19 hit, Akhi noticed a critical need in her community. "There were no masks in the market," she said. Since the start of the pandemic, Akhi realized the importance of masks in stopping the spread of the coronavirus. Wanting to fill the gap to support her community, Akhi took the initiative to sew masks, selling her masks at low prices so that the poor could afford them. She also gave away free masks to the extremely poor people who cannot afford to pay for masks. In addition, Akhi and her family used the training they had received from World Vision to share important precautions with their community to help prevent the virus from spreading. They showed others how to wash their hands properly, to wear masks in public places and to maintain social distancing.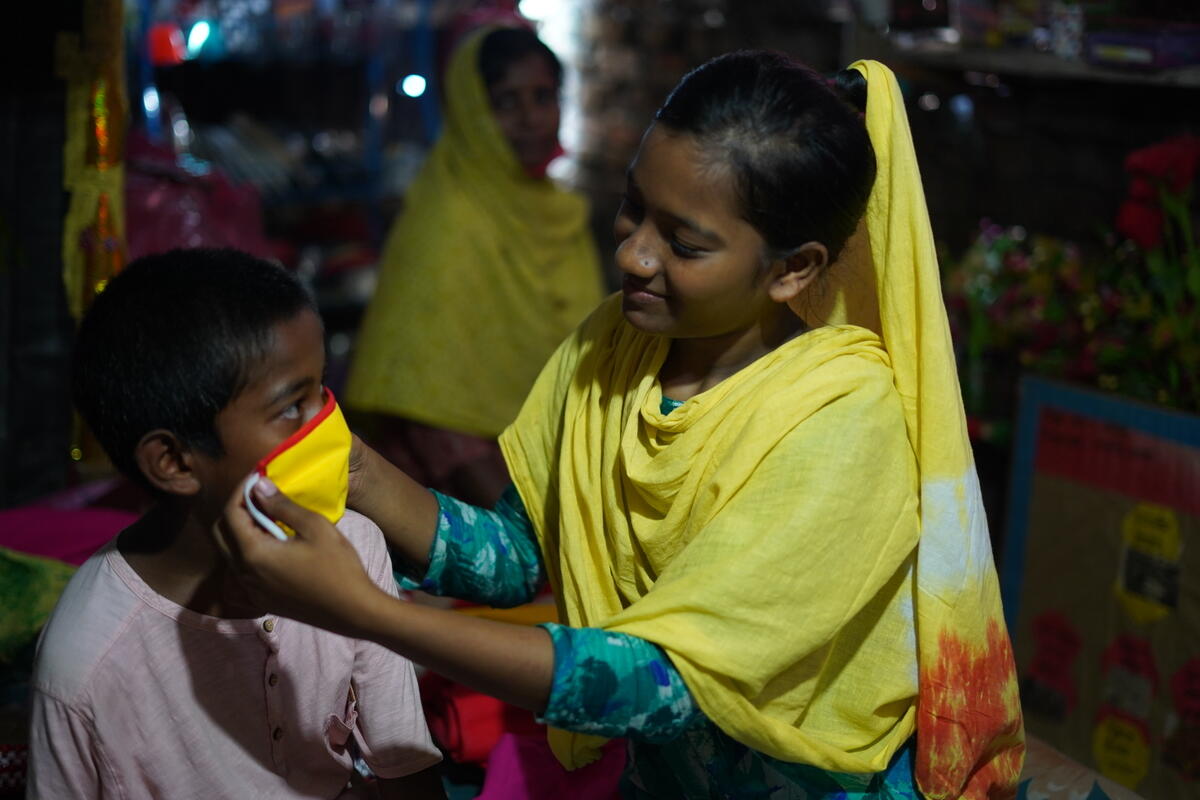 (Pictured: Akhi helping a boy wear a mask.)
Akhi's simple acts of love to those around her garnered attention not just locally, but internationally. On World Humanitarian Day, Akhi was one of eight humanitarians honoured by the United Nations Office for the Coordination of Humanitarian Affairs (OCHA) for their work. Akhi was even lauded as one of the "real-life heroes who has committed their lives to helping others in the most extreme circumstances around the world". Akhi's selfless and generous service and initiative influenced and was an example to not just her community but others all around the world.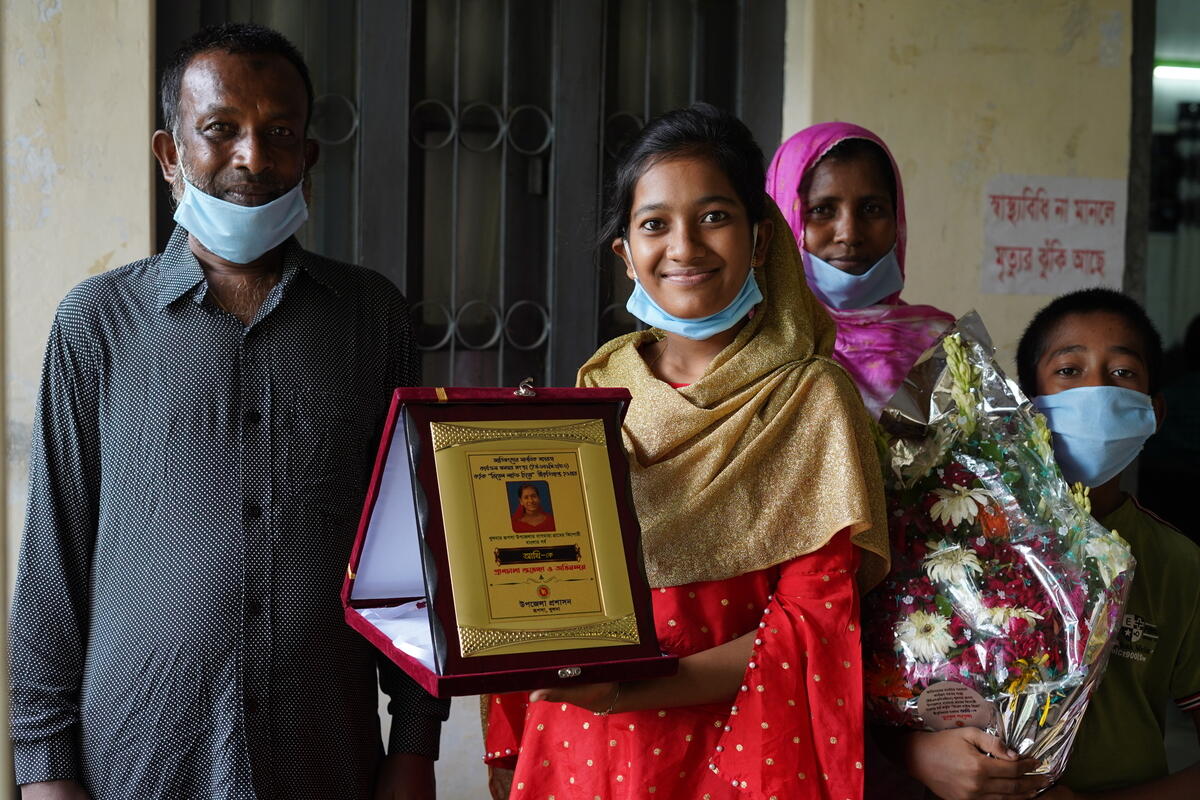 (Pictured: Akhi and her family with the OCHA award.)
To find out more how youth like you can become the changemakers of the world, join us at this year's edition of the Youth For Change Conference! Read more about it here.