World Vision delivers more aid into Ukraine as increased fighting fuels soaring humanitarian need
• Food items and basic supplies delivered to second Ukraine hospital within a week
• Need for basic food and hygiene supplies within Ukraine is increasing at a rapid rate
• World Vision scaling up humanitarian aid to reach vulnerable children and adults displaced and affected by the conflict
11 March 2022 - Soaring humanitarian needs inside Ukraine have prompted World Vision to deliver its second shipment in a week of essential food and supplies to a hospital in the embattled nation.
The international aid organisation is responding to a spike in the humanitarian needs of people inside Ukraine who have been internally displaced by the intensified fighting. The UN estimates almost 2 million people are so far internally displaced in Ukraine.
The shipment delivered essential items to a municipal hospital in Novoselytsia just over the Romanian border, and was the second in just one week by World Vision to hospitals in western Ukraine - a region where many of the internally displaced are seeking refuge in sub-zero temperatures.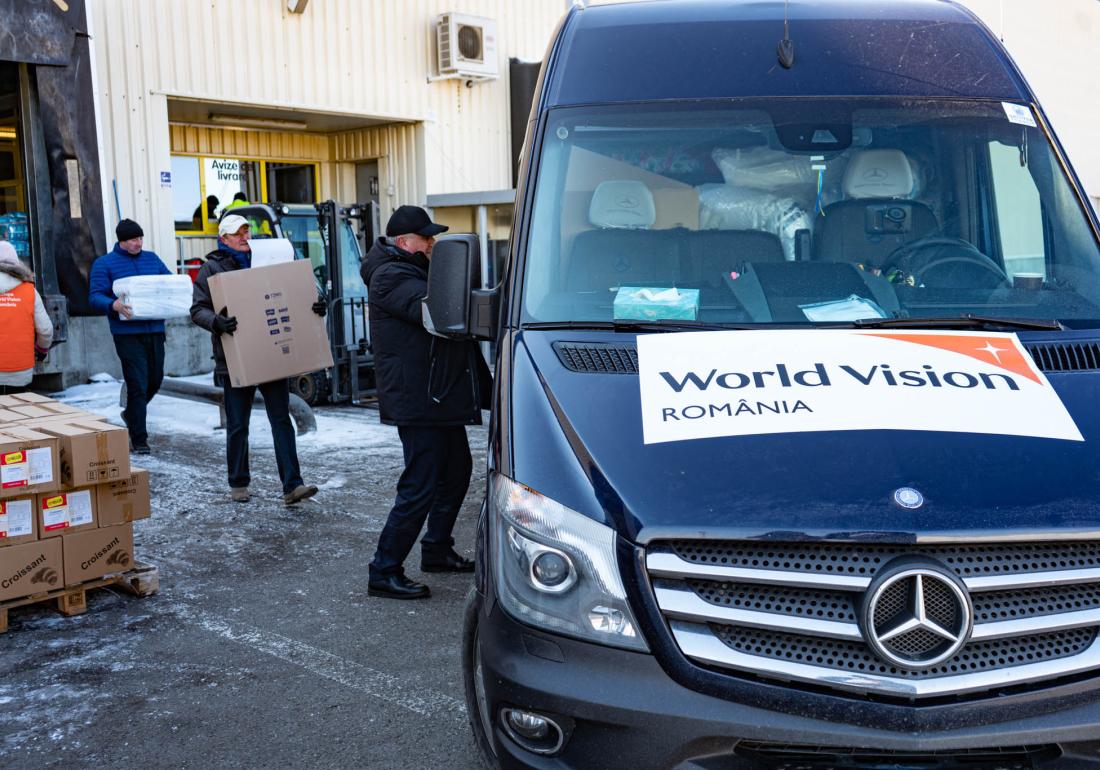 World Vision Romania national director Mihaela Nabâr said the organisation was becoming increasingly worried by the worsening humanitarian situation and deprivation inside Ukraine where food, in particular, was running out in many places.
"We already know the situation for refugees in neighbouring countries is bad enough, but we are also hearing dreadful stories of desperation inside Ukraine, of people who are internally displaced after fleeing the fighting, So, in areas where we have access, such as western Ukraine, we will continue to respond to the needs of those people."
Supplied goods included nappies, blankets, mattresses, sheets, towels, detergents, cleaning items, canned food, rice, flour, grains, juices and oil, among many others.
With a presence in Romania for over three decades, World Vision's locally led team of 350 Romanians was one of the first organisations to respond when the Ukraine crisis began. It has also been responding to the refugee crisis at, and close to border crossings with water, food, hygiene and child-friendly kits, child play areas as well as heaters to the mother-and-child rest stations.
Ms Nabâr said many people fleeing the conflict in Ukraine had flocked to hospitals as safe havens which ramped up the pressure on an already stressed health system.
"Hospital supplies were already dangerously low, and with the increased fighting creating serious logistics issues in Ukraine, hospitals are really struggling to keep up. And we fear this is only going to get worse."
The refugee crisis across eastern Europe is worsening by the day, with more than 2.3 million refugees on the move, and 161,700 fleeing Ukraine in the last day alone, according to UN estimates. Romania alone is estimated to be hosting around 62,000 Ukrainian refugees. 
---
For more information on how donors can support the emergency aid response through World Vision, visit https://worldvision.org.sg/ukraine
For further information or to arrange an interview, please contact
Patricia Ng, Marketing Communications Manager, World Vision Singapore (patricia.ng@worldvision.org.sg).
---
About World Vision
World Vision is a Christian humanitarian organisation dedicated to working with children, families, and their communities worldwide to reach their full potential by tackling the root causes of poverty and injustice. Working in nearly 100 countries around the world, we serve all people, regardless of religion, race, ethnicity, or gender. For more information, please visit www.worldvision.org.sg.