When Hands Touch
Kanchomba, Zambia - It is an unexpectedly windy day. Women busily pour water around the edges of a tent to try to tame the dust but red particles swirl around and float through the big white tent anyway. All morning people who live far away have been arriving; some in school buses provided by World Vision others on foot, some people walked from as far away as 15 km.
In the tent, children are already settled. Younger children are well-behaved in the arms of their older siblings. I am amazed to see all the beads and colourful threads woven into their hair. The children turn their faces and quiet as the introductions start. They cheer as Wezi Kiara, Integrated Programs Director for World Vision's work in Zambia, announces plans for games after the main event. Classrooms for the event, a school in Kanchomba, an area in the Southern Province of Zambia, have been given a makeover.
Over the last year, Chosen projects have been held in Guatemala, Kenya, Ecuador, and Malawi. Concert-goers to shows by Big Daddy Weave, a Christian band and also a 13-year partner of World Vision, have been selected as sponsors for this event. It is the first of its kind in Zambia.
Today, 625 people have gathered for the main event where 253 children will choose their sponsors.
A small group of children under 10 years old goes first. They are led in small groups to the classrooms. Naomi, an 8-year-old in a cheerful polka-dot dress waits outside the classroom. Her legs do not touch the ground and instead swing in excitement. I catch a boy trying to peek into the classroom. Much later, leaning against the doorframe, I witness the special moment of a child toddling towards the photos hung on pegs in the middle of the room.
The room is quiet as he heads in a specific direction and stops in front of a picture. He turns back to his grandmother, with his thumb in his mouth, for assistance. She comes from the back of the classroom where she has been waiting and retrieves the photo for him. He clutches it tightly in his fist. Generally, the process of child sponsorship is organization-led and largely donor-initiated, even from the selection of a beneficiary.
The Chosen project takes how sponsorships been done for decades and flips it around.
Now a child used to having circumstances dictate their ways is given agency to decide whom to build a future with. With their own hands, they pick a single picture and open their hearts. I am told it is an incredible feeling to be chosen. Past Chosen projects have revealed amazing stories of how Christ has brought together sponsors and children in special and unique ways. After pictures were taken to show sponsors who choose them and introductory letters were written, people gather to dance.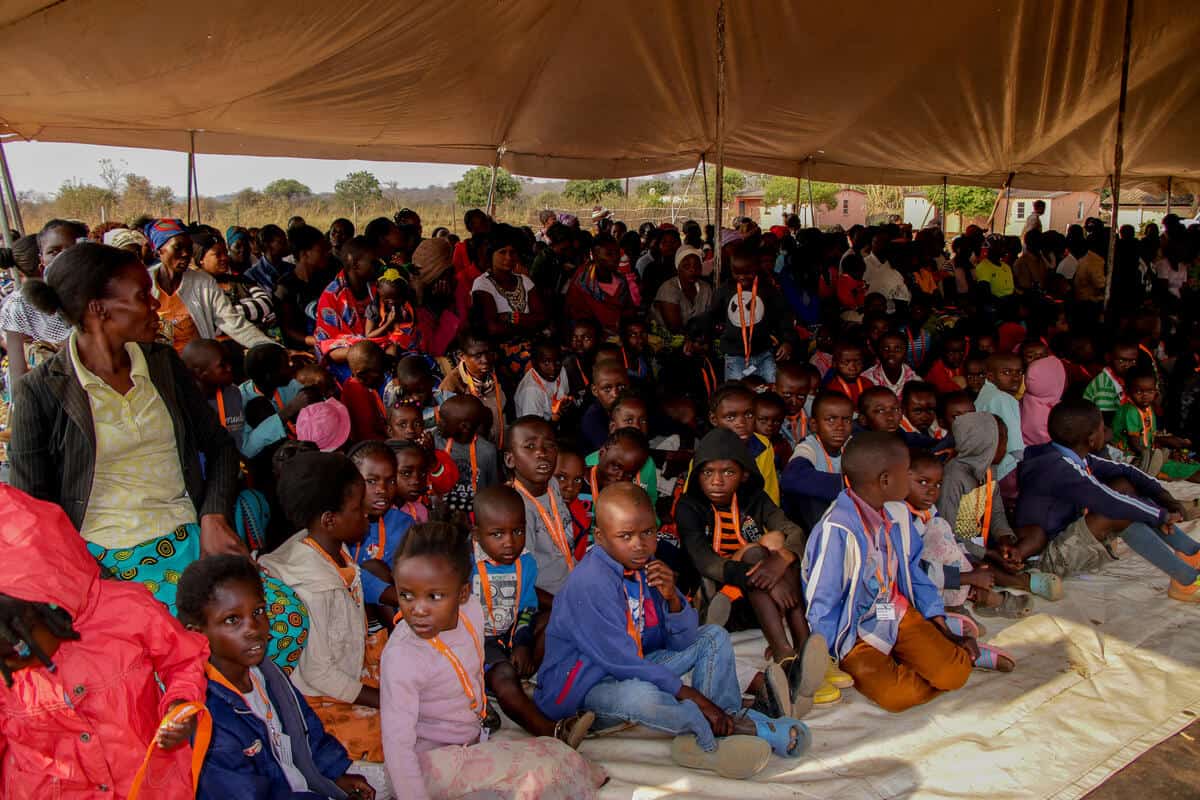 A huge circle of joy forms. I have to step a distance away for the scene to fit into my camera. I see that one of the most talented dancers is a volunteer with a wide gap-toothed smile, recognizable in her standard white shirt. An event of this scale is impossible without volunteers. She has walked far to volunteer as an usher. But she has no children. I learned more about the strong sense of community from Annie, a volunteer with three sponsored children. Her fourth, Abigail, is still waiting for a sponsor.
She has introduced her sister to World Vision's work, and her niece picked a sponsor earlier. I ask if she feels unhappy that Abigail did not get a chance to participate, even while Annie works hard all day. Annie smooths her hands over her child's braids "I'm not worried. Next time." She offers me a genuine smile. The people had great and unselfish love for their community.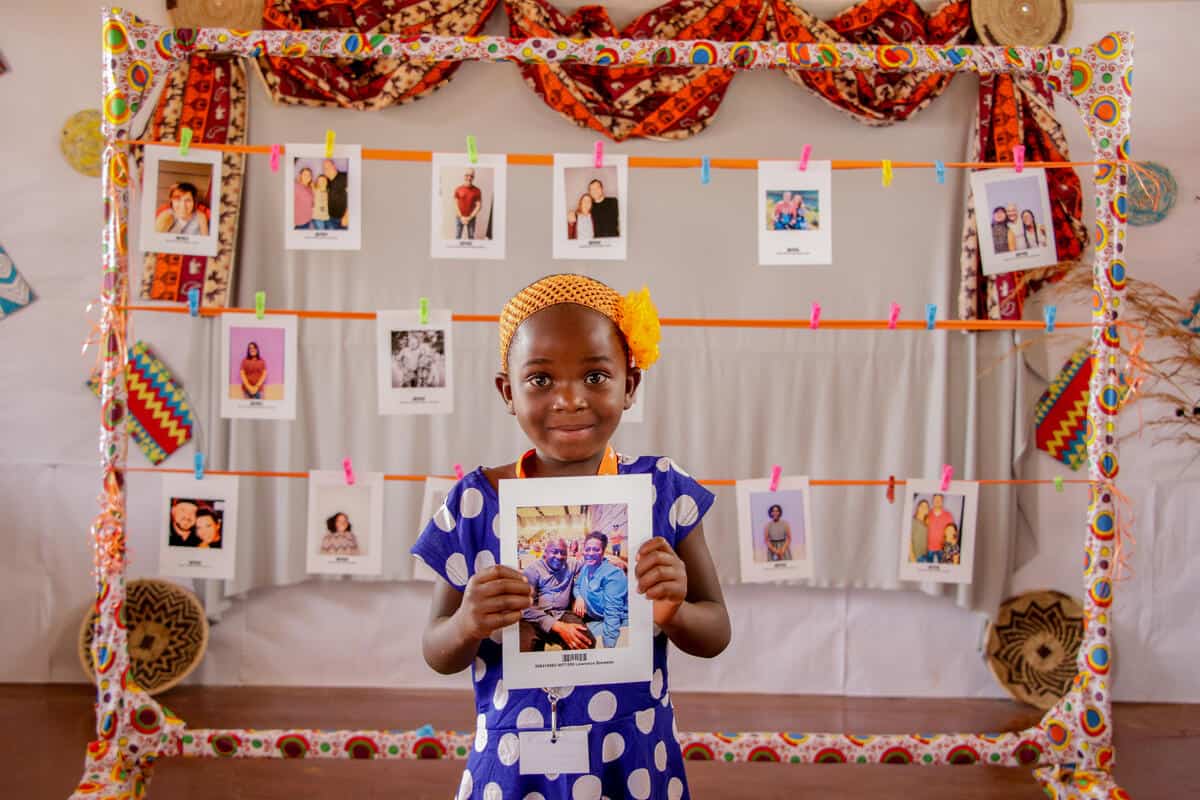 I was moved by their faith. Zambia's southern province has been significantly affected by the drought and recent poor harvests. Families know that hard times lie ahead. In the feedback meeting a few days after, the staff had a chance to share their experiences. Some children took an extraordinary amount of time to carefully select a sponsor. Some already seemed to have a sponsor in mind from the very first look. Every single one of them was noticeably reluctant to part with the photograph afterwards. 
As a World Vision staff member, Lilian's face lights up with pride whenever she talks about the Chosen project. She describes the event as an amazing experience for the children she saw. As a child, she benefitted indirectly from World Vision's sponsorship program and related activities in her area and Lilian knows that Chosen is a step in the right direction not only to "involve the community, families but (most importantly) the child himself". With Chosen, the children reach out to take the sponsor's hand first.
When hands touch, the result is a deeper connection, more genuine involvement and greater love for all. World Vision Zambia has been working in Zambia since 1981 and is currently in 31 districts of Zambia's 10 provinces through its large-scale community–based Area Programmes.
Children are at the heart of World Vision's work and it aspires for all children in Zambia to be healthy, educated and have a strong character. Learn more about Child Sponsorship and the new Chosen project being rolled out in select countries where World Vision is working.