Syrian mothers, babies survive bomb blast at WV-supported hospital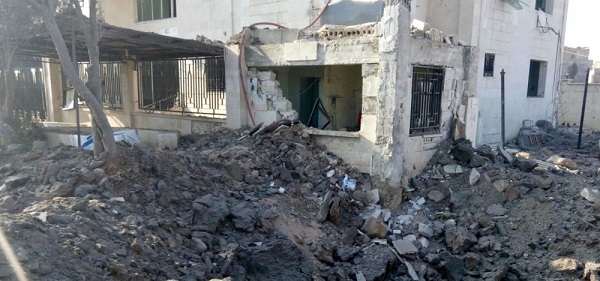 A bomb blast Feb. 15 outside a World Vision-supported hospital in A'zaz, northern Syria left a crater of rubble, shattered windows and slightly damaged the building. No patients were injured, but as many as 14 people were killed in the attack.
Patients and newborn babies receiving care at a World Vision-supported hospital in the northern Syrian city of A'zaz are all okay after a bomb exploded nearby Feb. 15, shattering windows and causing some structural damage, aid workers reported from the site.
"We heard the sound of a fighter so we ran into the hospital's shelter," a World Vision midwife working in the hospital at the time of the attack shared with the organization's communications staff based in Turkey. "After the attack we couldn't go up because we could still hear the sound of planes. When we went out, we were told it was a missile. The sound of the plane was really loud and scary, and destruction was huge."
Four newborn babies lay in incubators when the explosion rocked the building, as did four women, unable to move from their beds while under anesthesia for Cesarian section, staff reported.
As many as 14 people in the vicinity were killed and 30 injured in the blast, which came just days after world leaders involved in Syria announced a plan to move toward cessation of hostilities and improve conditions for delivery of humanitarian aid to people living in besieged cities. Since the attack, the local Syrian organization managing the hospital has suspended operations. The facility serves about 3,500 women and children per month.
World Vision has supported the hospital through training staff and providing medicine, equipment, and supplies. World Vision's Women and Young Child-Friendly Space operations were also suspended due to recent attacks in the A'zaz area.
"Recently there has been an alarming increase in attacks on hospitals, schools, and other civilian areas in northern Syria," says Fran Charles, advocacy director for World Vision's Syria response.
"World Vision staff on the ground inside Syria report an increasingly restricted humanitarian space, which means greater difficulty in reaching children and families with the assistance they so desperately need."
Within the past 15 days, heavy fighting has displaced more than 62,000 people in the Aleppo region of northern Syria. Aid systems in border camps and towns that already host tens of thousands of people are overwhelmed, and the current capacity of the camps has been exhausted. World Vision's supply warehouse has even become a last-resort shelter for the displaced, so they do not have to sleep outside in the elements.
World Vision is helping in A'zaz and in camps along the Syria-Turkey border by trucking in water, constructing latrines, and providing supplies for winter — that include blankets and warm clothing — plus baby kits for families, which contain diapers, diaper rash cream, wipes, and other essentials. About 4.5 million people across Syria are located in areas considered "hard to reach" by the United Nations — half of those are children.
Disaster Response Fund
World Vision is prepared with pre-positioned supplies and trained relief staff to respond rapidly to any disaster anywhere in the world. We are often one of the first organisations on the ground with life-saving emergency aid, and we stay for the long term to help families recover and rebuild. The Disaster Response Fund helps us rush emergency supplies like life-saving food, clean water, medical supplies, and shelter to survivors. And helps ensure that we have pre-positioned supplies in place to respond to the next disaster.