Southern Asia affected by floods
(Updated on 13 August, 3.30pm)
World Vision's Response
India
- The district of Bardhaman, Purbastali block 1 and II, will be the main focus for World Vision India's Emergency Relief Response where 4,000 households will receive relief goods consisting of Food Items, Non-Food Item Kits, Shelter Kits and Hygiene Kits.
- WV India will provide immediate relief and move to Early Recovery Phase with a special focus on Livelihood, Shelter, Education and Water, Sanitation and Hygiene (WASH).
Myanmar
- Targeted to reach 65,270 people focusing on the sectors of food, Water, Sanitation and Hygiene (WASH), shelter, child protection and emergency health.
- 2,425,680 P&G Water Purification sachets supported through various local partners
- 350 family kits distributed in Mogaung, Kachin state.
- 500 family kits to be distributed to the families in Pwintbhyu Township
(Updated on 11 August, 5pm)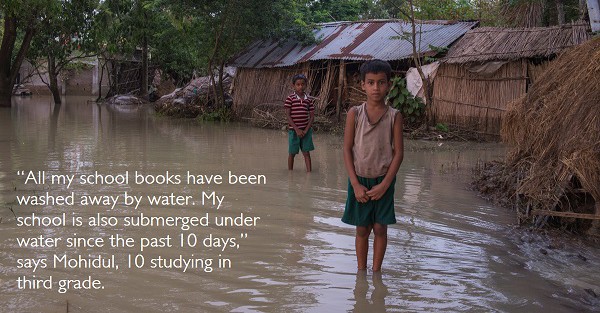 Monsoon rains have come this year with special ferocity, causing death and extreme flooding in Myanmar, India, Bangladesh, and Pakistan in the aftermath of Cyclone Komen.
Our staff are reporting multiple areas of damage in their countries. India reports 10 million people affected mainly in four states: Odisha, West Bengal, Rajasthan, and Gujarat. Nearly half a million homes were partially damaged or destroyed in West Bengal alone. About 1.9 million acres of crops have been damaged. Myanmar tells of 330,000 people impacted, and landslides causing damage or destroying vital infrastructure in 12 of 14 states. Similar stories of destruction are emerging from Pakistan and Bangladesh.
Win Zin Oo, World Vision Myanmar's Humanitarian and Emergency Affairs director, said: "Naturally, the flood from upper Myanmar will flow down to lower Myanmar. There is a big chance that the flood in lower Myanmar will worsen within two weeks to one month."
In Myanmar, food availability and accessibility will be the main difficulties in the coming week or two. World Vision Myanmar will be responding through existing programming areas.
Meanwhile, in India, two World Vision programmes in West Bengal are in some of the worst affected areas.
In Bangladesh, the government has not declared an emergency. World Vision will continue to monitor the situation as flooding has been ongoing since June and may be prolonged due to the monsoon.
World Vision has a significant disaster response capability, with pre-positioned supplies in warehouses in Yangon and Mandalay. Situation assessments are still ongoing and our local staff is monitoring the situation very closely, working with the government, district and local authorities to assess the situation.
Update: World Vision Singapore's communities in Bangladesh, India and Myanmar Area Development Programmes (ADPs) have not been affected by Cyclone Komen and we will be working closely with local partners to monitor the situation.