Social Innovation at Youth For Change Conference 2019
On 9-12 December 2019, students and young professionals from Cambodia, Myanmar, Hong Kong, South Korea, Singapore, Nepal, Vietnam, China and the Philippines came together for the fourth edition of our annual Youth For Change Conference (YFCC), which was held in Cebu. The theme of the conference was Social Innovation. This was premised on the recognition that key sectors with a stake in building a more inclusive world and enhancing human development (such as government, business, and civil society) can no longer work in isolation, as no single organisation or field of practice has all the answers for addressing the struggles of communities in need around the world. The emerging generation of young change-makers needs to feel comfortable reaching out across their areas of expertise to tackle systemic problems that vulnerable people groups face collaboratively.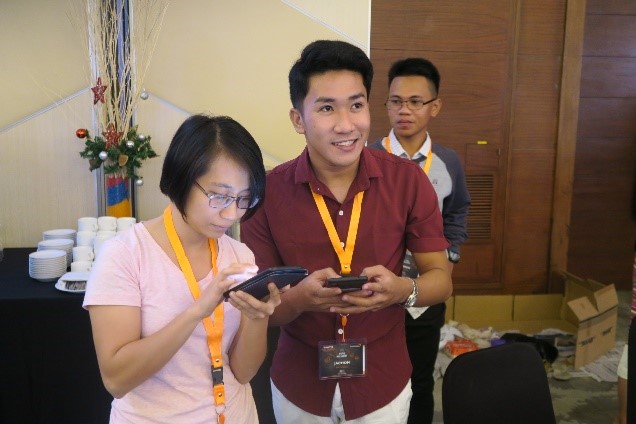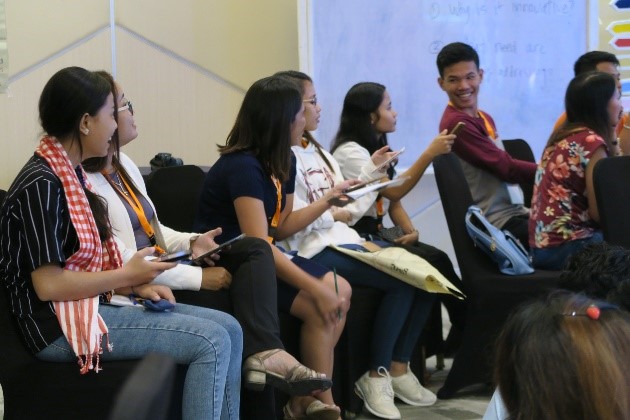 Youths getting to know each other better on the first day of the conference!
The programme for YFCC in 2019 was shaped to introduce participants to practical applications of a social innovation mindset in the work of World Vision, so that they could understand the tangible benefits of being open to creative collaboration across different sectors, and to forging unconventional partnerships that leverage the unique assets of different stakeholders to generate unprecedented, groundbreaking solutions. Two parallel programme tracks were on offer:
The 'Budding Innovators' Track
The 'Budding Innovators' track was put together to help cause-driven youth learn more about what humanitarian and development work involves in practice, and how the frontiers of that work are being advanced through social innovation. The programme for this track began with a series of interactive plenary sessions and workshops that demystified the social innovation mindset and equipped participants with basic tools for identifying needs and formulating solutions through Human Centred Design. These included: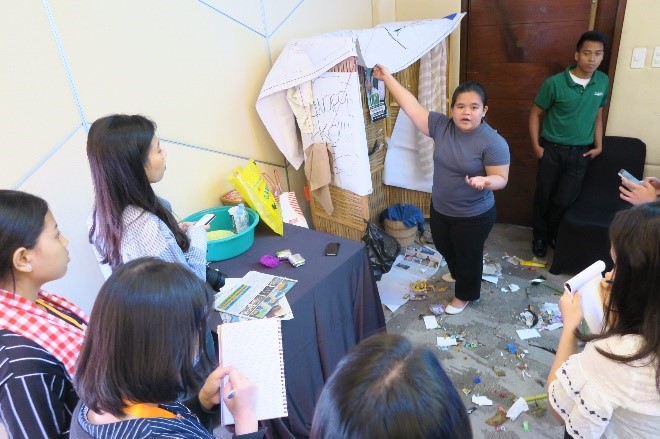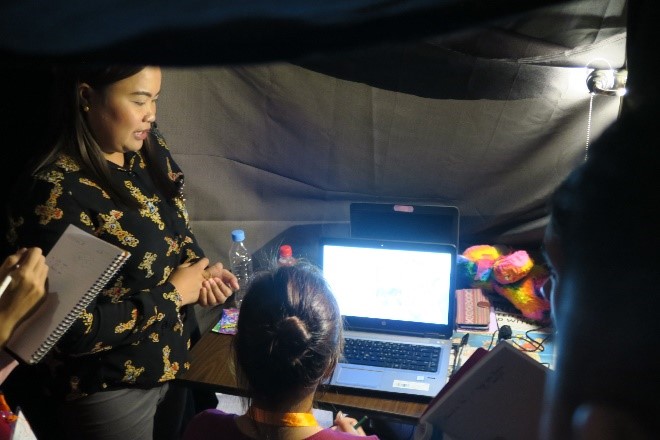 Youths visiting the interactive booths at Cebu 360. LEFT: A field staff shares about the living conditions of informal settlers. RIGHT: Another field staff shares how children are vulnerable to online exploitation. 
Cebu 360: A round-robin segment in which participants moved through a series of interactive booths that introduced five of the most pressing challenges affecting vulnerable children and families in Cebu: Informal Settlers, HIV and AIDS, Water and Sanitation, Street Children, and the Online Sexual Exploitation of Children (OSEC).
Youths participating in Christy's workshop to gain a better understanding of social innovation. 
Who's Afraid of Social Innovation: A fun and highly interactive session that involved the use of short-and-sharp team challenges to introduce participants to the key traits of a social innovation mindset, push them to exercise creative thinking, and have a taste of the rigours of pitching and defending proposals. This segment was led by Ms. Christy Davis, the current Executive Director of the Lien Centre for Social Innovation (and previously the Executive Director of the Asia P3 Hub), with the assistance of Mr. Ishan Singh, an undergraduate from Singapore Management University.
Human Centred Design in Development Contexts: A crash course on the principles and tools of Human Centred Design, as applied in environments affected by humanitarian challenges and extreme poverty. This segment was led by Mr. Suyog Chalise, a Programme Coordinator from World Vision's Nepal Innovation Lab.
Three workshops which participants could choose from: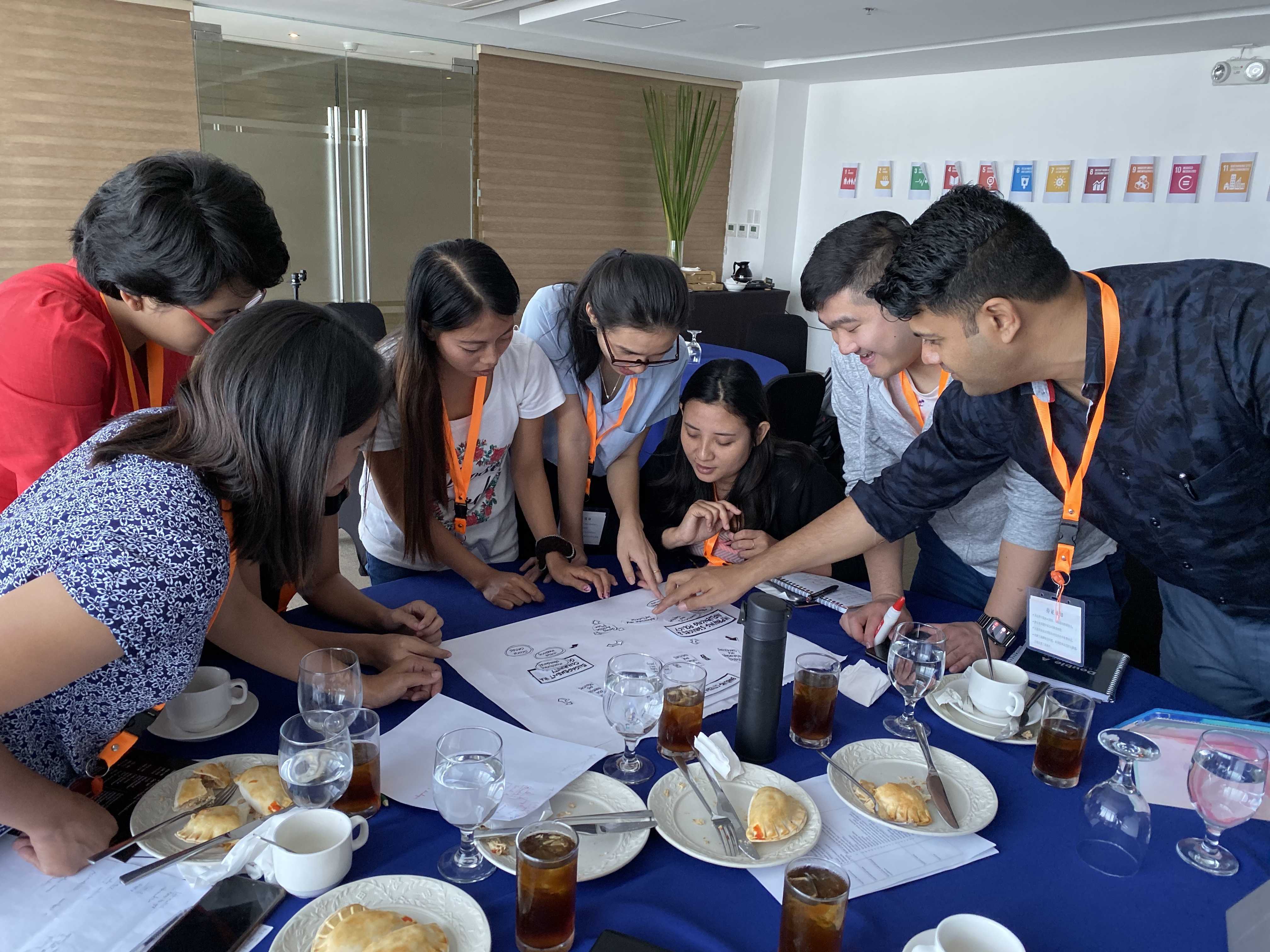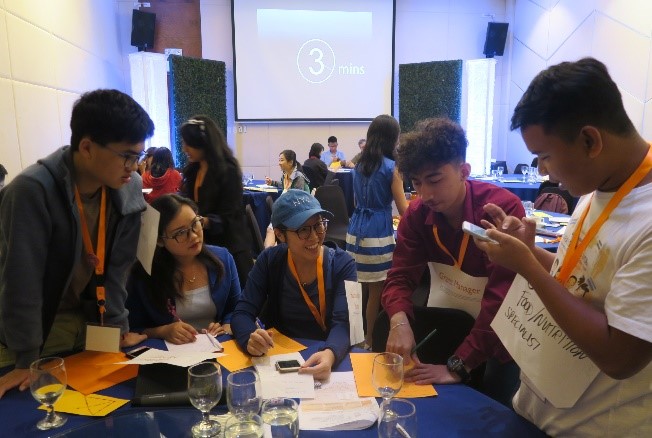 Youths enthusiastically taking part in their various workshops to equip themselves with skills and knowledge on development!
Social Accountability and the Sustainable Development Goals: This workshop, which was led by Mr. Deepesh Thakur (Director of Advocacy and External Engagement at World Vision Asia-Pacific), equipped participants with tools, drawn from World Vision's Citizen Voice and Action (CVA) model, for holding governments accountable for their commitments to the SDGs, particularly those with a bearing on child well-being. 
Fragile Contexts: This workshop, which was led by Mr. Matthew Scott (Global Lead for World Vision's Fragile Contexts Initiative), involved a fast-paced simulation exercise in which participants assumed different functional roles in World Vision Mali to respond to a humanitarian situation complicated by outbreaks of violence.
Tech in the Wild: This workshop, which was also led by Mr. Suyog Chalise, focused on introducing the history and day-to-day work of World Vision's Nepal Innovation Lab, and featured exhibits of some of the devices that had been engineered and produced at the Lab.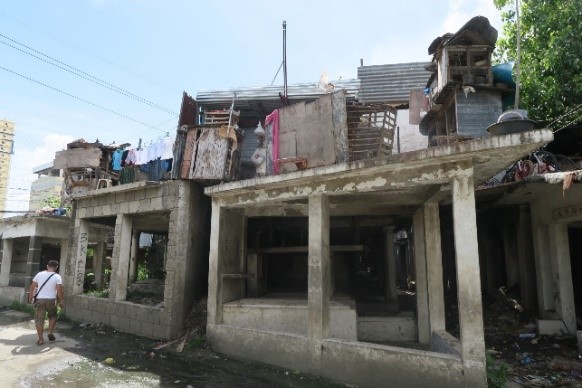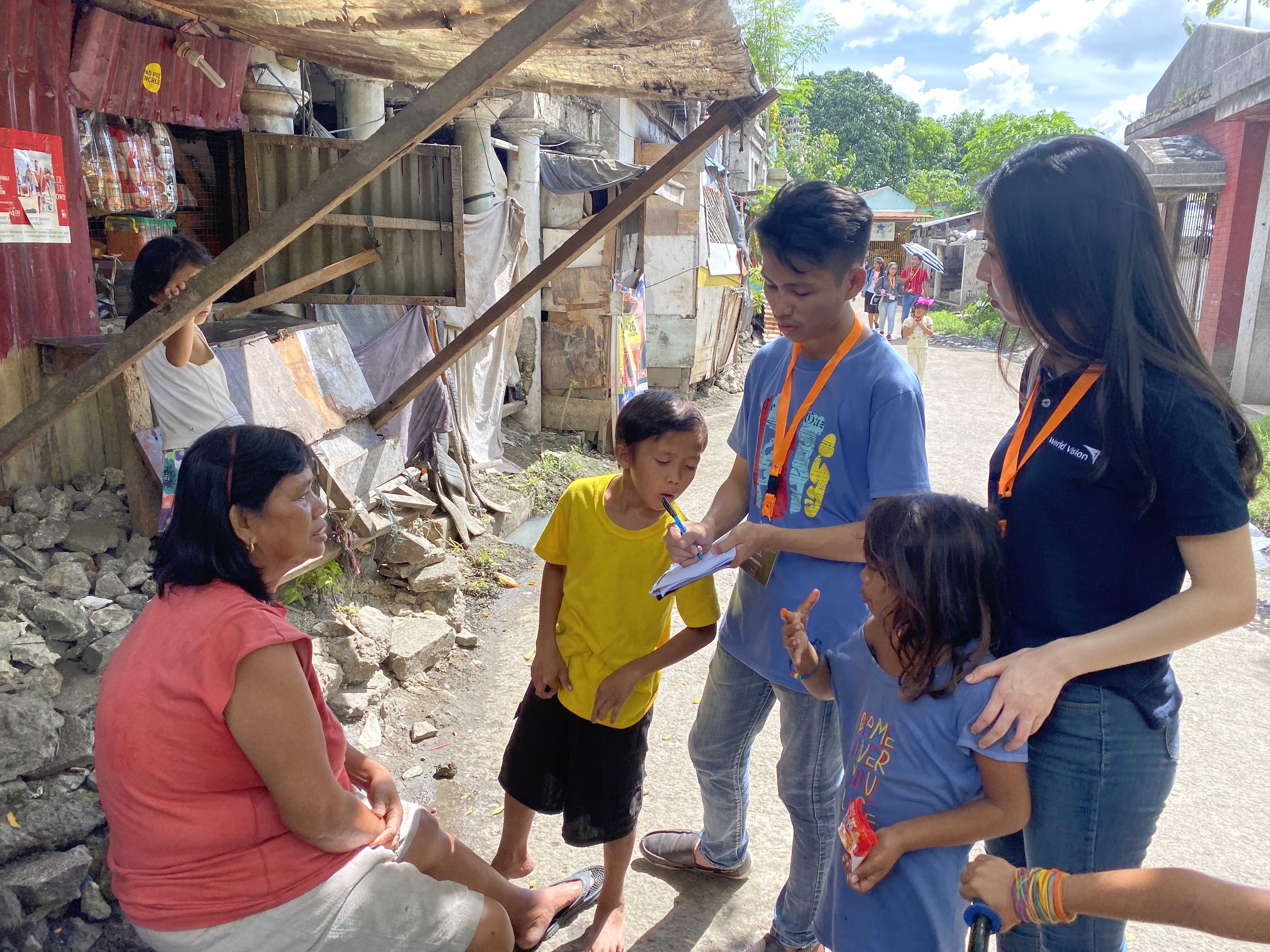 Youths visit an informal settlement located in a cemetery and conduct interviews with people living there to understand their situation better.
On Day 3, participants embarked on field visits to sites around Cebu with significant populations of informal settlers and street children, including slums, pier-side areas, and cemeteries. They were challenged to apply the tools of Human Centred Design, which they had learnt and seen demonstrated during the speaker sessions on Day 1 & 2, to gather data about, and ideate in response to, one of the five areas of need highlighted at Cebu 360. With the help of World Vision's field workers, participants interviewed community members with a stake in child well-being, including families, barangay leaders, and barangay health officials, to understand the lived experience of these challenges. Participants then came together in teams to distil key observations and finalise their proposed solutions. Finally, on Day 4, participants pitched their proposals before a panel comprising Mr. Chalise, Ms. Davis, and Ms. Maria Aguila from World Vision Philippines, with prizes given out to the top three teams chosen by our panellists.  
The 'Solution Designers' Track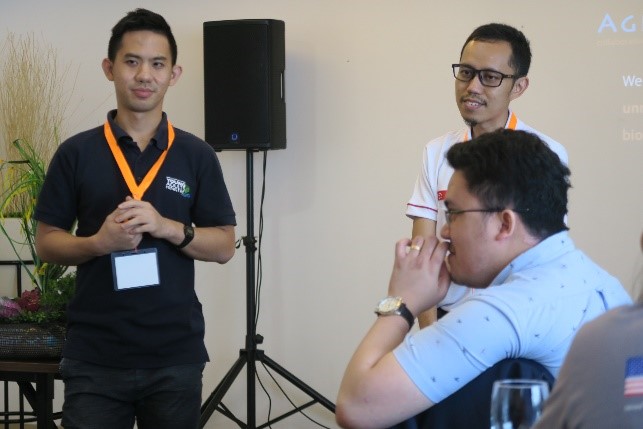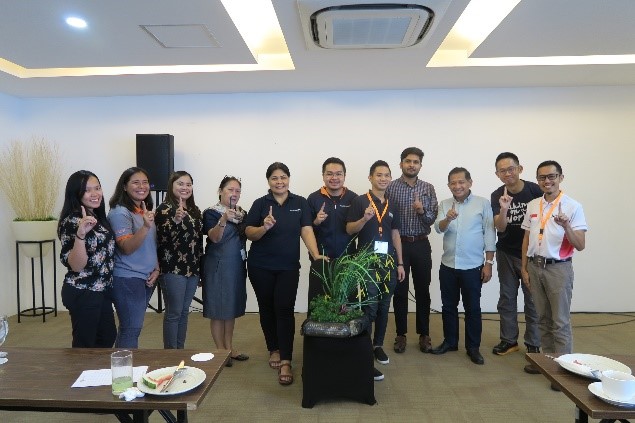 Entrepreneurs from Aglantis share their prototype with the Cebu field staff.
The 'Solution Designers' track was assembled for tertiary students as well as young professionals and entrepreneurs who had already developed possible business solutions with the potential to make a positive social impact. This track allowed participants the opportunity to present their ideas and prototypes to development practitioners from World Vision Philippines, as well as our speakers on the 'Budding Innovators' track, and to consult them on the viability of piloting their solutions in authentic settings like the Philippines where World Vision has identified genuine needs on the ground. 
A duo of millennial entrepreneurs from a Singapore-based start-up called Aglantis, which specialises in robotic solutions for water-related environmental challenges, joined this track. Through a series of presentations and rich discussions with Mr. Chalise, Ms. Davis, and field workers from World Vision Philippines, as well as field visits on Day 3, they made an extensive assessment of the viability of introducing a prototype of a waterway-cleaning robot in informal settlements situated near rivers, canals and inland waterways to improve the public health and hygiene conditions of people living in these areas around Cebu. The team also introduced their prototype to, and shared findings from their field visits with, participants on the 'Budding Innovators' track on Day 4, as a real-life example of social innovation in practice.
Hear From Our Participants!
Here is a snapshot of what our participants had to say about the conference experience:
I cannot decide which plenary session was my favourite, but it would come down to a toss-up between Mr. Suyog and Ms. Christy. Mr. Suyog's Human Centred Design session was very insightful and I felt like I was learning a lot. But Ms. Christy's was perfect for the first day as well since we were so new to the idea of social innovation. (Apee, 22, Nepal)
Matthew Scott's simulation experience was so wonderful and realistic. It allowed me to really experience how World Vision staff handle fragile contexts and understand their thoughts and feelings. It was just so great, fun and rewarding. I loved it so much. (Lok Kan, 18, Hong Kong)
The field visit experience taught us a lot. It was very eye-opening and we were very grateful to be there. If not for the World Vision field staff, we would never get the chance to wander into private spaces and it was a once in a lifetime experience to see the real deal. (Eugene, 30, Singapore) 
The memories [of the field visit] are unforgettable and, to some extent, even traumatic, but it's those experiences that really shape perspectives – to be more mindful of challenges being faced beyond technological considerations, which is important in designing solutions in the humanitarian and development space. (Ibnur, 34, Singapore) 
Great conference that must be done across the globe! Love it! Hoping for more of this. (Rey John, 18, the Philippines)
I definitely would say that this experience is priceless. Because I made lots of friends who are like family. I felt like the world was one throughout the conference. We all face many problems because of conflicts, so maintaining a regional youth engagement platform is very important. I will recommend this programme to other people! (Jihee, 27, South Korea)