Shampa's Heart for Refugee Children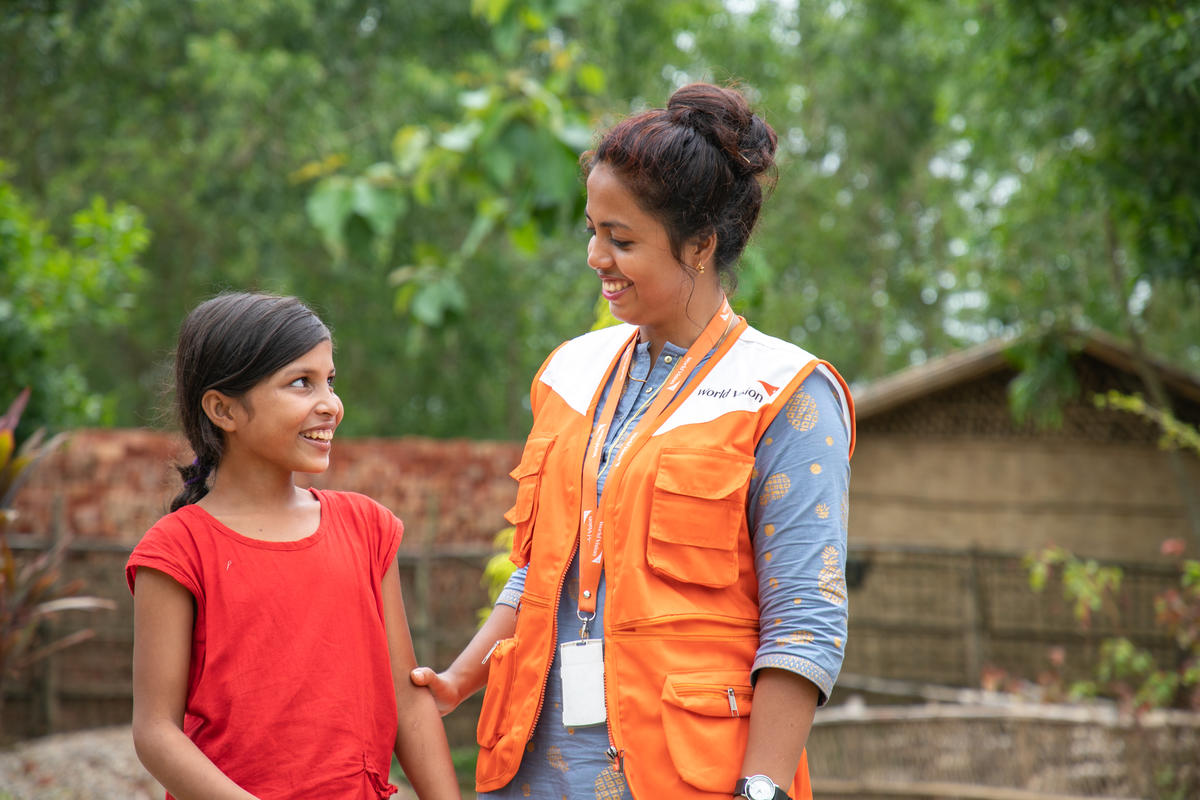 World Vision child protection coordinator, Shampa, and Bibi, 10, who attends World Vision's Child Centre in the Rohingya refugee camp in Cox's Bazar
This World Humanitarian Day, we celebrate the passion and dedication of humanitarians like Shampa. 
It's the children's fear that Shushanna Shampa Kundu remembers most, after working two years in the refugee camp.
"The children were so stressed because of the horrible situations they had faced. They acted violently and couldn't trust anyone," says Shampa, a World Vision child protection coordinator. Speaking slowly, she recalls the first days following the massive influx of Rohingya refugees from Myanmar into Bangladesh in August 2017.
"Children told us they didn't feel safe even here," says Shampa. "They said they feared something would happen to them in the night while they slept."
Shampa became determined to help change that.
A recent finance graduate, this 31-year-old Bangladeshi traded a potential corporate career for a rugged job in the world's largest refugee camp.
"Accounting frustrated me," says Shampa, with a shy laugh. "I felt blessed when God gave me the chance to work here because I love children."
Today Shampa coordinates a team of 30 World Vision field staff and volunteers working across three camps. Their job is to protect refugee children from violence, exploitation, abuse and neglect. It's no small feat in this makeshift megacity of almost 1 million people. More than half are children.
Children are particularly vulnerable in the camps. They face many risks ranging from flash floods and landslides to exploitation, such as child labour, as well as physical abuse. Police and military patrol the sprawling camps during the day, but they leave at dusk. With little law enforcement, violence against children often goes unreported.
Domestic violence is also a growing issue. Many families are still recovering from psychosocial stress while struggling to provide for their children in the camps. "We see a lot of violence against children, including corporal punishment and child marriage," says Shampa. "We have so much more work to do here to protect children."
Schooling is one proven way to keep children safe. Shampa and her colleagues manage 11 centres where children can play together, relax and just be kids. Up to 3,000 children attend daily. A gifted artist herself, Shampa enjoys encouraging their creativity. Crayoned posters and paper flowers cover the centres' bamboo walls.
"When the children draw and learn, they forget their situation for a while," says Shampa. She's noticed a gradual change in their artwork over the past two years. The children no longer sketch pictures of burning villages and stick figures with guns. Their drawings now often depict happier times in Myanmar—farmyards, animals, schools—as well as scenes of daily camp life.
"The children come to me with smiling faces despite the many barriers and limitations in their lives," says Shampa. "They motivate me to do more."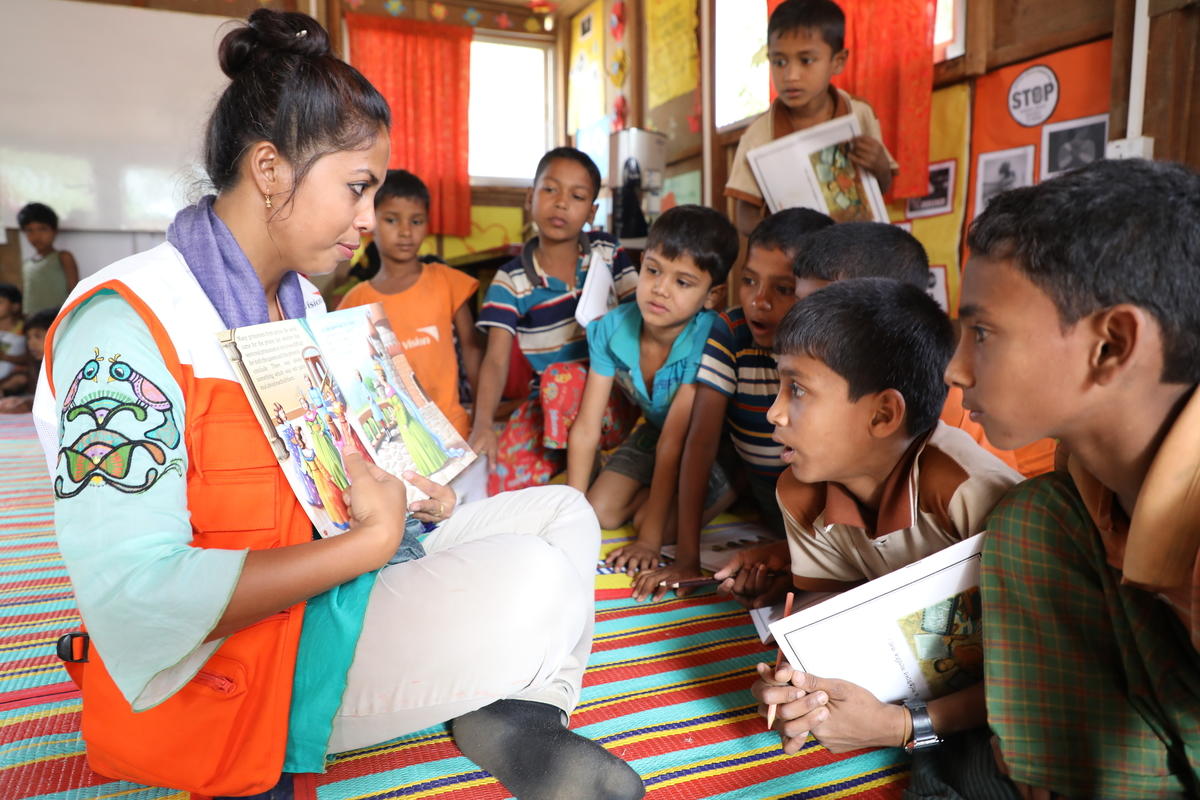 Shampa reading a storybook to the children in World Vision's Child Centre in the Rohingya refugee camp
Sitting cross-legged on the floor, Shampa reads a storybook aloud to her eager audience. The children look forward to this regular activity. Encircling Shampa closely, their affection for her obvious. "They make me feel like I'm one of them, that I'm a child again myself," she laughs, turning a page of the dog-eared book.  
These moments keep Shampa going, especially on grueling days during the monsoon season. Filthy flood waters and ankle-deep mud transform the hilly, overcrowded camp into a hazardous quagmire. Recently, three children drown while playing in a stream near their shelter.
Shampa was working nearby when the accident happened. "I heard people screaming and running. They were carrying the children—two of them from the same family," she recalls, blinking back tears. "I kept thinking, 'We have to save them. They made the journey from Myanmar to save their lives. How can they die here?' It was a really sad day in my life."
Frontline aid work is emotionally exhausting, especially when serving children. Confronted daily with a chasm of suffering and need, and few durable solutions, many child protection workers eventually pack up or burn out.
Described by her colleagues as "a woman of creativity, courage and endurance," Shampa has the rare resilience that this long-term refugee crisis demands.
The Rohingya will likely need the support of NGO workers like her for years to come. They insist they won't return home until their basic human rights are guaranteed. Without status in Myanmar or official recognition in Bangladesh, they remain citizens of nowhere. 
"Being a humanitarian means working for the protection and the rights of these most vulnerable people," says Shampa. "I want Rohingya children to know they have human rights and a right to enjoy their lives."
Celebrating every small victory in her difficult work, Shampa sees signs that the children are enjoying life a little more each day, two years after their traumatic arrival in Bangladesh. "When I ask them about their feelings, they tell me they feel safe. They say, 'At night when we go to sleep now, we know we will see the next morning.'"