Redefining Volunteerism at WV Youth Summit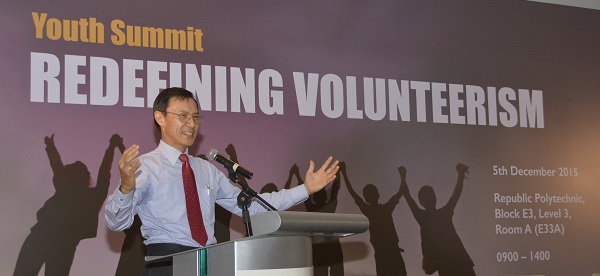 The Youth Summit on Redefining Volunteerism was a truly eye opening event and having attended it as a volunteer, I have gotten a much closer glimpse as to how the seminar has made an impact on the students who had all come together, eager to rediscover ways in which they can make a difference.  This summit co-hosted by World Vision Singapore and Republic Polytechnic was not a mere delivery of information on the volunteer projects that people may embark on but instead, a driving force compelling people to be introspective in their volunteering journeys and to attribute meaning in their actions.
The opening address by Mr David Wong, Vice-Chairman of World Vision Singapore Advisory Council, captured the true essence of what the summit was about. Paving the way of true volunteerism, he reminded us that nothing is carved in stone with the ever changing landscape of today's world. He highlights the need to cultivate a greater purpose in our voluntary work in order to be active leaders and not just passive members of society.
National Volunteer and Philanthropy Centre's Mr Darrel Lim also delivered a segment on nurturing ourselves to be volunpreneurs- a hybrid of volunteer and entrepreneur, emphasising the importance of social innovation in today's world where ideas are constantly evolving and transforming the lives of those in need. Having seen how the students were starting to become more aware of the intricate structure building volunteerism, it was humbling how curious they were becoming and how eager they were to discover the creative ways one can adopt to make their volunteer work more innovative and impactful.
It was an honour to have Ms Mia Marina from World Vision South Asia and Pacific Regional office share about sustainable community development. It was enlightening to be given a fresh perspective on community work and also interesting listening to her stories about what she had encountered. I believe it has encouraged a lot of us to strive to stretch ourselves in this field and to realise that youth participation is crucial in helping local communities and beyond. Volunteerism isn't something touch-and-go and volunteers should be implementing projects that are self-sufficient by their own, which needless to say is not an easy task.
This was when Mr Olivia Loke's address on leadership renewal in volunteerism came in handy, as he emphasised on the importance of team work and having proper team structure by sharing valuable insides on leadership succession. Listening to this address by Boys' Brigade Singapore really fuelled my motivation to participate in more volunteer projects, or even initiate one on my own. Having acknowledged the vast potential youths in Singapore actually have in making a real impact, I am sure I can speak for many of the students that we were all sitting by the edge of our seats by this juncture, fervently admiring the inspirational speakers who had given their time to speak to us, and feeling more than excited to join in their workshops.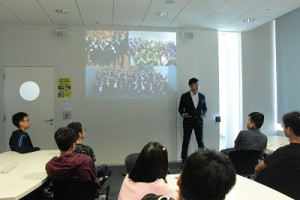 The workshops were really useful as we were given the opportunity to learn from some of the remarkable organisations driving the volunteerism scene here in Singapore. From learning how to apply start up methodologies to designing and planning our own short term volunteering projects, it has provided us great assistance as to how to approach a given cause we might be interested in, and how to follow through with our ideas in a systematic manner to ensure its long lasting impact.
Having attended the summit as a volunteer to help take photos of the event, I was particularly intrigued by the Volunteer Resource Management workshop hosted by Mr Jason Tan who focussed on the added value of a committed volunteer pool and the benefits it can bring. The students participating were all very indulged in the workshops, and taking snapshots of them thoroughly engaged in their interactions with others was honestly a gratifying moment for me. Furthermore, given insights on more large-scale practical examples such as the efforts that have been taken in combating Syrian Crisis, I believe the workshops have really brought to light how extensive the dynamics of volunteerism is and students were constantly urged to redefine volunteerism every step of the way.
The Youth Summit in short was very thought provoking and it has led me to approach volunteerism with more dexterity. It has reignited this passion of mine to always serve others, which I believe is also the goals of many of the participants that attended this summit. I do look forward to meeting like-minded people like them again as I believe that youths in Singapore need to garner support for one another to work together effectively in our volunteer projects. I am sure everyone took away many valuable lessons from this and I hope that they can add value and meaning to their work in future.