The Power of Opportunities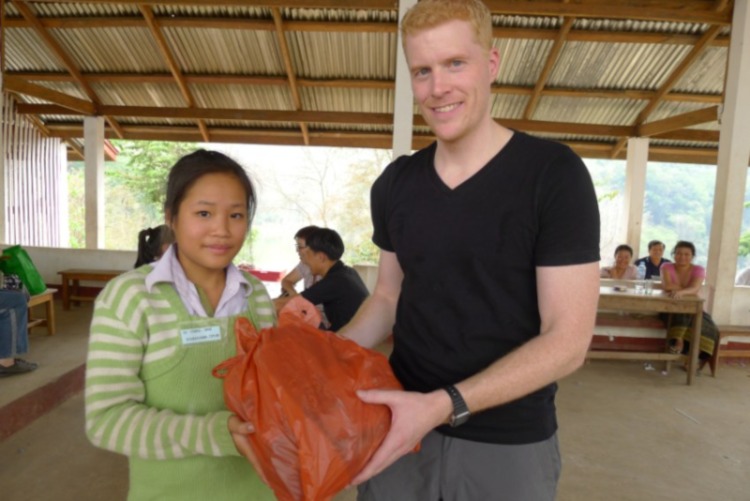 While his surname might be difficult to pronounce, Christian Lamprecht's motivations for sponsoring a child are certainly not difficult to understand.
Christian is currently sponsoring a child in Vietnam and previously sponsored one in Laos. Although he was born and raised in Germany, he has been partnering with World Vision Singapore as one of our child sponsors since June 2007.
"When I did well in my career and started earning good money, that was when I decided, 'Let's do something for other people'," said Christian.
Christian feels that helping the children in a community is the sustainable and ideal solution for delivering them out of poverty.
"If you want to help in the community, the best thing is to help children because they will be the future of that community."
The trip to Laos
Although his previous sponsored child from Laos has since left the programme, Christian managed to meet her on one of our trips to the country.
The trip was an eye-opener for Christian as it was when he finally saw the tangible outcomes of his sponsorship. Through the 3-4 hour jeep ride into the villages, Christian was assured that his sponsorship was going to a vulnerable community, one that was detached from civilization.
What impressed Christian the most was the degree of cooperation between the village representatives and World Vision staff. At every village that he entered, a village representative would give statistics on the current state of the village and how World Vision has benefitted them through education on sustainability.
"It comes with education. How do you maintain it, how does it work, how they can be sustainable by themselves and don't always need external help to keep those things going."
Spreading the word
Apart from sponsoring a child, Christian has also been involved with World Vision through volunteering in the malls. Christian hopes to do more by spreading the word about child sponsorship as well as other ways in which people can give to these vulnerable communities like a one-time gift through our Gift Catalogue.
"One of the gifts, for example, is five chickens for $150. These chicken lay eggs, so those can be used as well and the chickens also come with training like how to feed them, keep them and harvest the eggs," said Christian.
Christian has also been sharing his testimony from the trip, attesting to the work that World Vision has been doing. After sharing with one of his colleagues, she has since started sponsoring 6 children.
"You can have an impact just by sharing the story itself, and since I'm convinced that it's a good thing to do so I'm not shy to talk about it."
Paying it forward
Christian firmly believes that everything he has achieved today is wholly due to the opportunities that he was blessed with.
"If I didn't have the opportunity to get a good education, I wouldn't have achieved anything," said Christian. His hope for the sponsored children is that through sponsorships and the efforts by World Vision, they might gain opportunities that can lead to a brighter future for them and their community.
Hear Christian's full story: