A Piece of Home in Cox's Bazar
Azida's Childhood has been torn apart by a barbed wire fence on which one side is her home, Myanmar; and the other side is Bangladesh, where she is called a "Refugee". Five years ago, when Azida was only six years old, she was forced to leave her home as well as a part of her sweet childhood. Eleven-year-old Azida lives in the largest refugee camp in the World in Cox's Bazar which is home to one million Rohingya refugees and half a million children.
Life Back in Myanmar
"Life was far more beautiful back there," says Azida with sparkling eyes as if she could see the days once she left behind in Myanmar. "Homes were separated from each other with big yards around them. In the afternoon, I would play in the yard with my friends until the sun go down" she continued. Aizda glanced outside through the small door of the makeshift shelter where the harsh summer sun heats at 42 degrees sweltering the lives in the densely camp. "On summer days like this, my elder brother would take me to swim in the river. He taught me and my siblings how to swim. Swimming with my siblings in our pond is one of the best memories that I have from Myanmar."
Right one year after leaving Myanmar, Azida got admitted into a school. "Our school was so big. We were provided with new uniforms, bags, and shoes from the school. I felt so beautiful wearing the uniform," said Azida. "My elder brother loved me so much. He would go to school too and encouraged me to study. He said I would be a teacher after finishing my studies." Both of the sibling's dreams remain untouched until the brutal crackdown started in the Rakhine State of Myanmar. They left their home, belongings, school and the dream behind.
In 2017, Azida and her family crossed the border of Bangladesh and took refuge in the makeshift settlement at Cox's Bazar.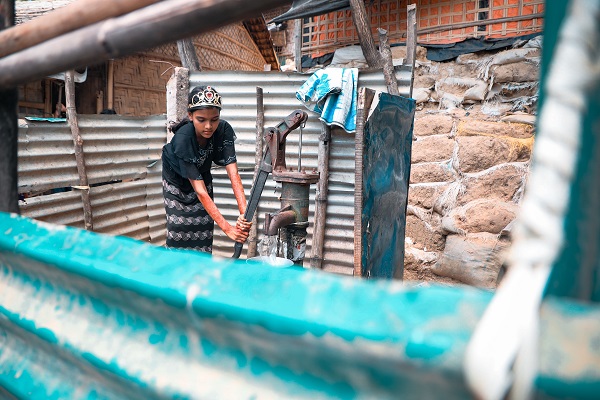 Life in Cox's Bazar
Azida has a big family of 11 members including nine siblings. Back in Myanmar, a two-storied timber home was enough for the big family; here the situation is at its worst. 10X15 feet makeshift shelter made of tarp and bamboo that they call home now has not had enough space to fit the whole family. Living in these tents during the hot summer days without any electricity, none can feel at home, especially the children. Rohingya refugees like the family of Azida, depend on food ration and hardly have their income source. However, in 2023, the ration entitlement for the Rohingya refugees was cut from 13 USD to 10 USD. This put Azida's family in tougher conditions than before. "My father is very old. He can't bear physical hardships at all. But having a big family, our ration ran out in the middle of the month. My father goes out seeking a job despite all the restrictions to go outside the camp" describes Azida. "He gets sick returning from work and has to spend a big amount of money for his medication," she added.
Water is another major crisis that Rohingya refugees have to deal with from time to time. After arrival in Bangladesh, water was their biggest crisis. Now as it has been meeting partially, but they still have to suffer from a lack of sufficient clean water. "Every day after returning from Madrasah, I go to fetch water from the nearest tube well. There is always a big line in the afternoon. During summer, very little water comes from the tube well. My hand is painful from pumping the tube well for a long time every day." Azida explained since she is the one who collects water for the family. Her mother and sisters are hardly allowed to go out in the open space to collect the water. Apart from all the limitations of access to basic needs, there are fears while living life in a camp.
"There is no electricity. Night appears with all the darkness and fear," Azida equated nights to fear living in the camp.
"Recently fire has become the biggest fear in our life. Now and then, there are fire incidents. We are terrified thinking of our camp catching fire at any time," said Azida. Rohingya refugees escaped their life in Myanmar because of the persecution and killings but they still could not avoid the damage and destruction living here in Cox's Bazar. Incidents like fire and killings have become new threats to their lives in recent years in the camp. In the last two years, more than 200 fire incidents had been reported that left thousands of Rohingya refugees homeless. Incidents like killings and kidnappings have killed hundreds of people. "As a mother, I want a safe space for my children to grow up. We have risked our lives many times in Myanmar, left everything behind and came here. All I want is the safety of lives for my children", said Sajeda Begum, 35, mother of Azida.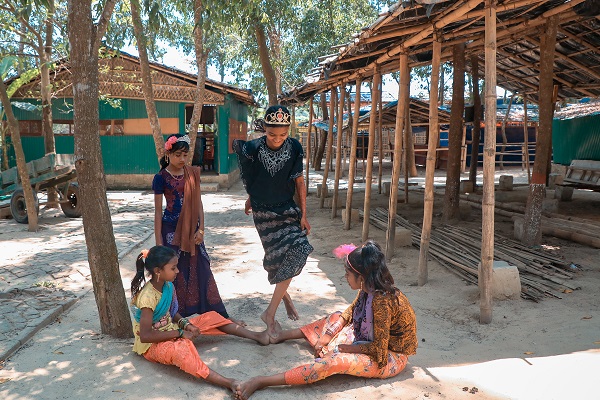 A little hope in the Darkness
Despite everything, Azida has a daily life to live in the camp. Along with other activities, she attends the learning centre run by World Vision. "I wake up early in the morning. Wash my face and rush to the religious school to have my first lesson of the day. Upon returning home, I eat breakfast and go to a learning centre to learn Burmese. English and lifeskills at World Vision. After lunch, I go to the religious school. In the afternoon, I play with my friends near the road." explained Azida. 
Azida has been attending the learning centre at World Vision one year after arriving at the camp. She continued there until the COVID-19 breakdown when the centre was shut down. After the end of the COVID-19 pandemic, Azida returned to the centre again. "I like this centre. I spend the best time of my day in this centre. The premise of the centre is huge, unlike other schools or shelters in the camp. After our class, I play with my friends on the school premises. There are trees, fresh air and a small river behind the centre. Although we don't go there, I love to see it from afar as the area reminds me of my home town in Myanmar", The centre gives Azida feelings of home on top of the opportunity to learn. Although Azida can read and write through learning at this centre, there is no established formal education system for the half a million children in the camp.
Some 30,000 children are born in the camp each year, without a safe place to live, enough food to eat and proper education, the future of these children is hardly imaginable!
But nothing stops Azida from having her dreams. "I want to be a sewing trainer" she confidently said.