Our Child Sponsorship Journey As Friends!
By Crystalyn, a Child Sponsor
Together with her friends, Crystalyn, Yinmin and Sik Yin have been sponsoring 2 children since 2014.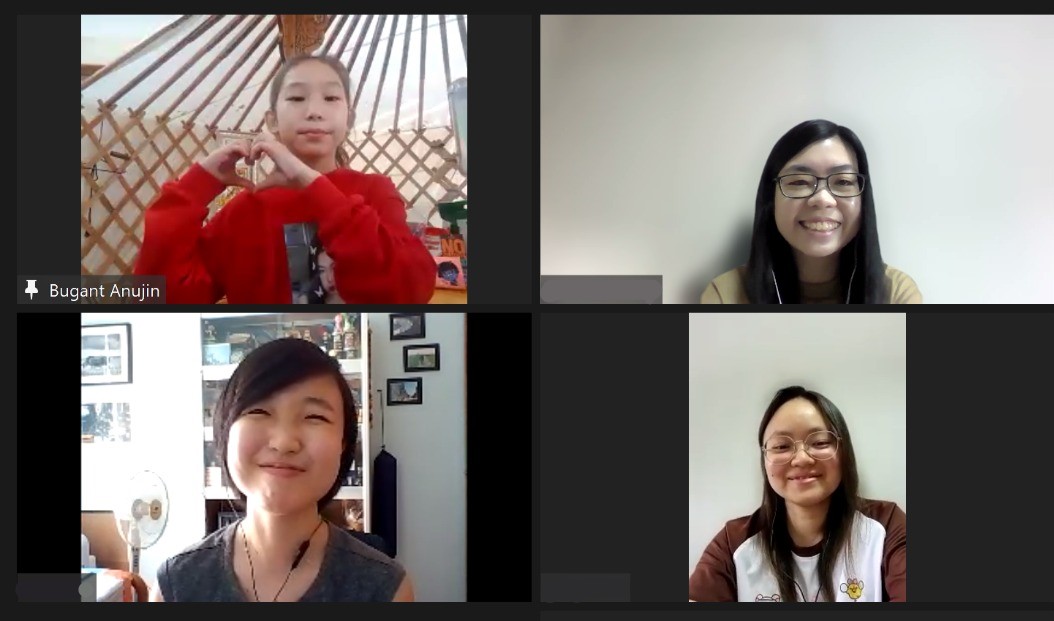 From the top (clockwise): Anujin (sponsored child from Mongolia), Yinmin, Sik Yin and Crystalyn during their virtual meetup 
 
My parents often lament how fast we as children grow up. I may not be a parent yet, but I truly understand now what they meant, after I started sponsoring two children through World Vision. Getting updates from my sponsored children and looking at their updated photos blows my mind on how time flies.  
I stumbled upon World Vision Singapore at the start of 2014. Animals and children have always been my passion, and I was already sponsoring turtles from our local wildlife rescue centre, ACRES, then. I was still in the final semester of my undergraduate studies at NUS, but somehow decided to explore the possibility of sponsorsing a child. At around the same time, World Vision Singapore was starting a new area programme in Sindhuli East, Nepal. The moment I saw Kumari's photo and background, I decided instantly that I was going to take up sponsorship. However, as I was not financially independent yet, I roped in two other good friends - Yinmin and Sik Yin, along in this journey. We have never looked back since.
I was the main point of contact with World Vision Singapore. Every update that I received via mail, I would take photos and share them with my other two friends. We all felt this sense of pride, watching Kumari grow up year by year and being in good health.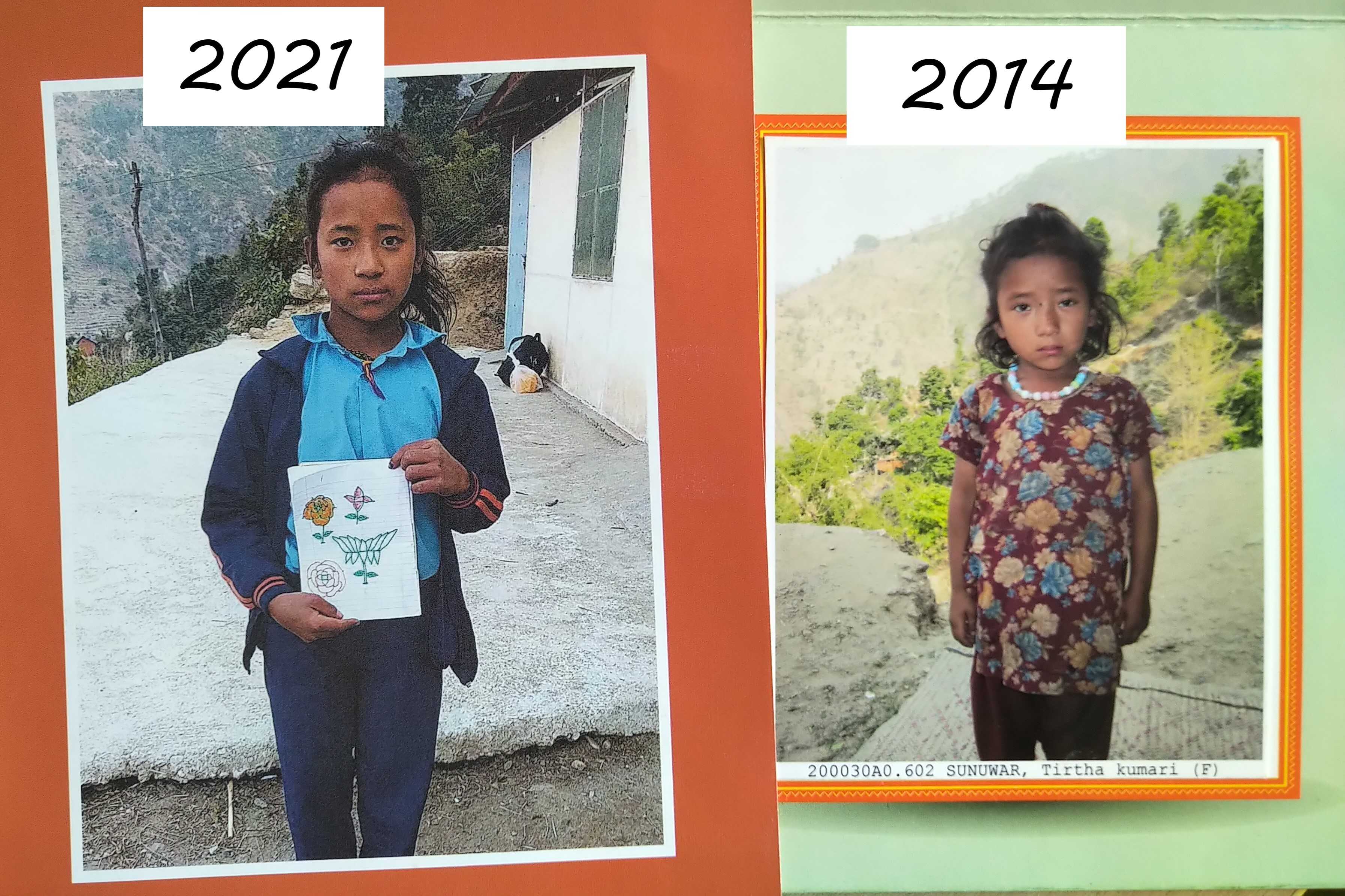 Kumari's growth from 2014 to 2021.
Fast forward to 2019, all of us started being financially independent. I brought up the the idea of sponsoring another child to my two friends, this time from Selenge, Mongolia (which I have a soft spot for). They were agreeable! Once again, it was an easy decision the moment we laid eyes on Anujin's photo.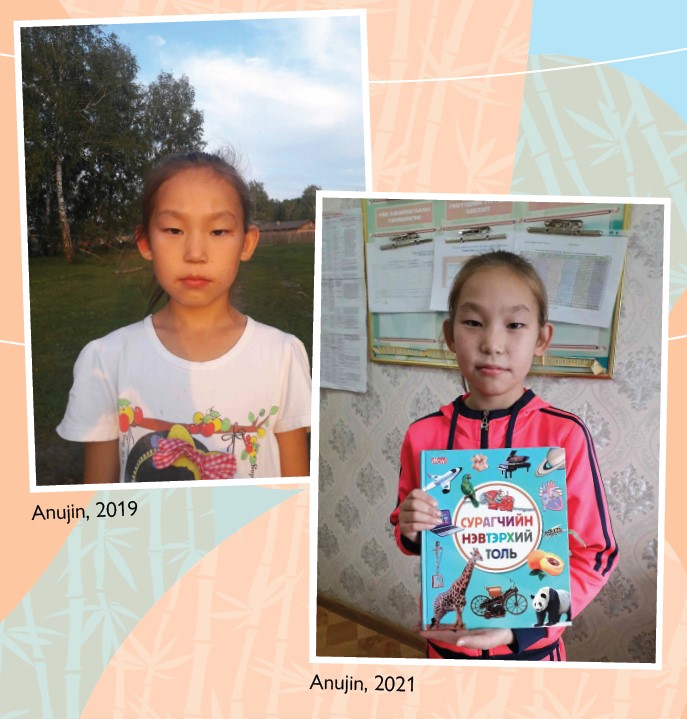 Anujin's growth from 2009 to 2021.
It has always been our wish to meet both our sponsored children personally through trips organised by World Vision Singapore. Unfortunately, with the ongoing pandemic, that was not going to happen anytime soon. Imagine our joy then, when we realised that World Vision Singapore was organising a virtual meetup with children from Selenge in January this year! We shuffled our schedule around to ensure we could be part of this virtual meetup. Seeing Anujin look awkwardly at us when the video call connected was so adorable. Being able to connect and make small conversations with her via a translator was so simple, yet so meaningful and heartwarming to us.
Children can put a smile on your faces, warming your soul. Anujin may not be aware, but that virtual meetup happened at a time when we were all overwhelmed by personal issues with work and family. That direct communication with her was a breather we never knew we needed, and it made us tear up after the call. In this day and age where so many other things require our time and energy, volunteering does not comes easy for most people. Child Sponsorship takes commitment, but that is not to say that only much older adults can commit to such a responsibility. If you have the heart to do something for the world, why not consider child sponsorship with World Vision Singapore? If you are not financially capable, you can rope in a few like-minded people, just like we did!
To Kumari and Anujin, we truly hope that both of you will grow up to be strong, wise, and healthy women. We will always be rooting for you from across the ocean, with the hope of giving you girls a big hug personally one day. We love you!
Find out more about World Vision Singapore's Child Sponsorship programme here.