Orphaned by War and Now The Caregiver for Her Siblings
My name is Reem*, I am 13 years old. I am displaced from a town in northwest Syria. I have four brothers and sisters who I consider my children because I am the one who takes care of them, raises them and I am responsible for them in all aspects. They are Noor*, 10, Raya*, 9, Abdullah*, 4, little Samar*, one year and a half.
I used to live happily with my family until my father passed away. But at that time my mother was our support system and she sought to be our mother and father.
Then I lost my mother after she was injured as a result of the bombing that targeted my aunt's house, which she was visiting. At that time, the bombing started in our village, and my aunt's house was among the houses that were destroyed. Unfortunately, my mother was seriously injured, as the wall fell on her and she was taken outside Syria for treatment, but the injury was severe and my mother was completely paralyzed and unable to move, and her health condition deteriorated greatly.
Later, we had to flee to the camps with my uncle, after the situation became tragic in our village. The situation became more challenging. My mother's health condition deteriorated from bad to worse. Ulcers began to appear on her emaciated body, and then she died because she was not able to receive the necessary treatment for her.
On the day I lost my mother, all I felt was sadness and sorrow. I felt that I had lost my support system and my heart, and there was no one left for me in this world. I later became responsible for raising and caring for my brothers and sisters in all aspects of their lives. It became my responsibility to cook for them, feed them, maintain their hygiene, educate them, care for them when they are sick, address their concerns and help them meet their requests.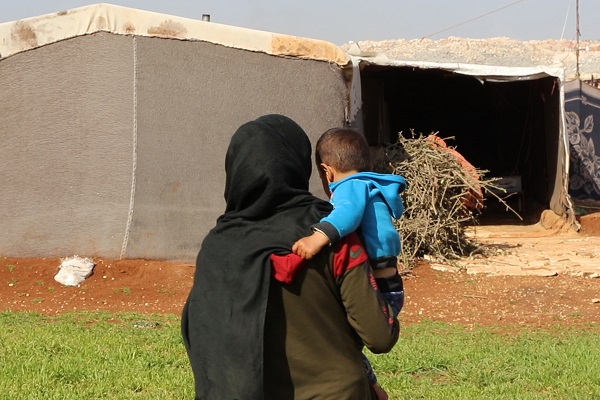 Dealing with small Samar, Abdullah is more challenging than others considering how young they are. I always make sure to gather at a dinner table in the evening. Without paying attention, I started feeding my siblings before I eat, I become scared of something bad happening to them. At night, I cannot sleep before making sure they are sound asleep.
I used to see life as full of play and joy, but after the death of my mother, my life became full of responsibilities, fatigue and worries despite my young age.
Mother's Day used to pass by beautifully, The last gift we gave her was a blue dress. She was very happy and prayed for us hoping for a life filled with success and joy.
I wish that my mother was here with us, but this cannot come true. So, I hope that God will give me strength and success so that I can take care of my brothers and not lack anything and replace them in the place of my mother as much as I can. I hope that they do not feel sad and that their eyes will not shed tears in the coming days. The most beloved things to my heart in my school were playing with my friends, learning letters, writing and reading until I mastered them. As for my dream about what I will become when I grow up, I did not have a dream because I was deprived of my primary school and at that time my thinking was limited to learning the principles of reading and writing.
I used to love to play a game with my Barbie and Fullah (like a Barbie doll) but now I do not have time for friends because of displacement on one hand, and because of my many responsibilities towards my brothers and our house on the other hand. I used to see my life in a flowery pink form like a bouquet, but this bouquet began to wither, starting with the death of my father, till the death of my mother from the bomb attack. My life turned into a bouquet of thorns. The most difficult thing now is how to manage our lives, such as food, clothing, and medicine when we are sick. The things that bring joy to my heart are the happiness of my brothers and the fulfilment of their simple desires. It brings me back to the state of laughter and happiness when I play with them and I remember my beautiful childhood that turned miserable. I wish to return to our village and home to complete my studies.
There are protection programmes that support children like Reem, who are left to face the world anomalies alone due to displacement, death of their parents or circumstances of war. World Vision provides psychological support to internally displaced children through which children were encouraged to embrace and handle their emotions healthily and productively in Syria. 
As the Syria war marks its 12th year, children have been forced to grapple with fear, loss, grief and hunger. Partner us to give Children in Crisis a childhood they deserve.