Myanmar: Moved by the vision to action
"Our vision for every child, life in all its fullness. Our prayer for every heart, the will to make it so."
This vision statement spoke to me.
I have seen the big  work that World Vision (WV) does since many years back in the Philippines; World Vision is one of the most active NGOs in the Philippines for disaster relief operations and I have always been drawn to be part of it. I also have a friend who was once a WV sponsored child and I saw how a Singaporean sponsor has impacted her life until now. I am thankful for the chance to be a sponsor so that we can act on this desire to take part in empowering lives not only of the sponsored child but also of the supported community.
I am grateful to have joined the trip to Myanmar earlier this year from Jan 31 to Feb 5 2016. The trip was one rewarding experience that's worth sharing.
When we arrived in Myanmar we were welcomed by the hospitality of the WV staff especially Ms Doris and Mr Chester who were very accommodating to us during the entire trip. Hpa-an ADP is few hours from Yangon and is blessed with scenic landscapes which we were also able to explore during our free time. But what got me most is the warmth of its people and how that made it easy for us to get along well with them. I will never forget this warm hospitality of the Burmese which was shown by all the WV staff, volunteers and even those in the community we visited. Truly beautiful people – more valuable than their golden structures, even more precious than their jade.
The trip brought us to where the action is. The work of the staff and volunteers on the ground is simply commendable. As a sponsor, we contribute an amount for the sponsored community – but to experience being in that community itself and witnessing its progress was just so motivating. Truly WV's labour of love was not in vain.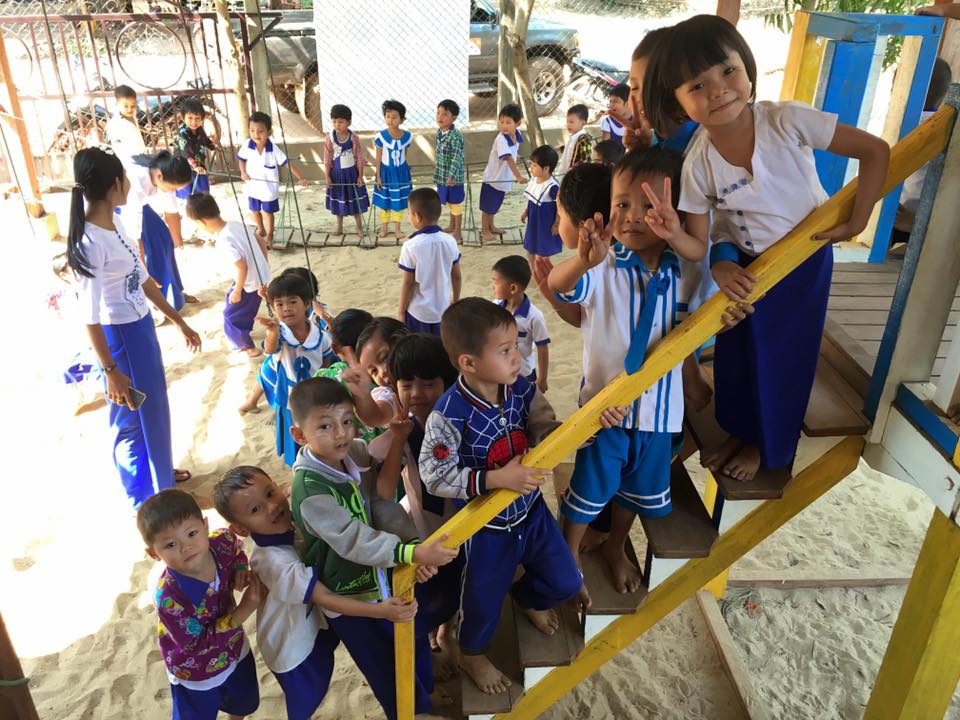 We visited Early Childhood Development Centres, and we were pleased to hear the joyous and giggly voices of children while playing or while singing their action songs. These children's carefree attitude was so contagious! Seeing these children's laughter – knowing that they are having the chance to live their lives in full – is definitely worth all the hard work that WV is doing there.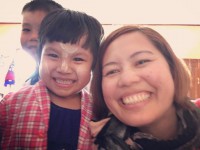 A smile is indeed a universal language. We did not understand each other's words but we clicked because we both had that cheerful smile that easily bursts into laughter!
We also visited Health Centres, Water and Sanitation projects and livelihood programmes. It was beautiful to see how cooperative and very much active the community leaders are there. It was also heartwarming to see them come up with initiatives for livelihood and financial projects that will benefit them all. They are even able to manage their own revolving funds which they use to help each other. 
I can see that the assistance given to them will enable them to step up to take care of their own community eventually. WV has empowered them and this gives me the confidence that when the time comes for the community to graduate from the programme, they will still be able to continue that sustainable development.
I also witnessed a beautiful illustration of how people of different beliefs can unite to uphold the common good for the community. We met a modern and educated chief monk who was very active in helping in the livelihood, health and educational project sites in this community. He even allows the monastery to be used as the site of regular parenting seminars and other activities conducted by the WV volunteers. He also allowed us to have our lunch in the monastery! I was so blessed to see people of different beliefs working hand in hand for the greater good especially in making a difference to the lives of this community. It was such a rewarding experience to see such faith in action.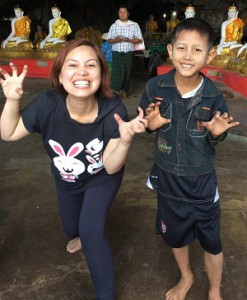 With my sponsored child, Issac. I love how we both have this cheerful and "a child-in-awe attitude" as a common ground to stand on.
Best of all I was happy to finally meet one of my sponsored children. I have sponsored 5 children for a few years now and Issac is the second child that I sponsored through WV Singapore. It was a fun-filled day as we explored three historical caves and he was just as enthusiastic as I was during the tour. There was no dull moment and I can see that he had as much fun as I did. The staff and the volunteers assisted us with the translation so we were still able to share a lot of things with each other despite the language barrier.
He was a bit shy at first but I was proud that he was able to show his playful side later on.  More than the lunch that the group shared, I hope he was filled with encouragement to live his life in full. More than the bag of toys and clothes that I gave him, I hope he will be able to carry with him the confidence and the grit so that he will be able to successfully achieve his dreams someday. I pray that the sponsorship will continue to have a positive impact on him and his community. I hope that he will never forget that he is like a son to me now and I would only want all the best for him.
I am truly grateful for the chance to do what I've always wanted to do since I was young; to support those whose advocacy is aligned with what I uphold. Indeed there's more to this life than my own needs and wants. I am blessed that I can enjoy the journey as I respond to God's call to be part of His hands and feet here.
Thank you World Vision for creating this platform; that we don't have to be rich in order to help. It is rewarding to know how our monthly contribution of $45, when pooled, can go a long way in making a difference to a child and his community. I continue to believe in God's provision as I plan to add 1 or 2 sponsored child each year.
I will never forget this very fulfilling first-time experience to join the Child Sponsorship's trip and this definitely will not be my last! (: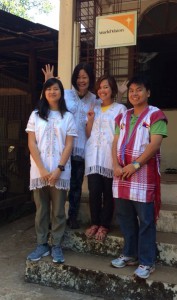 Thank you World Vision Myanmar for this souvenir! And thank you too Hui Xian of WV Singapore for leading us on this trip!
From left to right: Hui Xian, Mabel, Liza and Xing Yi wearing traditional tops from the Karen tribe.
Written by
Ana Liza Quicio
Tripper to Hpa-An ADP, 2016
 
Experience the joy of child sponsorship! By sponsoring a child, you give the gift of life's basic needs – specifically food, clean water, healthcare, economic opportunities and education – to him/her so that he/she can overcome poverty for good!
Share this story
Written By:
Ana Liza Quicio Tripper to Hpa-An ADP, 2016