My First Visit to my Sponsored Child in Cambodia
Being a sponsor with World Vision for decades, I had never travelled to visit any of my sponsored children. Now with more time in my retirement life, I decided to travel to visit Bory, my sponsored child in Cambodia in April 2023.
Together with other trippers and World Vision's devoted staff, I had a memorable experience visiting Kirivong and Sambour. I also had a great opportunity to meet like-minded trippers and listen to their wonderful experience as sponsors. Some of the trippers had been visiting their sponsored children on various occasions and had seen the development of their sponsored children to become excellent teenagers and the progress of the area programme of Kirivong. They were very pleased, at the same time, very sad to visit their sponsored children for the last time as the programme is ending next year as it becomes self-sustainable as a developed area programme after 15 years.
On Day 4, I finally met my sponsored child living in Sambour, a relatively new Area Programme along Mekong River. In the school's meeting compound, like other trippers, they were trying to recognize their sponsored children through their profile photo. I did not see my sponsored child in the group of children playing on the open field. The Area Programme manager Piseth introduced her brother to me as he was with the group of children. Due to language misunderstanding, for a moment, I thought my sponsored child had become a boy! When a little girl approached me with the traditional bowing and hand gesture with politeness, I finally met Bory. It was a pleasant surprise. She is a lovely girl, though skinny, but with a great smile.
I was the chosen sponsor of Bory from the Chosen scheme of child sponsorship. I found it a great scheme as the selection criteria must be from the sponsored child's viewpoint rather than from the sponsor. I was selected by Bory as she said I have a great smile. When I looked at her, I fully comprehend the experience as she has a great smile too.
The first thing I said to her was to forgive my laziness as I was too lazy to write letters to her, but she was always on my mind. As she is still very young, unlike other sponsors where they would ask about their future ambitions or schooling, I asked more about her daily activities and the food she ate. My only hope for her is to grow up strong and healthy, get a decent career and can contribute back to her community to help other children like herself. I told her that if she can deliver well academically, I am more than happy to sponsor her to university to study. I am glad she liked the gifts I sent her. I sewed a pouch, a blanket, some reading and writing books with stationery, soft toy and accessories for the girl, a foldable writing table and snacks for her and her family.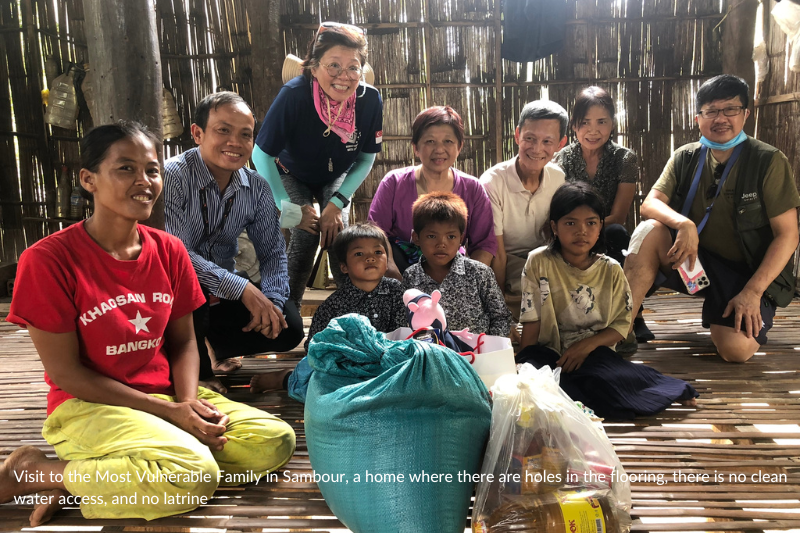 Concerned of her living conditions as before meeting Bory, we went to visit a vulnerable family's household earlier and was shocked to see they do not have any clean water to drink and was living in a fairly empty house, I enquired more about her home. I was pleased to know that they have clean water with water purifier packet supplied by P&G for water treatment. They even have a simple latrine at the backyard. Living a simple life, they have grown some species and vegetables in their side garden and reared some hens. Their lives have improved since World Vision area programme started in Sambour.
When it was time for departure. I greeted farewell to Bory's family and wished all of them good health and happiness. This trip assured me with a greater confidence that the work done by World Vision and the devoted and passionate staff in Cambodia will work their best to assist more vulnerable families living in developing countries to progress with us. They will be taken care of. Their lives are improving slowly and are progressing towards sustainability in the long run. I must say that my mere S$45 per month is well spent monthly!
Written By:
Yap Swee Cheng, Child Sponsor