Memories from Visiting My Sponsored Child in Nepal
Namaste. The trip to Sindhuli East in Nepal was a short and fulfilling one. I remembered signing up with many uncertainties in my mind: visiting a developing country, meeting new people and my sponsored child (the beautiful stranger whom I have been writing to for the past 8 years). I have been wanting to understand exactly what World Vision has been doing and being able to see it in person really opens my eyes to what humans can do to help each other. I am so grateful for this.
The things that I saw in Nepal were what I would never be able to see elsewhere and this is an important memory to me. I am sure other trippers will feel the same too. Being raised in a city, we visited a place, which is of a vast difference in cultures from us and we see how they tried to improve their lives in the community without any discrimination. It was such a huge place. How do they reach out to so many people? Going around to 1 area takes many hours as I understand that it took my sponsored child 12 hours of commuting to get to our meeting point.
We have seen how World Vision together with their partners have improved their living quality, giving life skills instead of just providing money directly to them. I feel this is important for longer sustainability of their lifestyles and their future generations to come and hope they can continue to help each other and sustain their livelihood even when the area programme ends. It took us 2.5 days from Singapore to reach this beautiful place, Sindhuli East. We stayed in the rural town with "basic amenities", which the group had already informed us of during the pre-trip briefing. No attached toilets to our accommodation, no wifi, toilets were also squatting types. Even though I was pre-informed of these, I still decided to come for the trip.
The 1st time I wanted to go for this trip was 2019 (that time I have been sponsoring for 4 years or so). Although it did not materialise as I had other travel plans, I really wanted to make a trip to Nepal, to know what is being done in the program and to see my sponsored child. I have been receiving his photos regularly but as I am also quite reserved in nature, I did not send any pictures to him before. If I procrastinate again this time, it will just continue to hang on in my mind without resolving. So I decided to go ahead as planned.
We arrived in Kathmandu on 1st Oct, flight was rescheduled to an earlier timing. We had to stay longer in transit and stayed in Kathmandu for the night on arrival. The next day, it took us 7 hrs to arrive in Chakame from Kathmandu, we stayed for the night again and another 3 hours to arrive in Sindhuli. The trip was put together by a very awesome team.
Every sector of the road was arduous. I've never expected such road conditions. The roads (esp from Chakame to Sindhuli) were unpaved and bumpy. We got disconnected from wifi as the data did not work well.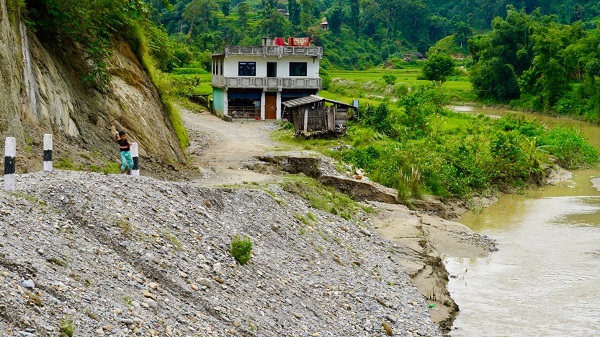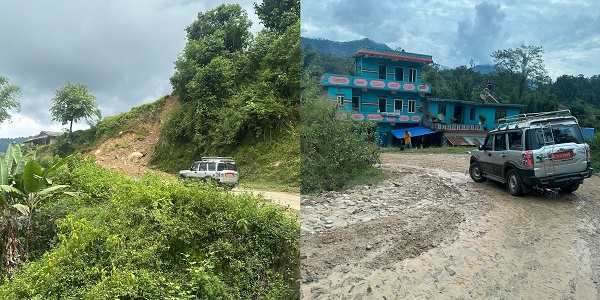 On arrival in Sindhuli, we had our first meal: rice, dal, curry chicken, chutney paste, vegetables. We had the same for dinner except that they have ran out of chicken. Usually the amount they serve, we can get a small portion of everything per item. Add on rice and dal as you wish. The next 2 days' breakfast were fruits, toast, eggs, chick peas but we ran out of toast on Day 2. Lunch and dinner were the same as day 1. Food was minimal but filling. Life is as simple as that.
Programmes run by World Vision in Sindhuli East Area Programme:
We visited the programmes run by World Vision for a better understanding of what they do.
1) Schools
World Vision encourages parents to send their children to school, emphasizes the importance of education, set up a resting room for girls having periods as they have to walk long distances to school. Prior to this, girls had to miss school for 5 days as they did not have a place to rest in between classes. The school also set up gender-separated toilets for the children's comfort. As a female, I understand the difficulties of having menstruation while schooling/ working. It is usually a combination of tiredness, discomfort, and the need to go to the toilet more often than usual. We do not have to travel far to get to school and we have enough resources to help us understand what we may go through even before the age of starting menstruation in Singapore. I am glad to see that they are doing the same for the girls in Nepal. This shows how much they value the protection of girls and children. 
The other school we visited had classrooms that were run-down and had no lighting. They studied in a dim classroom with bare minimum facilities. The children and staff gave us a very warm welcome and went back to continue with their lunch break. Later we also visited them in their classrooms. I remember when I was young, I only attended an old school (which closed down after that), later as I moved away, I was lucky enough to attend new schools all the way. To see the classrooms that they are using now is really a vast difference from what we have here. Nevertheless, we can still see the children happily running to class, walking to school (despite the distance) and studying enthusiastically. They were all very high-spirited, no matter how tough it was to get to school which can be seen when they were asked to introduce themselves. May this fire in them bring them through all the obstacles in life.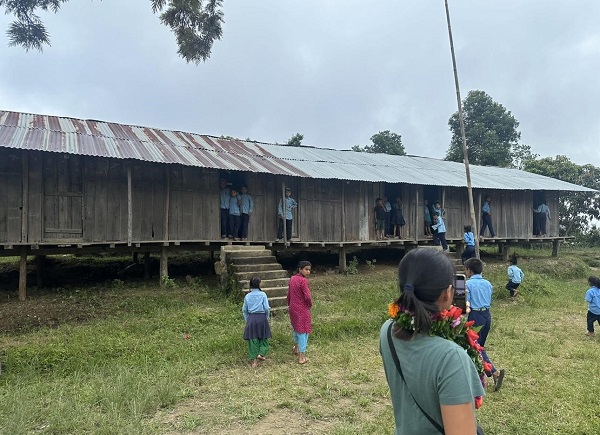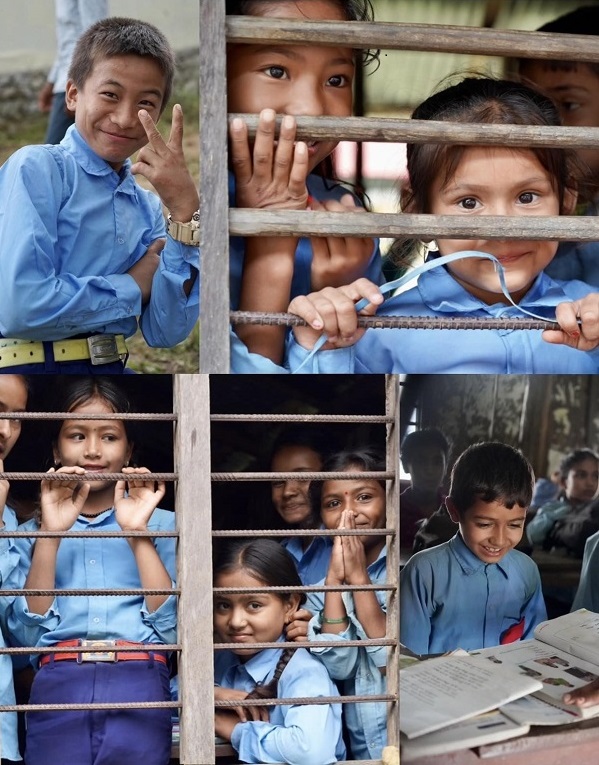 2) Livelihood support for families
For Most Vulnerable families, World Vision provides them with livestock to kickstart their livelihood, teaches them how to farm, and provides plastic covers to protect their crops) and how to rear their livestock. We understand from the facilitators that goats and the livestock given to the venerable families are usually sold to the market, not for personal consumption as meat consumption is usually for those in the higher caste. From one of the visits, we were told that one family just sold their goats for money to repair their roof which was burnt down We saw a bio-gas generator using cow dung! They can cook with the gas generated. We saw the set-up which resembles an old water well and the pipes leading back to their house. This was supported by the World Vision Nepal team as well.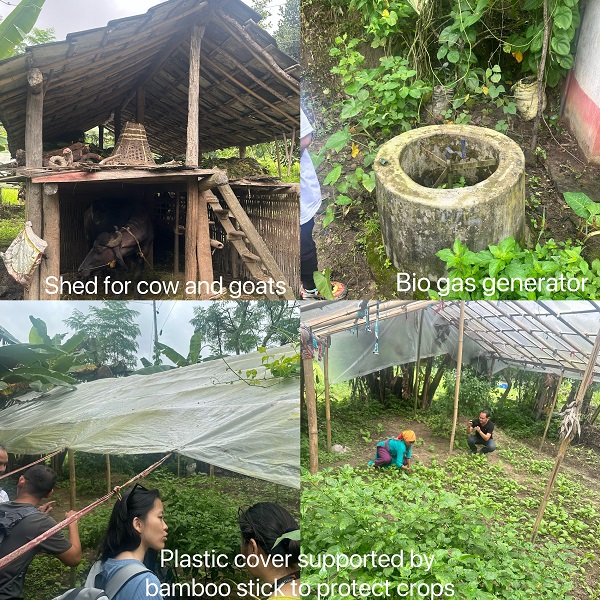 3) Outreach Clinic and Mothers' Group
World Vision provides nutrition education for new mothers on how to take care of their babies. It was set up in someone's house. It just shows the camaraderie in them. At the outreach clinic, they showed us the kind of food they will prepare to feed their children nutritious meals.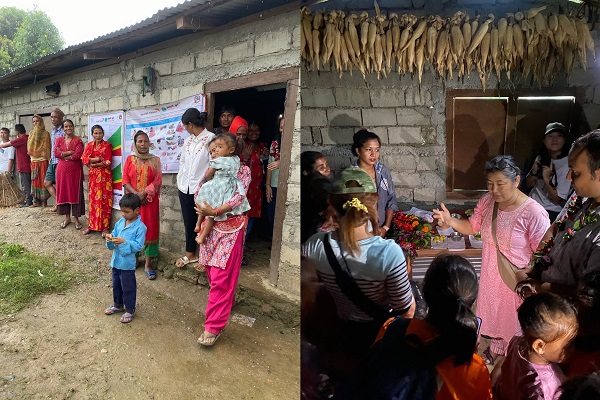 4) Producers' Group
This is a women-led team for crop growing, teaching life skills, empowering women to work, earn and save money for the family instead of relying on their husbands 100%. They were really a group of strong ladies. As we know, by tradition/ culture, males are usually the breadwinner while women have to take care of the household. By standing on their own and earning additional income, they were able to use it to fund education materials for children and daily household expenses. We also learned that they have just started to do some investments which will help to boost their income as well. They also have a savings program in which they save money together and help each other when in trouble. They have a proper safekeeping and recording process which they demonstrated to us during our visit. Every NPR5 they save per person per week will roll into their emergency fund.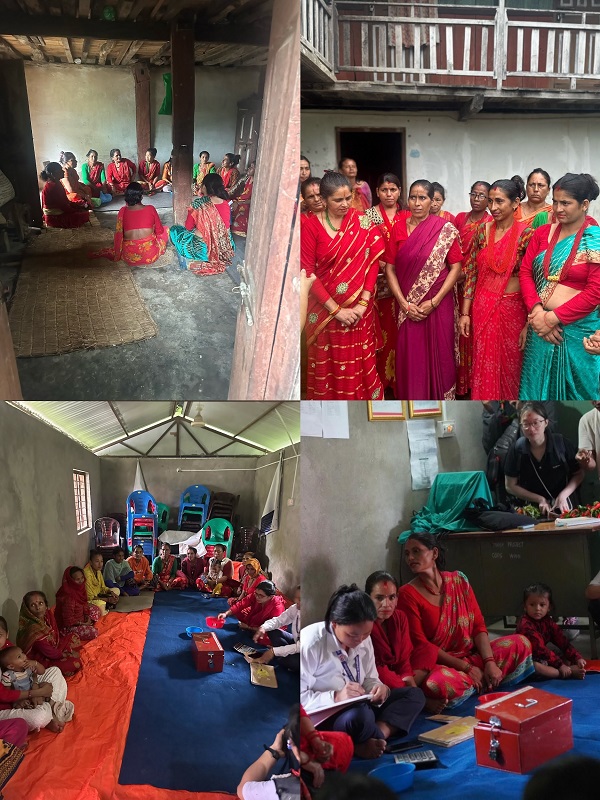 5) Child protection In Nepal
Child-Friendly Local Governance (CFLG) is an initiative of the Nepal Government to provide overall guidance to the local governments in realising and mainstreaming the rights of children into the governance process. There are 51 indicators covering four pillars of child rights in the guidelines – right to survival, development, protection, and participation. (e.g. children's right to nutrition, immunization, hygiene and access to safe drinking water and sanitation facilities, education, etc.) All indicators need to be met for a ward to be declared child-friendly. After this declaration, work still needs to continue. In the child-friendly ward no. 10 we visited, the chairperson shared that they had developed a 5-year implementation plan to work on improving and sustaining child well-being in the area and address child protection issues, including e.g. child marriage/elopement, improve education standards in school, gender-specific toilets, etc.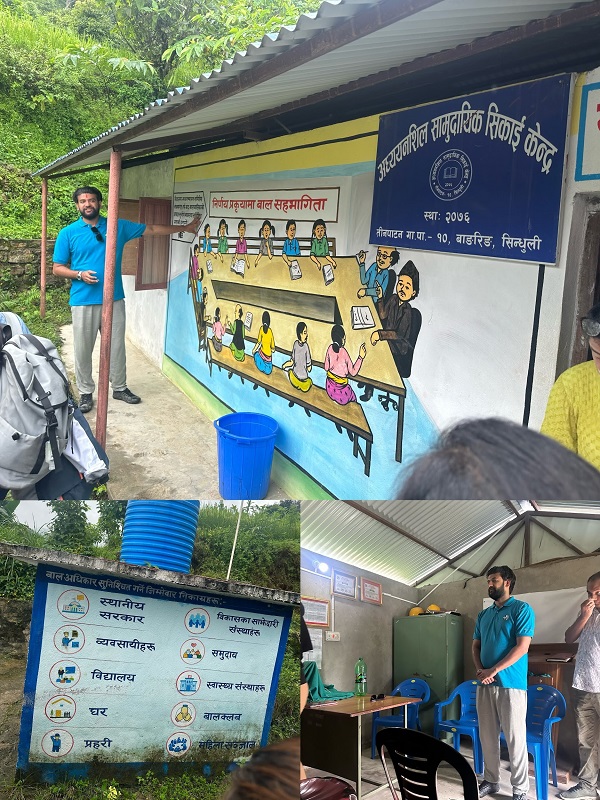 6) Finally and most importantly, child sponsorship.
As it was the last day's event in the community, I could feel everyone was excited to meet their sponsored children. We went to the hall after breakfast. We peered through the window, I recognised my sponsored child as soon as I saw him, it was a very amazing feeling to be able to see him.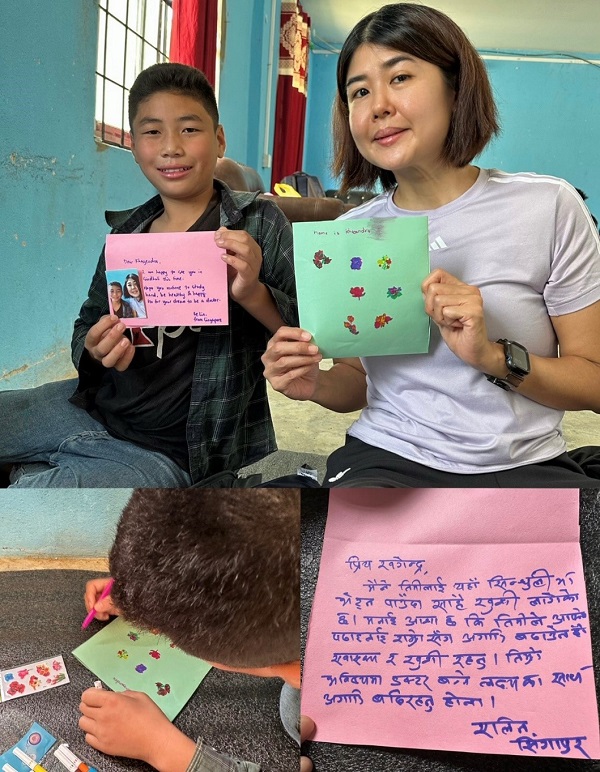 He is 12 now and is a gentle boy. We had 1.5 hrs of interaction time and we spoke through a translator. He walks one hour to school every day on the muddy, rocky roads which we bumped through every day on a jeep. Imagine them walking through the terrain every day. However, most importantly, they are resilient and walk to school despite the difficulties. Some others shared that their sponsored child walks two hours. I asked him questions about himself which he replied shyly. Later we were given some paper and markers, he drew flowers for me and he was good with details. and I wrote him a little note. I've also requested our translator to write to him in Nepalese so that he can read back in future. I wrote to him that I hope he will continue to study hard, stay happy and healthy, and to follow his dreams to become what he would like to be.Lastly, we had lunch together with our sponsored children and their guardian and had to leave for our return trip. We took some photos together again and said goodbye.  
Meeting up with a "stranger" whom I have known for the past 8 years was a great highlight for this trip, being able to see him and have a face-to-face interaction to know more about him. I also asked his father if he was a good boy at home and he said yes. I asked how long it took for them to reach this meeting point and they told me it took 12 hours. I was quite surprised that it has to take so long just within Sindhuli East. Thankful that they are willing to make arrangements for this trip. During game time, I saw his father watching him playing with lots of smiles. Despite disrupting his work schedule and traveling this far for this meetup, I sensed lots of warmth from them. This is something that we may not be able to see nowadays.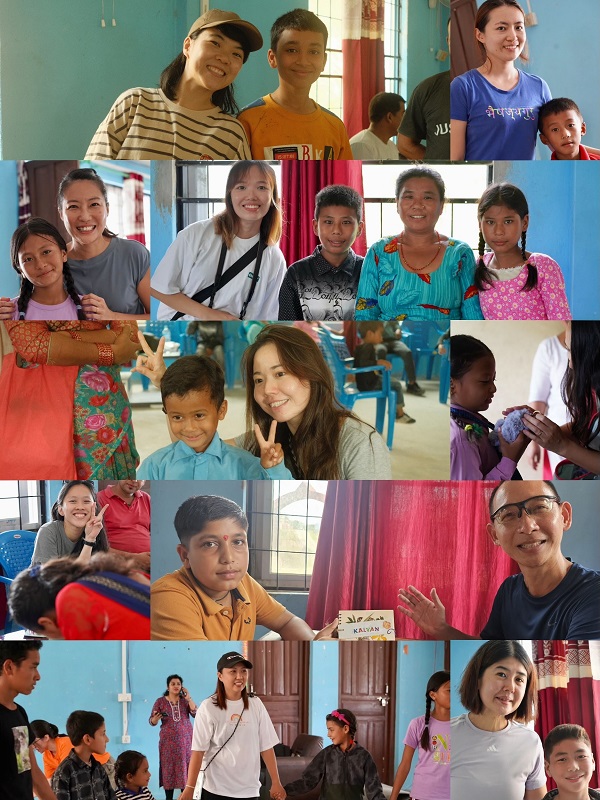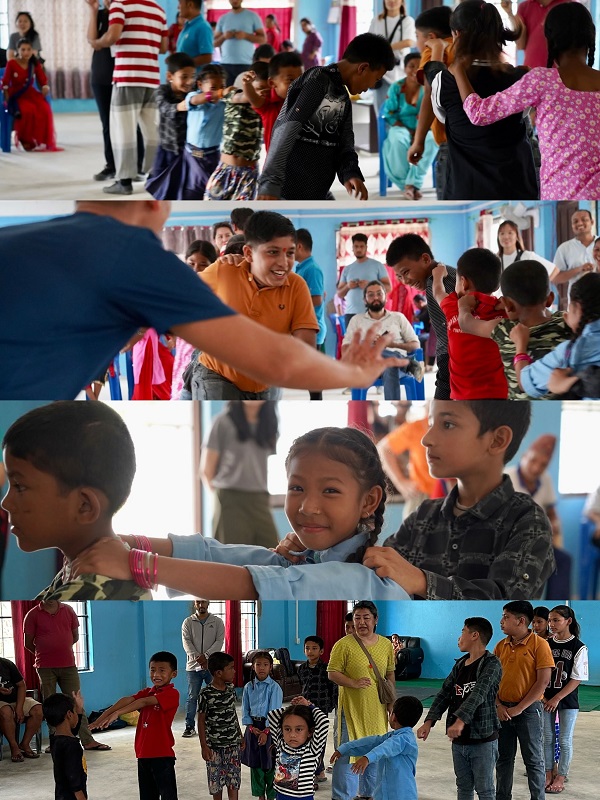 Trip Reflection
It was really a very fulfilling trip and we saw how World Vision together with their partners are doing so much to help the children and community to improve their living. Hopefully by the end of the area programme in 5 years' time, they will be self-sustained and help each other in the community. During the debrief, some of us commented that even developed countries may not be able to do so much for the underprivileged. We have a group of wonderful trippers and World Vision staff who went through this trip together, showing resilience. They do not complain, eat whatever is given, sleep in the community facilities, travel through long and bumpy journeys, and still smile for every picture, and laugh at every joke. It was great hearing what you all do and think. Lastly, big thank you to our photographers for the wonderful pictures, for making all these great memories. Dhanyabad (Thank you). Will remember this trip and the things I've seen for a really long time. Grateful to be part of this journey.