Letters and Personal Connection With the Children Kept Her Going
"I was looking at my files and realised that I still have records from day 1 of my Child Sponsorship journey with World Vision!"
Introduced to World Vision Singapore by a youth leader in the church she was attending, Anna first started sponsoring a girl from Thailand in April 1997. Anna shared how she likes World Vision's work within the community, as there is a strong emphasis on education and community well-being.
Anna has also been on trips organised by World Vision Singapore, whereby sponsors get the opportunity to meet their sponsored child(ren) and sometimes family.
"We are able to see for ourselves the work that has been done in that area. World Vision has also been consistent in their approach all these years, and they take effort to be transparent and accountable."
On one of her trips to the Philippines, Anna was introduced to Mary Grace and Justine Pearl – 2 children whom she ended up sponsoring. When told Mary Grace did not have a sponsor and was reaching the last year of sponsor eligibility due to her age, Anna felt the need to sponsor her. Anna was also touched that she was interested to continue her education, and had a sense of responsibility towards her family.

Anna with her sponsored child, Mary Grace
Justine Pearl was another girl who stood out to Anna. She performance a dance during the trip, and Anna could tell she was passionate about what she was doing.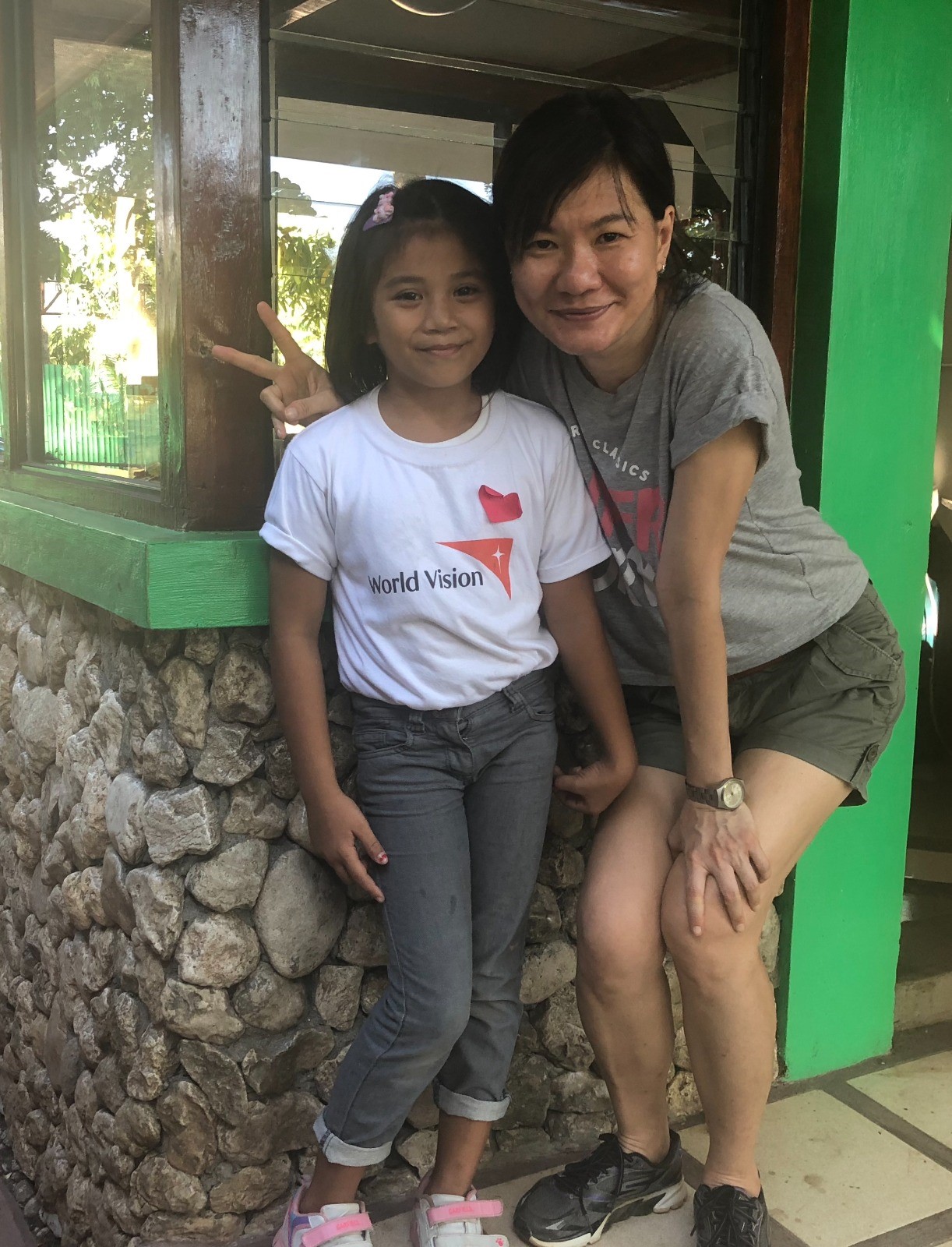 Anna with her sponsored child, Justine Pearl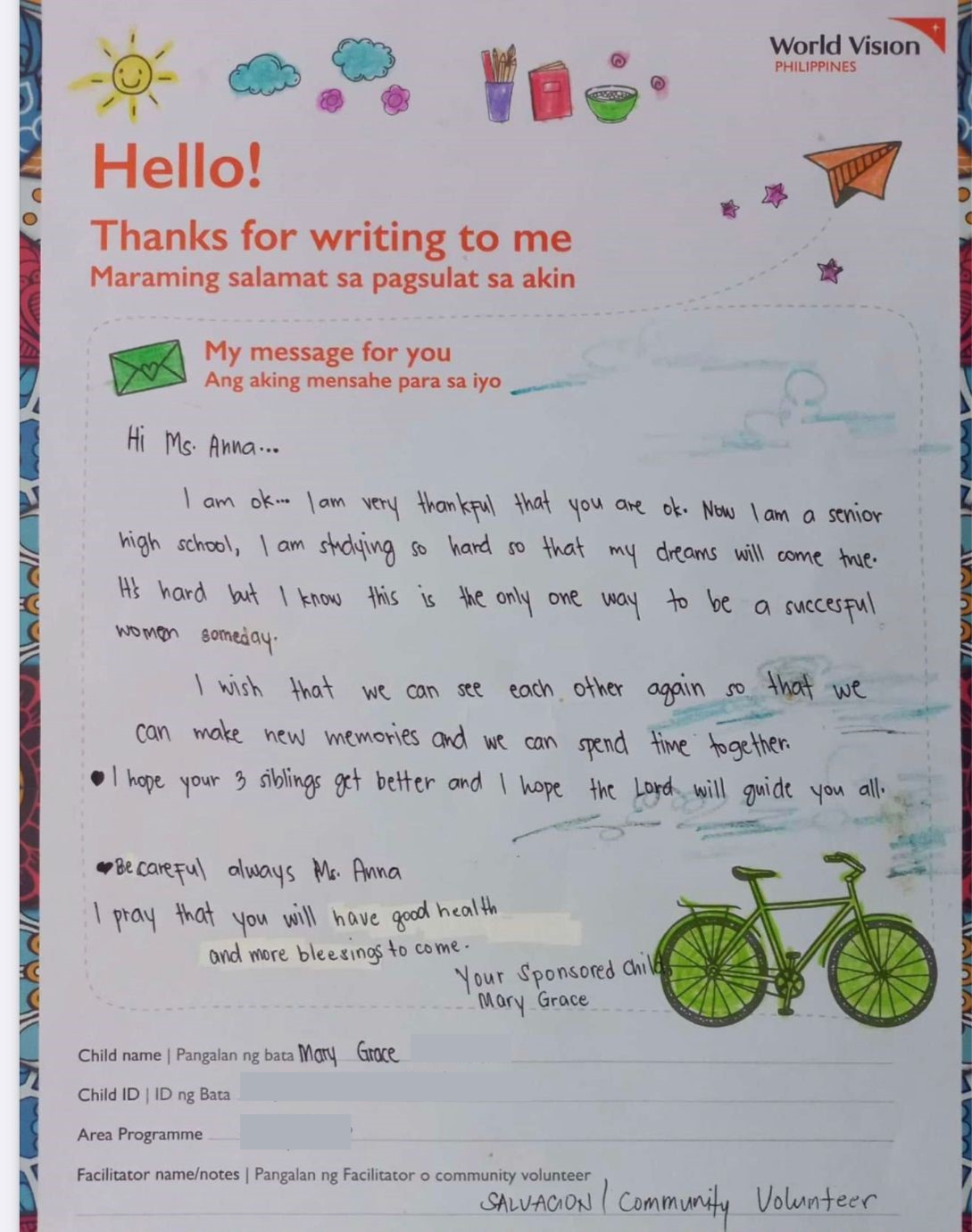 Letter from Mary Grace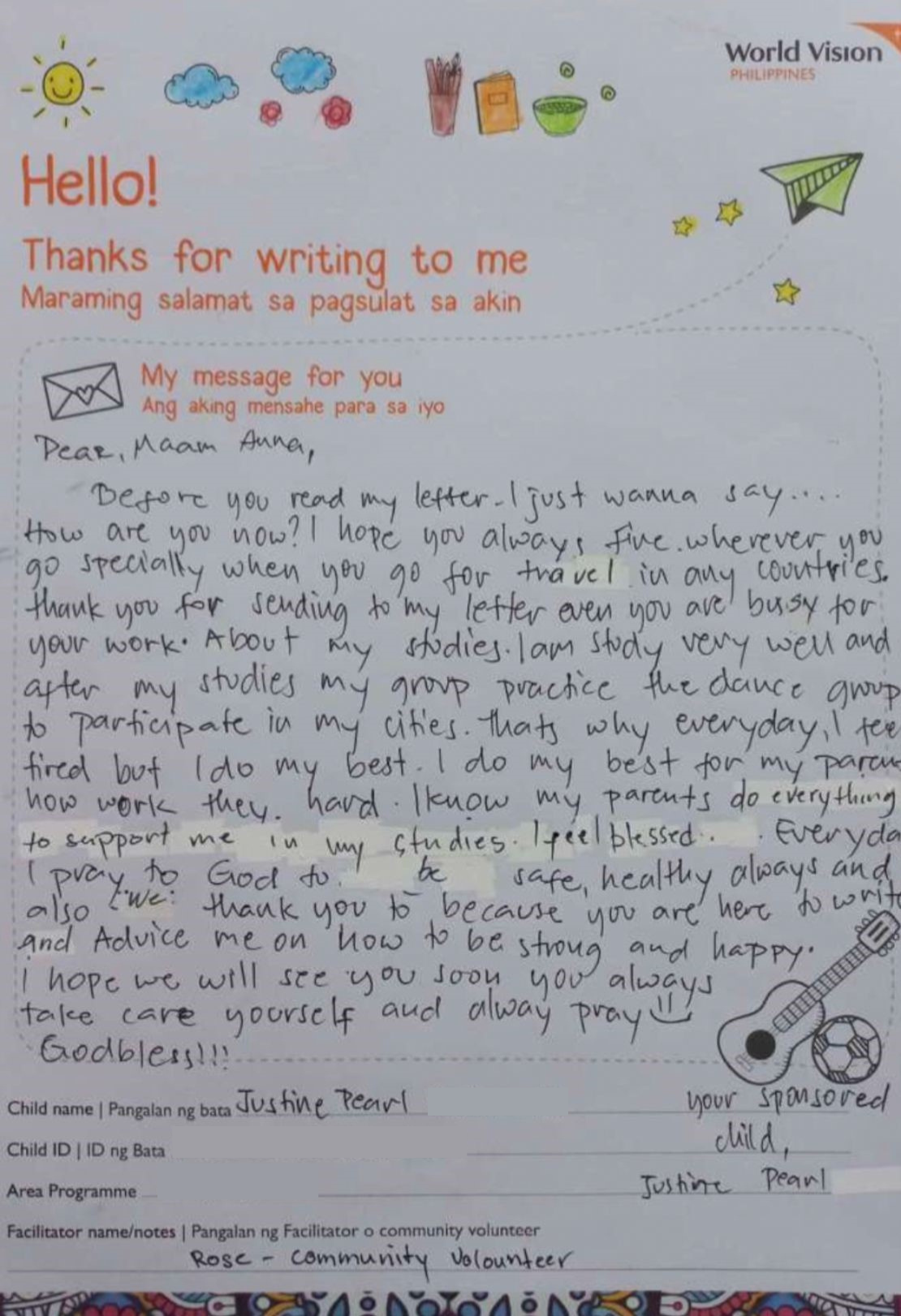 Letter from Justine Pearl
"It's a blessing to connect with them regularly through letters and get their updates.

These letters, and the connection I felt with my sponsored children, are what kept me going!"
When asked what were the most memorable experiences throughout her Child Sponsorship journey, Anna replied that it had to include her first trip with World Vision Singapore to China in 2008. Having to travel up to a village in the mountains and walking about 1 km on foot to reach the school, Anna witnessed how difficult the conditions were for the children who lived in the mountains to get to school. 
"They had to walk about 3 hours to get to school, even during the cold season. (When we met them), the children were shy but their eyes lit up when we spent time and played fun activities with them."
In September 2008, Anna started sponsoring another boy from Thailand, and had the opportunity to visit him in January 2010.
"That trip left an impression on me. Again, it was the personal meet-up and time spent with him.

The other thing that struck me was the local World Vision staff on the ground. They were very committed and passionate about wanting to improve the lives of the children and their communities."
You can embark on a journey of a lifetime, and experience a personal connection with a child just like Anna.
Find out more about Child Sponsorship here!