Lesotho: Confessions of a WVS Trip Leader

When I knew that I was given the opportunity to lead a group of trippers to Lesotho, I was ecstatic since this would be my first step into the African continent. Then came the news that this would be the last trip that we would be making to Lenkoane community in Lesotho since we were phasing out of the community and that's when I got a little worried.
Questions like "Would there be enough progress for the trippers to have peace of mind about the phase out? Are the local field staff prepared for this last trip? How am I going to react to tough questions?" raced through my mind.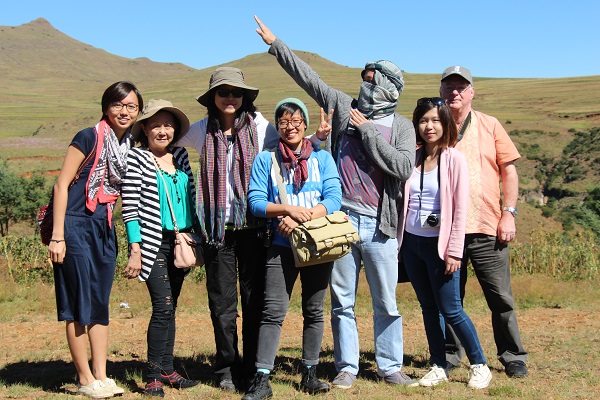 It didn't help that out of six trippers, this would be the second trip for one of them and for another couple this would be their fifth trip!
In order to ensure that I was totally educated about Lenkoane community and what WVS had done there, I asked tons of questions during my briefing with my International Ministries (IM) colleague and also to the local staff prior to the trip. I created fact sheets about the country and community and printed all the briefing notes and went through them multiple times.
And so we left for Lesotho and the trip started! We were warmly welcomed by the local field staff with song and dance and thank you speeches that made us embarrassed because in the words of one of the trippers, "all we do is give $45 a month and you are the ones who are doing all the work, not us. we didn't do much at all".

We also visited some projects: household gardens ensured families had the means to feed themselves, gravity irrigation systems enabled farmers to irrigate their crops all year round since Lesotho is a mountain kingdom and water might be 'stuck' high up in the mountain, and (my favourite) Ventilated Improved Pit (VIP) toilets that had a ventilation pipe so that the toilets are no longer smelly!

The highlight of the trip, as with every other trip, is definitely meeting the sponsored children. One of the trippers had been sponsoring her child for the past nine years and finally decided to join the trip because it was the last trip. I didn't have a sponsored child from the community so I had the privilege of roaming around with my camera, capturing precious moments from their interactions. Usually these meet ups start off a little quiet, with awkward glances and smiles in between. When sponsors whip out games or activities like Jenga or knitting a pom pom together, that's when the sparks start flying and a wordless connection is made. The glances are no longer awkward, and the smiles become laughter. There and then, I wished I had a sponsored child to meet and interact with.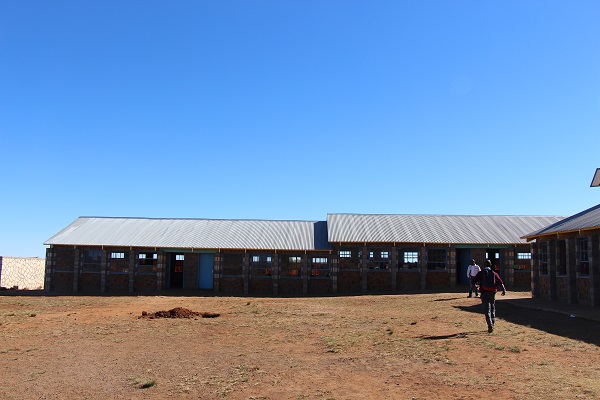 We also visited the only high school in the community, Lipohong High School, that was established through the advocacy work of the community members whom WVS trained. A tripper mentioned visiting it in his previous trip when it was just a plain field with only a school flag. Now it has eight classrooms, with one being used temporarily as an office. There are 300 students and seven teachers. I remember a tripper saying how she has never met anyone who valued education as much as the students and staff there and indeed we saw how they walked long distances to school, just so they could obtain an education.
I guess my prayers were heard because throughout the trip, the trippers took turns to share golden nuggets of information that I would have missed if not for them. And these helped ease the questions I had in my head. One of them pointed out how she was pleasantly surprised by the number of blue taps she noticed when there weren't many during her trip two years back. She also shared how she no longer needed to hold her breath when she visited the toilet as there was practically no smell, yay to VIP toilets! Another talked about he was impressed by the progress made in education, where there used to be four preschools in 2013 and now there are 20.
That being said, poverty is such a complex issue where the solution is never one dimensional and the needs are still there. From what I see, WV's role is really to provide a hand up and not hand out to the community and to empower them so they are aware of their rights and can champion change that will positively impact their futures. And this is evident in the way Lipohong High School was established, by the community and for the community. My role then, beyond a WV staff, is simply to do what I can within my means to make whatever little impact I can in the world, which led to me sponsoring an additional child in Zambia!
We make a living by what we get, but we make a life by what we give. - Winston Churchill
Written By:
Sheryl Huang, World Vision Staff