Help arrives just in time in Yongsheng ADP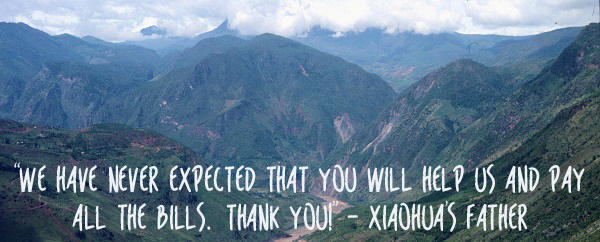 8-year-old Xiaohua lives with his parents and 3-year-old younger brother in the deep mountains of Yongsheng county, Yunnan province. Xiaohua's father does part-time jobs in places near the village, while his mother works in the fields and takes care of the family. In spit of this, life has always been difficult. They can barely make ends meet.
Since the school is far away and has no dorms, Xiaohua has to walk 4 kilometers everyday to go to school. The road is steep and narrow. When there are rainstorms, the danger of floods and mudslides is high. Therefore, students are required to walk in groups for the sake of safety.
One day on his way back home, Xiaohua slipped and fell on the groud while playing with other kids. He injured his right hand. Fellow classmates immediately brought him home. His parents carried Xiaohua in arms and rushed to the county hospital.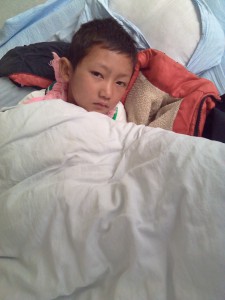 The journey to hospital seemed unbearably long. Changing three to four types of vehicles, they finally arrived at the Yongsheng County Hospital after 5 hours of travel. After examination, the doctor told them that Xiaohua's right arm was broken. He needed an operation.
Completing all the admission procedures, Xiaohua's father bought dinner with the only money left in his pocket, 20 yuan (4.30 SGD). However, Xiaohua simply could not eat, for his wounds were too painful. Lying next to him, his mother kept weeping. The heart-wrenching sight and the medical fees due tomorrow made it impossible for Xiaohua's father to eat anything.
Early next morning, WV's staff learned about Xiaohua's difficulties through the community facilitator. They immediately went to the hospital to visit the family. When asked about whether they have money for the operation, Xiaohua's father simply had no strength to lift his head and became even more silent.
At that time, Xiaohua seemed to feel the anxiety of his father, though he couldn't fully understand Putonghua (They are ethnic Lisu people whose daily communication is conducted in ethnic Lisu language. Xiaohua had just started second grade, so his knowledge of Putonghua was limited). He leaned against his father and stopped groaning.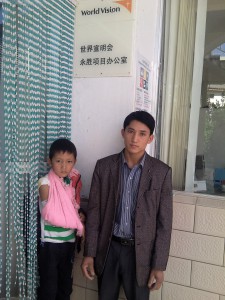 After learning about their situation, World Vision paid all the medical fees, as well as transportation and meals.
"We have never expected that you will help us and pay all the bills. Thank you!"
Now, Xiaohua's right hand has almost fully recovered. He can even help with household chores.
Understanding the potential danger faced by the community from this case, WV plans to roll out activities on child safety by raising the community's awareness and ability to respond to emergency situations.