Fuel-efficient cook stoves combating climate change
In 12 villages in Lalitpur District of Uttar Pradesh, a fuel-efficient cook stove has found its way into the heart of 1200 homes. This is a major shift from the traditional Chulha that consumes piles of wood and is the most common cooking apparatus in rural homes in India. This could have a profound impact on tackling deforestation and solving indoor air pollution in this part of the Bundhelkhand region, an area with a long history of drought. 
36-year-old Rajkumari, a mother of two, often walked the forest trail with 20kgs (Kilograms) load of wood on her head. She only collected fallen branches, but this was a monotonous job that didn't generate any income; it was just for survival. She spent four to five days a week collecting firewood from an ever-thinning forest close to her village. The average consumption of wood per family in her village is around 200kgs per month. The locals believe this to be the major factor for deforestation.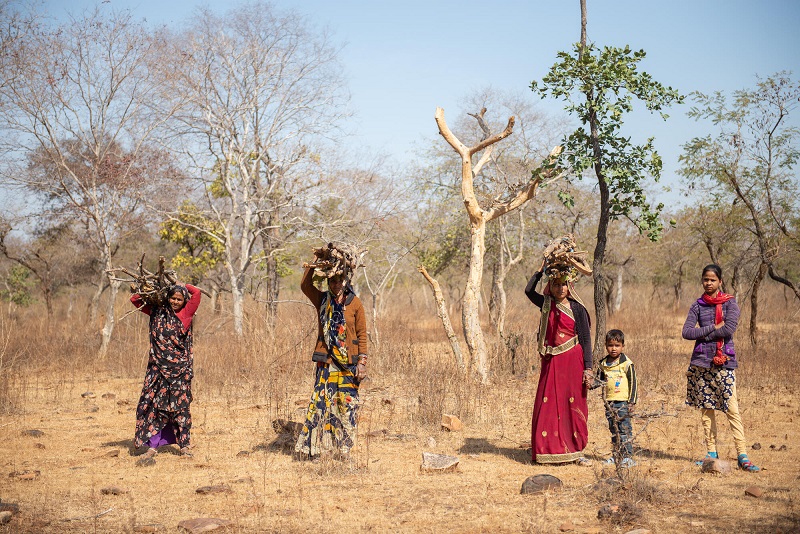 Gaumabai (55), has lived long enough to see the landscape change in front of her eyes. She has seen the forest shrink and the groundwater recedes. Over time, they have had to walk further from the village to collect firewood. According to a World Vision India survey, 51.54% of 1200 households walk more than 4km to collect firewood.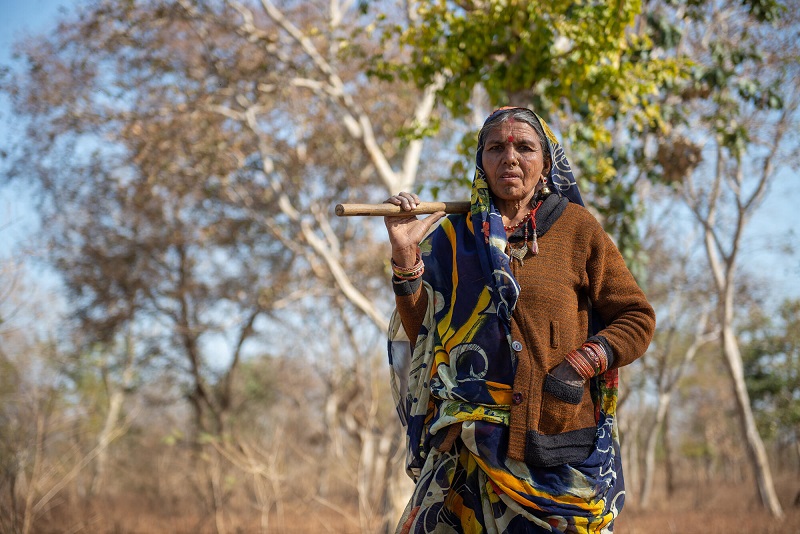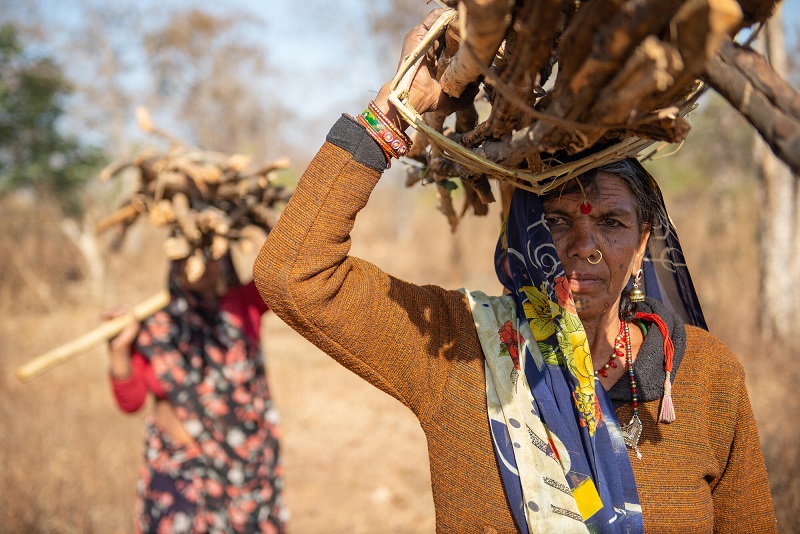 "When we were young, we were afraid of going to town alone. There were forests with leopards and bears and we traveled in groups to be on the safer side. Now, the forest has shrunk and our wells have dried up. We have very few trees now," said Gaumabhai. 
70.50% of beneficiaries agree that their surrounding areas had dense forests 30 years back. Today only 0.36% believe that they have had dense forest covers. The locals are of the opinion that degrading forests have a major impact on different aspects of their lives such as the availability of water and food production. 89.69% believe that deforestation has reduced agricultural productivity, whereas 65.64% believe they now have to walk a long distance to fetch firewood. 94.79% are of the opinion that deforestation has reduced water availability in the region.  
Deforestation, indoor pollution, and climate change are all linked through a complex system. The use of Chulha for cooking raises major health and environmental concerns. Chulha is the major contributor to air pollution in rural India. Out of 7 million deaths from pollution every year, China and India account for 4 million Indoor and Outdoor pollution. Every year 3.8 million deaths are estimated as a result of household exposure to smoke from dirty cook stoves and fuels. Chulha produces carbon dioxide, methane, and particulate matter that contribute to global warming. The traditional Chulha consumes tons of wood, which is an unsustainable way of life, in a region already ravaged by drought.
A few months back, Rajkumari's daily chore revolved around collecting firewood for the family. Her husband, Bhaginath, is a farmer and spent his day in the field, leaving the wood-gathering job to her. In the scorching heat of the Bundelkhand sun, this is no small feat.
"Collecting firewood is at times more difficult than working on the farm. We leave home early, walk 4-5 km, and return home with loads of wood late in the evening. I'm unable to spend time with my children as I'm away most days collecting wood," said Rajkumari.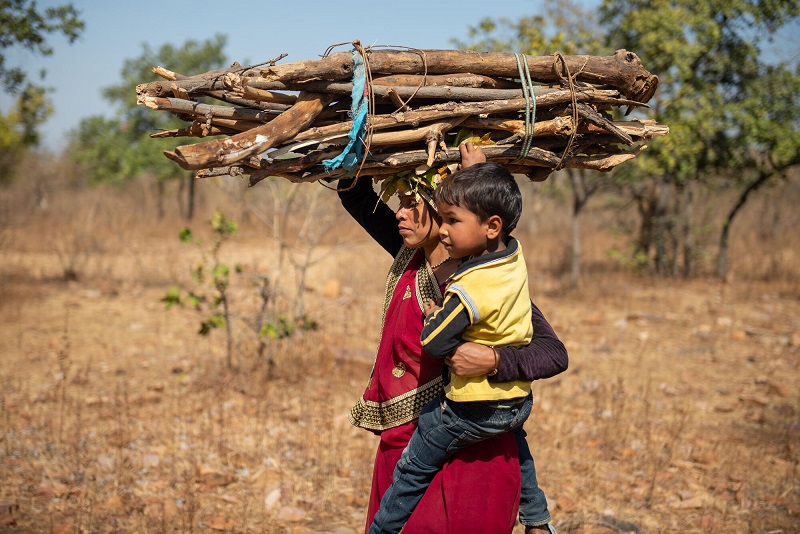 Rajkumari's daughter Roshni, 15, and son, Rishab, 5 too have felt the impact of indoor pollution in one way or the other. The family of four cook, dine, and sleep in a shared one-room space. Smoke from cooking makes it hazardous, especially for children. According to WHO, around 93% of the world's children under the age of 15 years (1.8 billion children) breathe polluted air every day, which puts their health and development at risk. WHO estimated 600,000 children deaths in 2016 from acute lower respiratory infections caused by polluted air, making air pollution one of the biggest killers of children under 5 years of age.
World Vision provided fuel-efficient cook stoves to 1200 families as part of an initiative to address indoor pollution in 12 villages of Lalitpur. The stove has been tested and has been found to reduce smoke. The fuel-efficient cook stoves can burn well and provide enough cooking heat even with twigs, as it insulates the heat from escaping.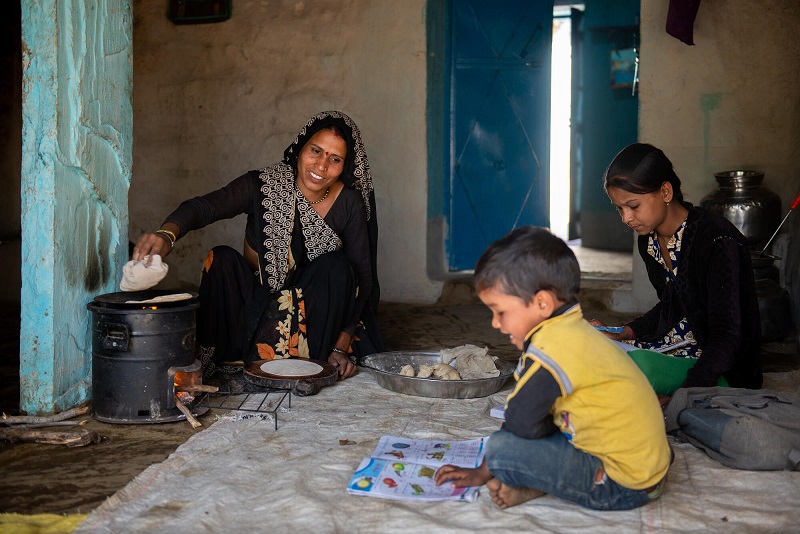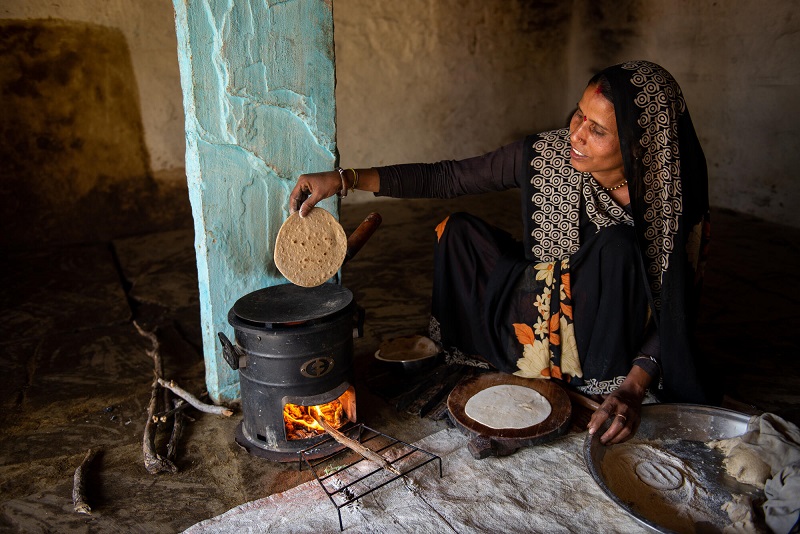 "It burns like gas and doesn't collect soot. It also saves time as it cooks faster. Earlier I had to go 4-5 days a week to collect firewood, now I have to go twice a month to collect firewood. I can now spend more time with my children, even while cooking," said Rajkumari.
She also said that earlier her children were unable to study inside the house because of smoke. 
100% of fuel-efficient cook stove users said that they have benefited from it. The stove gives off much less smoke compared to a Chulha. This has improved the air quality in their homes. Individuals with respiratory problems have already started reaping the benefits of using the stove. To measure the intangible impact of fuel-efficient cook stoves, World Vision carried out indoor air quality testing through High Volume Air Sampler. 20 households were chosen randomly in 10 villages and each test was run continuously for 24 hours. Indoor air quality sampling was done before and after the introduction of fuel-efficient cook stoves and the result is quite encouraging. The average particulate matter (PM2.5) in Chulha-used homes shows an alarming 129.91 µg/m3 which is much higher than the safe limit of 100µg/m3. People with lung and heart diseases, children, and older adults are at greater risk from exposure to particles in the air. In fuel-efficient cook stove homes, the reading is in the moderate range of 78.99 µg/m3.
The carbon dioxide index dropped from 786.80ppm to 387.70ppm, whereas Particulate matter (PM10) fell from 237.19 µg/m3 to 177.76 µg/m3. The fuel-efficient cook stove not only improves air quality but, as the indicators suggest, can also reduce the impact of global warming as there is a significant reduction in the emission of carbon particulate and greenhouse gases from homes. 
95% of the beneficiaries felt that the cook stoves have helped their children in their education by allowing parents to spend more time with their children in their studies. 98% of mothers are positive for reduced smoke emission in their homes, and report a 50% reduction in firewood fuel consumption. Rajkumari recalled the time her father owned an orchard. After he passed away, the trees too died due to neglect. She believed the forests are not different.
"As a child, we would not take water along with us when we went to the forest to collect wood. Water was available everywhere," said Rajkumari reminiscing bygone days.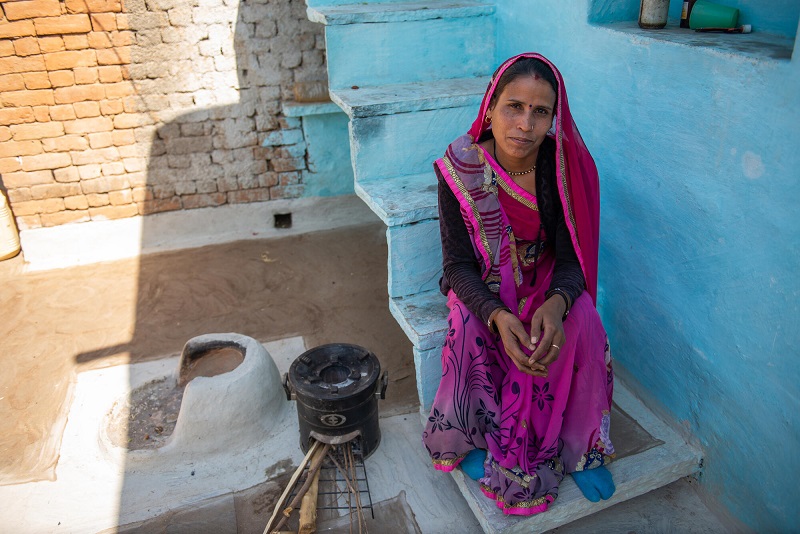 Cutting forests for firewood and farming had ruptured the ecosystem and set off a chain reaction. Fuel-efficient cook stove has shown themselves to be capable of solving many of these problems in rural Lalitpur, where the balance between the land and the people is a delicate one.    
---
Support 250 women in 250 households in Ethiopia to also have access to clean and energy-efficient cook stoves. Together, they can collectively reduce 250 tonnes of carbon emissions.