Former Sponsored Child now a Teacher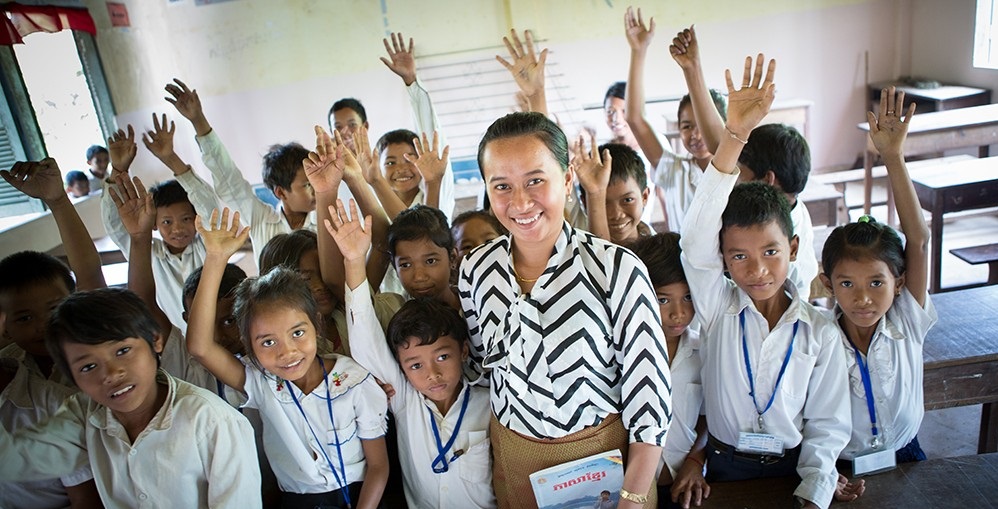 Phally Pheng likes getting kids' hands up in the air. A former sponsored child who now teaches in northeast Cambodia, she works hard to teach in ways that engage her students. She wants her students to participate — for their hands to spring up in excitement when she asks a question.
One morning, the 21-year-old teacher calls a boy to the blackboard. He doesn't hesitate to pick up the chalk. This boy, like all the children in her classroom, is sponsored. Phally knows education can change their lives — just as education changed hers.
Phally's only dream as a child was to become a teacher. "I told my sponsor this, and she encouraged me to study hard," she says. If the boy working diligently at the blackboard follows his teacher's example of adding determination to sponsorship, his dream could also come true.
Sponsorship sends Phally to school
Phally remembers well the days before World Vision and child sponsorship arrived. Her parents were farmers, but they didn't earn enough to support her and her younger sister and brother. Phally's parents had to borrow money from her aunt to pay school fees.
But then, when she turned 9, someone began to sponsor her through World Vision, and Phally was able to go to school. She initially attended classes held outdoors because her community didn't have a building for the children to learn in. Phally says, "We weren't encouraged without a building."
But as World Vision's work in Samlot continued, the community changed in many ways. "There was a lot of development," says Phally.
"World Vision built a well, roads, and school buildings." Phally adds that the well, in particular, made life easier. "We used to fetch water as far as eight kilometers (nearly five miles) away. But after we had the well, it was easy for us to get water."
Ready access to water is helping more children go to school instead of carrying water throughout the day. As a result, all children in Phally's community are now enrolled in primary school, and 60 percent of younger children attend preschool.
Nurturing the seeds of learning
As Phally progressed from grade to grade, she saw the need for more teachers to plant the seeds of learning in young minds like hers. She began to think that perhaps she too could be a teacher one day.
"When I was growing up, we didn't have enough teachers," she says. "I found this didn't encourage us to go to school. I wanted to help my community."
Along with benefiting from the work that World Vision did in her community, Phally also enjoyed an ongoing relationship with her sponsor, who sent her letters twice a year. "She would ask about my family and my schooling," Phally says. "She wanted to know how I was doing." Phally would write back and tell her sponsor about her life and successes. In one letter, she shared about her dream of becoming a teacher.
Her sponsor encouraged her to pursue that dream, a message Phally took to heart. After she finished high school, Phally went to college. Her Christian faith also motivated her to keep striving. "Faith is very important to people," she says. "People need God. I believe it will shape people to do good things."
For the past four years Phally has taught a number of grades and a variety of subjects. Her favorite subject is literacy because, she says, "I love reading."
In class, she proudly wears a traditional Cambodian dress, but her pride in her students is even more evident.
"Through sponsorship, children have a chance to gain knowledge," she says. "They receive what they need." Phally is proof of this — through sponsorship, she received what she needed to realize her dream.