Finding Hope in the Midst of Despair with Child Sponsorship: Thandar's Story
"I felt so sad. Nothing to eat. A sick mother. I did not know what to do. I sneaked out with my sister without my parents' knowledge and we begged for money under the hot sun. I was shy asking for money but we needed it," shared nine-year-old Thandar.
The new normal has inevitably caused a standstill on the progress vulnerable families have made against poverty. Thandar and her family were not an exception. After losing his job as a trishaw driver, her father was forced to mortgage his trishaw to afford medication for his chronically ill wife, resulting in the family having to go days without food. 
However, Thandar's decision to resort to begging to support her family, while unfortunate, led to a series of benefits for the family.
Upon being spotted on the streets, the pair of sisters were reported to World Vision. Fortunately, the team on the ground were able to visit Thandar and her family with the food support for the family.  
"We got rice, beans, eggs, dry fish, potatoes, onions, garlic and oil, and my dad was back on his trishaw. I had not realised that we still had people who could help us," shared Thandar.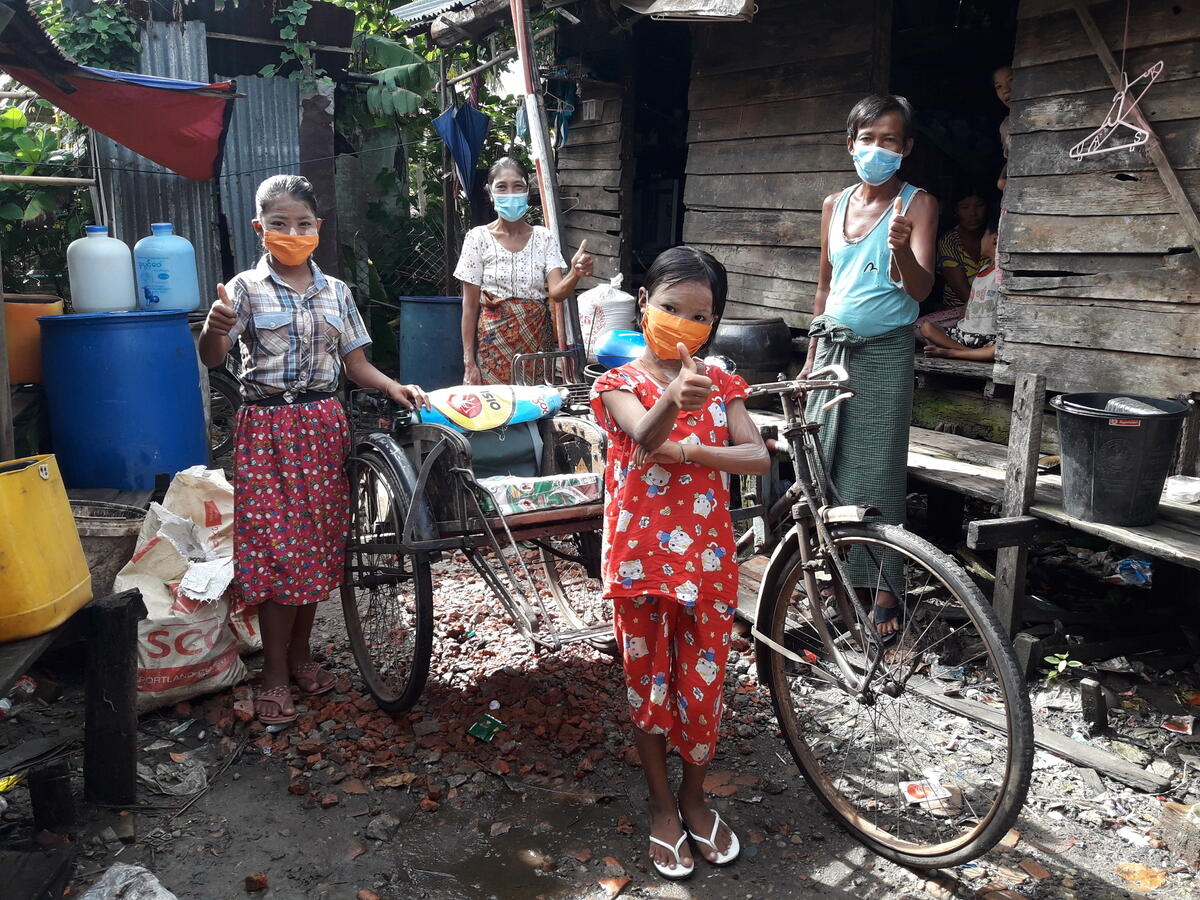 Additionally, World Vision also helped her father to reclaim his trishaw, injecting a renewed sense of hope and encouragement for the future, even in the midst of COVID-19 and in their journey towards escaping poverty.  
With his trishaw back, Thandar's father could return back to work and continue to focus on supporting his family. However, this was not all the assistance World Vision offered. With her father back at work, World Vision shifted its focus on Thandar's well-being and growth, specifically her education.
After finding out that she had to leave school because of the pandemic, World Vision's Child Protection and Advocacy group was mobilised to facilitate home-schooling for Thandar, at that time, allowing her to keep up with her education despite her family's situation, ensuring that she did not miss out on opportunities that would benefit her family and her. 
Like Thandar, there are millions of children in Myanmar forced to endure harsh realities and take on the responsibilities of adults from a young age simply to survive, in addition to the repercussions of COVID-19.
But, you can change their lives, you can help a child be a child with child sponsorship!
Child sponsorship strengthens families and communities with resources to face COVID-19 and its accompanying devastations; the same resources that are the building blocks needed to overcome poverty – access to clean water, health care, reliable food sources, community networks, and support for children's education and protection. When you sponsor a child, you gift them (and their families) with hope for the future and a chance to live life in all its fullness. 
Protect children like Thandar and change their lives when you sponsor a child!