The Fast I Choose: Living Out Isaiah 58
To help church ministry and discipleship groups in Singapore stay connected as a community when in-person activities in church were restricted during the pandemic, World Vision Singapore developed The Fast I Choose, a resource that combines digital engagement, daily sacrificial challenges, prayer, biblical reflection, and stories of vulnerable children from around the world in a week-long devotional experience. It serves as an invitation for church groups to enter empathetically into the experience of vulnerable people groups who are at the centre of justice issues, and to whom the Church is called to show the love of Christ.
The Fast I Choose is a family-friendly and immersive journey into the real-life experiences of vulnerable children in different countries. Their stories come from developing regions and fragile contexts where World Vision works in partnership with communities to overcome poverty, injustice, and threats to the safety and well-being of children. The Fast I Choose takes its name from Isaiah 58, and is grounded in God's admonition about ensuring that our worship as Christians is not perfunctory, but rather marked by both personal godliness and a genuine commitment to seek the just functioning of society by confronting oppression and protecting the most vulnerable.
The Fast I Choose can be undertaken safely, remotely, and at the same time communally by means of digital interactivity. It is thus well suited for keeping church members engaged with their community of faith in the new normal, and lends itself particularly well to the discipleship needs of church ministry teams working with youth, young adults, and families. As a shared experience that employs simple digital tools that churches have become well-practised at using during the circuit-breaker, it can be flexibly scheduled to be aligned with a church's calendar, and to be run concurrently or successively for different groups in a church. It can also be incorporated into a church's programme for the season of Lent, Missions Month, and holiday camps.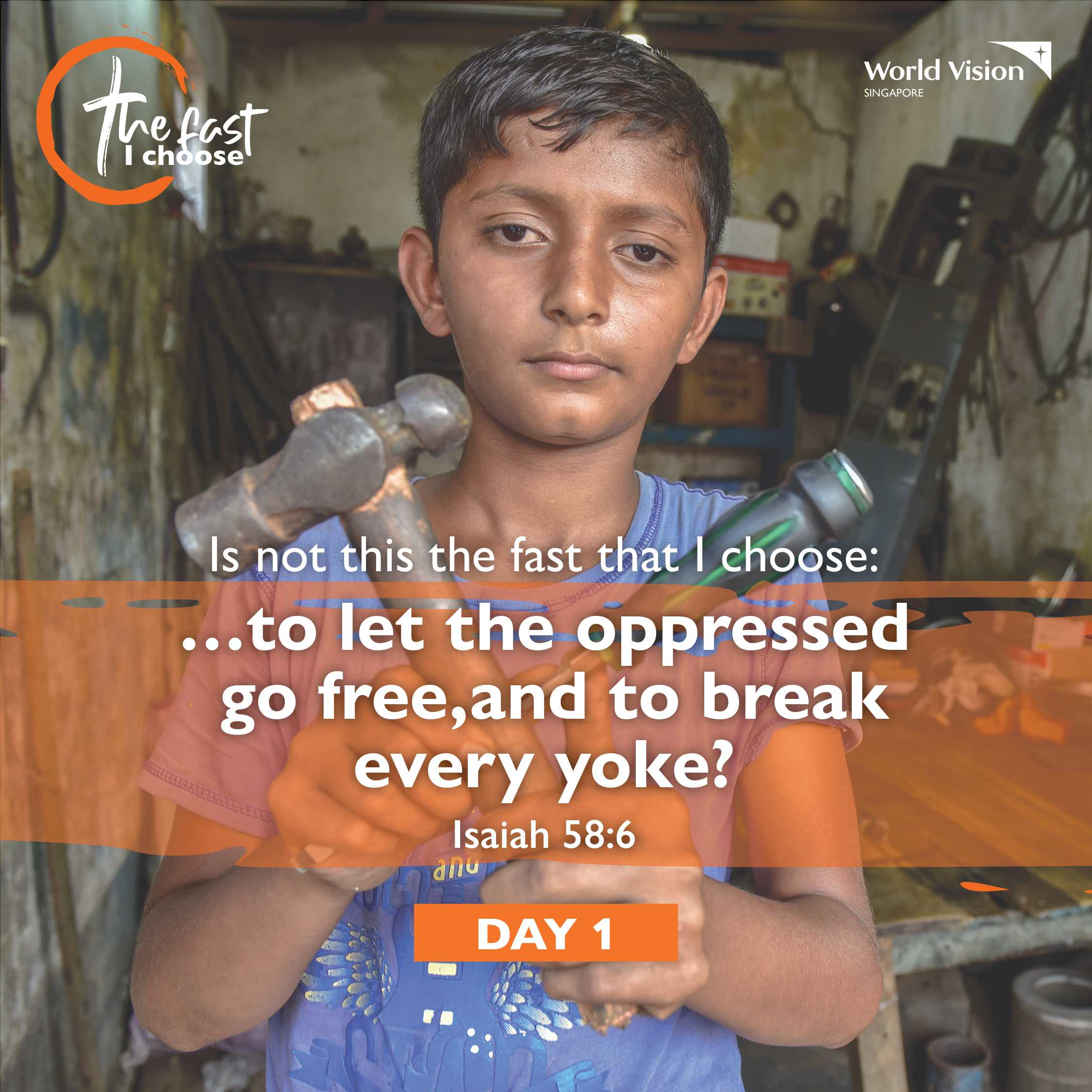 Over five days, participants receive:
A daily sacrificial challenge, delivered digitally to their mobile phones
Stories and videos on the lives of vulnerable children, accompanied by brief contextual information about how their experience of poverty is a consequence of broader global issues
Points for prayer and biblical reflection
The Fast I Choose can also be adapted to help churches deepen their congregants' engagement with their own missional priorities.
The first run of The Fast I Choose was held with Bethesda Frankel Estate Church in August 2021, where 80 members of the church's youth ministry community participated as part of their programme for Missions Month. "I think the experience was great and we would even consider making it a regular practice," shares Jonathan Cho, a youth ministry leader. "Our youth applied their minds to it and definitely found it challenging. The leaders who followed through and gained from it have found this helpful too, as it lends credibility and deeper reflection to our role modelling and leadership in youth ministry."
Are you interested in running The Fast I Choose at your church? You can fill in our form for church collaborations and a member of our team will be in touch!