Faith-in-Action Virtual Mission Trip - Reflections from Yio Chu Kang Chapel
Covid-19 has caused major disruption to the world over the past couple of years. Organisations had to quickly rethink how they conducted their operations in order to comply with the latest Safe Management Measures, as well as how to stay relevant in the changing world. Likewise, the church has to evaluate how it can continue to participate in cross-cultural missions in light of Covid restrictions. When the opportunity to partner with World Vision in a Faith-in-Action Virtual trip to Cebu, Philippines arose, a team of 10 youths and young adults from Yio Chu Kang Chapel quickly jumped on board.
YCKC x Cebu church youths
During the initial Zoom meeting with the World Vision Staff from both the Singapore and Philippines office, we got to find out more about the target church youths and their struggles. It was a fruitful meeting as it helped us plan a curriculum for the duration of the FIA Virtual Trip.
As we had a total of 7 Saturdays for the entire trip, we broke it down into 4 different modules addressing a variety of issues, covering both theology and various practical life topics.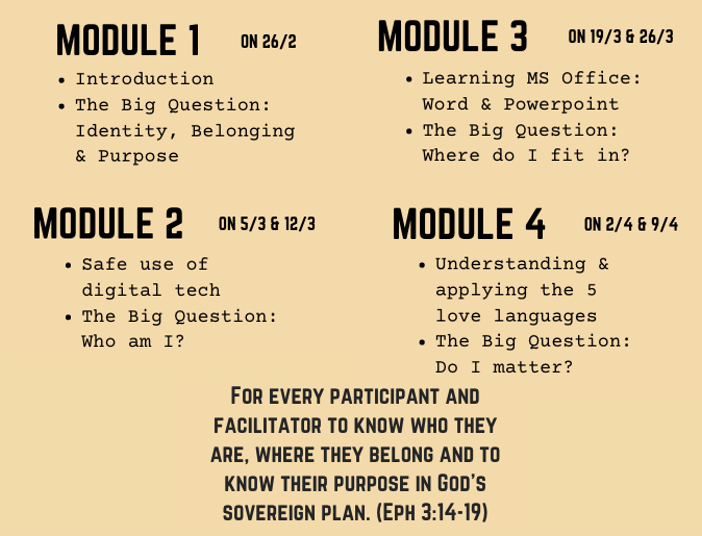 Schedule for the 7 sessions
A day before one of the sessions, one of our key volunteers tested positive for Covid-19. She was worried that she would be unable to facilitate the session. But God heard our prayers and she had minimal symptoms and she had no loss of voice. Despite being in isolation, she was able to conduct her lesson and had an enjoyable time of fellowship. We reflected that if it was an in-person trip, we would have all been thrown into chaos trying to follow the Safe Management Measures while rearranging the schedules accordingly.
The Cebu youths displaying their artwork (Collage Experience Piece: Who Am I?)
While participating in a virtual trip has its conveniences, it also has its fair share of issues. Those who have worked with youths before know that getting to know a group of youths can be challenging enough. The difficulty is multiplied when they are all using a shared device! However, we thank God that we had the advantage of time to grow relationally. Together with minor tweaks to the way the programme was run, we were able to interact and discuss the topics in smaller groups of 3–4. In the smaller breakout rooms, we were able to hear a little more about their faith and life challenges.
Going through the basics of MS Word
Knowing that English is not their first language, we were concerned about how the language barrier would affect our teaching and discussions. Thankfully, it did not turn out to be a major issue although there were some funny incidents. For example, we laughed when the Cebu youths called one of our team members "aunty", but found out later that it was their culture to address an older female or a respected friend as "ate", which we'd misheard as "aunty". We finally felt accepted.
First-time mission trippers, as many of us are, often think that mission is one-sided as we impart knowledge and provide some financial support. However, as cliché as it is, we received much more than we gave. The Cebu Youth showed us what faith really means. Even though they were impacted by typhoons and heavy rains, they remained committed to the sessions and showed up. They were hungry to know more and eager to grow in faith.
Our own faith grew even as we learnt more about God and trusted in Him in spite of the challenges we faced. One of our youths reflected that in the course of preparation, he was learning so much about God. In particular, the incident of Jesus calling the disciples in Matthew 4:18-22 gave him encouragement to know that he too has been called by Jesus and he belongs to this community of faith as well.
Sharing God's Word
Praise be to God that we have successfully completed the 7 sessions despite various difficulties. Until then, "Ang diyos ay pag-ibig" (God is love in Cebuano)!

The Cebu youths used their newfound MS Powerpoint skills to design worship slides
and led everyone in Praise & Worship
Some reflections from our mission trippers
I am thankful for this opportunity to help out as it gave me much insight into God's work overseas and how God's love is still present and flourishing globally. I intend to use what I have learned and continue to show God's love and grace to my loved ones and future missions work – Joshua Tan
I never thought missions could be online. After knowing that the FIA Virtual Trip was to Cebu, I got excited as I wanted to connect with the youths there. Hence, with excitement and curiosity, I joined the team for the experience! The preparation was exhausting due to many uncertainties. Thankfully, we adapted well and the workshop went smoothly. It warmed my heart when the Cebu youths did not want to leave after the session and we ended up saying our extended goodbyes for more than 5 minutes! – Faith Chua
We got to know each other beyond names and faces, beautifully made in the image of God. Above all, the Lord helped us put on His Love. We pray the youths would continue to be empowered by the Holy Spirit in their lives. All glory be to God! – Dawn Lim
Having fun after the session