Experiencing poverty first hand - Reflections from a 13-year-old tripper
I have always lived a privileged life; I have a loving family, attend a good school and have great friends. I have always known about poverty but have never seen or experienced it first hand; I never felt obliged to help others until recently.
My mother asked if I wanted to go on a trip with her to Zambia and I became curious, wanting to know more what the trip was about. After attending the pre-trip gathering and reading more about World Vision, I was excited to learn about who we were going to help, but I still did not understand the extent of the conditions they were living in.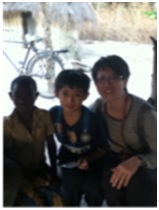 Almost a week or two after my 12th birthday in mid-July 2013, I went on the trip that showed me and taught me how privileged and lucky I am to have access to simple things like electricity. I visited many places in Zambia, learnt about their culture and religion, spoke with the village chief and enjoyed various activities. The kids there were very happy although some were a bit scared and shy. While they may lack many necessities, they were all very happy, and even the simplest gifts such as sweets or a ball delighted them.
One day, we met a man who was diagnosed with leprosy and had to have his leg amputated, taking away his ability to move around and interact with others. Since he was immobile, he fell into depression. Although his sister was meant to take care of him, she would come and go, and wasn't a consistent figure in his life. Instead World Vision staff and volunteers met with him, took care of him and accompanied him. When we visited him, he was still frowning, but when we gave him a gift bag, comforted him and prayed for him, he smiled. His smile made me realise what we could achieve even with a simple act of kindness.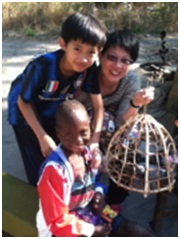 Personally, my favourite part of the trip was meeting our sponsored children. Seeing them so happy and delighted in person felt great and fulfilling. I realised that we are their only connection to the world outside.
When we returned from Zambia, we decided to have an art exhibition to help raise money to build a school in one of the villages we visited. When exhibition day came around, it felt great seeing all the artwork on the walls and meeting all the people who took interest in our cause. It was really worthwhile doing something in my own time and to see the product of my hard work. Overall the trip was great and I really wanted to go again.
A few months after I returned from Zambia, my mum asked me if I wanted to go on another trip. In the middle of the school year, I took a week off from my studies to travel to a much closer destination, Laos. While our aims remained the same, it felt different due to Laos' distinct people, religion and culture. Another difference was in the programme itself; World Vision Singapore has been in Laos much longer than Zambia, and it was evident in the infrastructure of the project.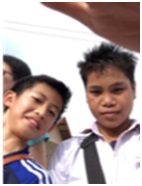 On the first day, we visited the first village and we immediately met our sponsored child. At the start he was very shy, but as we talked and got to know each other, he became more open and we played a game of football. In the following days, we traveled around different parts of the mountains, seeing the living conditions of the locals and how World Vision has helped the community.
Whenever we arrived at a village the villagers would greet us, and the head of the village would give us a speech detailing the changes and improvements in their circumstances. Following the village chief's speech, we would present sports equipment to the village school, and books and stationery to the children. Despite their quiet politeness, their expressions revealed that they were very grateful; some of them had even learnt how to say thank you in English. When we gave out shoeboxes filled with gifts from sponsors who could not make the trip, we also took photos of the kids with their shoe boxes for them as a keepsake.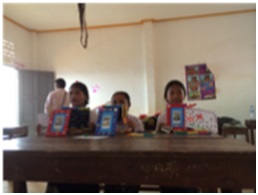 On the last day, we visited our last village. They celebrated with us by tying ribbons on our arms as a blessing and by preparing a feast of chicken and other goodies. They made mini ornamental baskets for us to bring back home to Singapore. At the end of the trip, I found myself unwilling to leave. Visiting Laos had been as rewarding as visiting Zambia, and I enjoyed myself tremendously.
These two trips really opened up my mind and allowed me to experience things I had never experienced before. Even though I saw how privileged I am, I realised how much I can help others. No matter how little the contribution we make, a difference can be made. If as many people as possible could each help just one child, we could end up helping thousands. It is often said every little good deed helps. At first, this concept was hard for me understand; I did not believe that I could help change someone's life. I used to think it was nonsense when my teachers would to tell me to save as much water as I could. They said if every person did their little bit in saving water we could make a big difference. Now, I realised that it made sense, and it's the same with what we are doing here at World Vision. However small your actions may be, it will be a big difference to the children and the community they live in.
World Vision has given me great opportunities to help others and has changed my view on the world. I have learnt that we should all do our part in helping others to make the world a better place; even the smallest actions can help. I may be off to study in England but I hope to have the opportunity to work with World Vision Singapore again someday.
Written By:
Ethan, Tripper to Laos and Zambia