Engaging Millennials in the Reality of Christianity
On 22 February 2019, 55 representatives from 19 churches and 16 parachurch organisations in Singapore came together at Bible House for a forum organised by World Vision on how the Church in Singapore can strengthen our collective efforts at engaging youth and young adults and nurturing them spiritually. The forum was held as a prelude to the release of the findings of a ground-breaking global study co-commissioned by World Vision and Barna Group, a leading research agency focussed on the intersection of faith and culture.
This research aims to uncover how millennials (aged 18 to 35) around the world today, including those in Singapore, regard matters of faith, church and social justice. It is interested in the implications this has for the Church's approaches to evangelising and discipling millennials, and developing the next generation of church and ministry leaders. Over 15,000 millennials from 25 countries have participated in this study, which will generate a first-of-its-kind, cross-cultural examination of a generation that many church leaders struggle to connect with. The complete research findings will be released in the final quarter of 2019.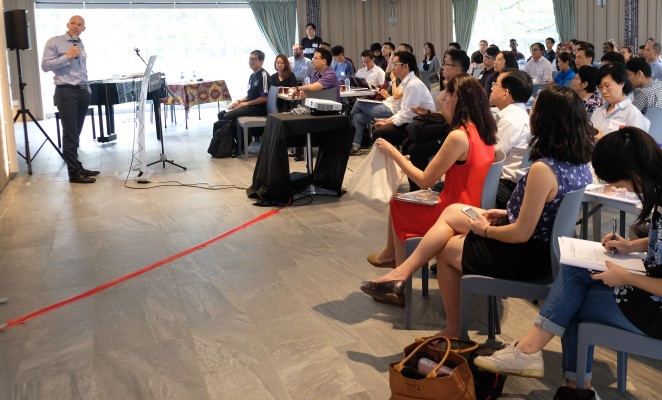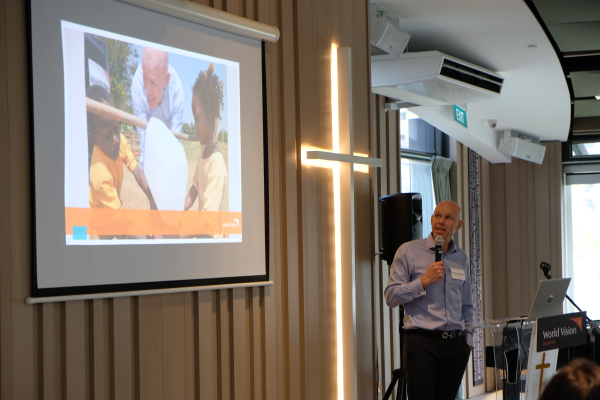 The keynote address was delivered by Reverend Andrew Morley, President and CEO of World Vision International.
Following a keynote address by Reverend Andrew Morley, President and CEO of World Vision International, and a brief survey of existing research on the spiritual temperament of millennials by James Pedrick, World Vision International's Christian & Church Engagement Lead, breakout discussions took place in groups consisting of representatives from diverse ministry and denominational backgrounds. The basis for these discussions were data points drawn from a separate body of research recently conducted by Barna Group (to be published under the title 'Faith for Exiles' in 2019) to examine the spiritual outlook of millennials in the US who had grown up as Christians, but subsequently reached different stages of faith represented by four spiritual personas:
Prodigals: Individuals who do not currently identify as Christian despite having attended a Protestant or Catholic church, or having considered themselves to be a Christian as a child or teen.
Nomads: People who identify as Christian but have not attended church during the past month. The vast majority of Nomads haven't been involved with a church for six months or more.
Habitual Churchgoers: Those who describe themselves as Christian and who have attended church at least once in the past month, yet do not hold foundational core beliefs or display behaviours associated with being an intentional, engaged disciple.
Resilient Disciples: Christ followers who
Attend church at least monthly and engage with their churches, more than only attending worship services;

Trust firmly in the authority of the Bible;

Are committed to Jesus personally and affirm He was crucified and raised from the dead to conquer sin and death; and

Express a desire to transform the broader society as an outcome of their faith.
The questions posed in the study on 'Faith for Exiles', and the responses they generated, informed the design and execution of the global study on 'Engaging Millennials in the Reality of Christianity'. For example, a number of questions from the US-centric study regarding how faith is shared and expressed by millennials, and the ways in which they connect most readily with the larger body of Christ, were replicated or adapted in the global study. While the global study does take into account the views of millennials in the US with some experience of Christianity, its scope extends beyond this group to also encompass millennials from international backgrounds and a spread of ages and faiths (as well as those with none).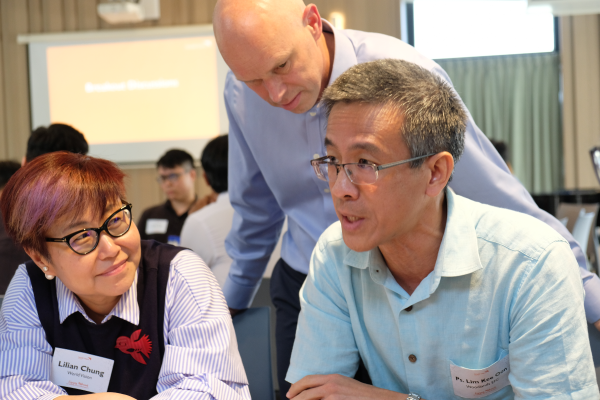 The objective of the breakout discussions was to gather participants' perspectives on salient questions featured in both the US-centric study and the global study. Remarks from these discussions were recorded anonymously and shared with the research team at Barna Group, so that they may inform the lens with which the data collected from Singapore for the global study will be analysed. There were enthusiastic contributions on the challenges and opportunities that the Church in Singapore has encountered in the course of cultivating a deep sense of mission, building courage and readiness, and inspiring empathy and a sense of social justice among the youth and young adults to whom we minister. Some examples of the recommendations that emerged from these discussions were:
On cultivating a deep sense of mission
Provide millennials with specific guidance on what the Christian life involves in practice. The teaching in church needs to both enhance their scriptural literacy and articulate clearly how the gospel is relevant to and genuinely gives meaning to their lives.

Church congregations should be encouraged to regard youth and young adults ministry as a whole-of-church ministry.
On building courage and readiness
Challenge millennials to think deeply about what it means to be a Christian. Move them beyond a perfunctory preoccupation with 'doing Christian things', and help them to grasp how their Christian walk has a bearing on the health of their church and the wider community where they have been placed.

Church leaders who are digital immigrants need to be cognisant about the pervasive influence that the digital sphere has on the mindsets of digital natives in the millennial generation. They need to understand how the digital space can present added difficulties for millennials seeking to be bold for Christ, even as they remain connected to the frequently unforgiving realm of public opinion and scrutiny online.
On inspiring empathy and a sense of social justice
Telling stories is essential for engaging millennials. Testimonies of how church members have experienced God working in their lives through their involvement in holistic ministry can help millennials to see that reaching out to and serving people in need can and should be an integral part of the life of faith.

Ensure that millennials understand how social justice relates to biblical justice.
It was an encouragement to hear how participants came away with helpful learning points that could be translated into practical steps for strengthening their church's or ministry team's efforts to engage millennials. Darrell, a youth ministry cell leader from Bethel Assembly of God, found the insights gleaned from the survey of existing research data helpful, and appreciated having the opportunity to hear from fellow ministry workers about the challenges they faced and the solutions they pursued in their respective ministry contexts.
Kenneth, an officer from the Boys' Brigade, felt that one of the key lines of thought to have come out of the discussions concerned the extent to which the Church might have been inadvertently complicit in the secularisation of the concept of social justice by tacitly assuming that teaching on the subject should be left to 'someone else' outside of mainstream church ministry. Paul from Queenstown Lutheran Church thought it was important for all present to be reminded that millennials value being spoken with rather than only spoken to, while Michelle, who serves with Methodist Welfare Services, came away better appreciating how many millennials at church are keen not only to participate in existing ministry opportunities, but to also 'make their own sandbox' and initiate service efforts to address causes that resonate with them.