East African Famine 2017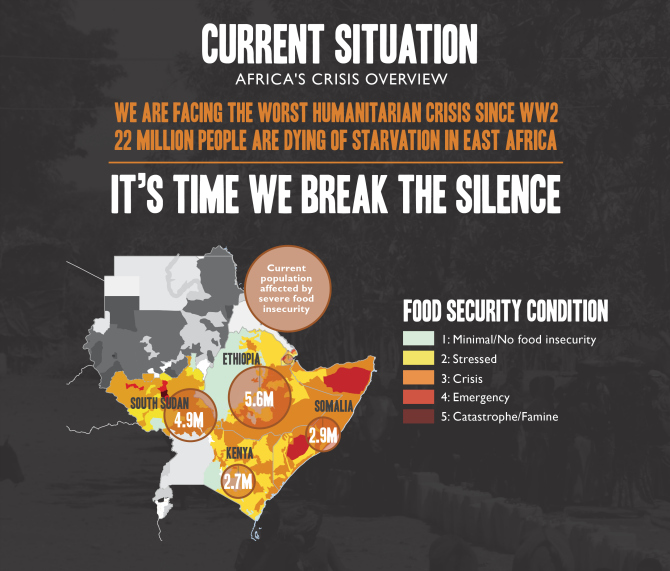 A combination of drought and conflict brews a dangerous recipe for a hunger crisis that leaves more than 25 million people in east Africa – South Sudan, Kenya, Ethiopia and Somalia – in a fragile balance between life and death.
Severe and persistent drought has caused widespread deficits in water and pasture, contributing to declining livestock conditions, increased rate of disease outbreaks, rising mortalities and crop production losses.
The drought has triggered movement of people in search for grazing land, water and work, increasing the risk of conflict especially among pastoral and agropastoral communities over scarce resources.
More than 3.5 million children under five-years-old in the region are suffering from acute malnutrition, and are at risk of starvation and death. Children in these unstable conditions are also at risk of violence, exploitation and abuse.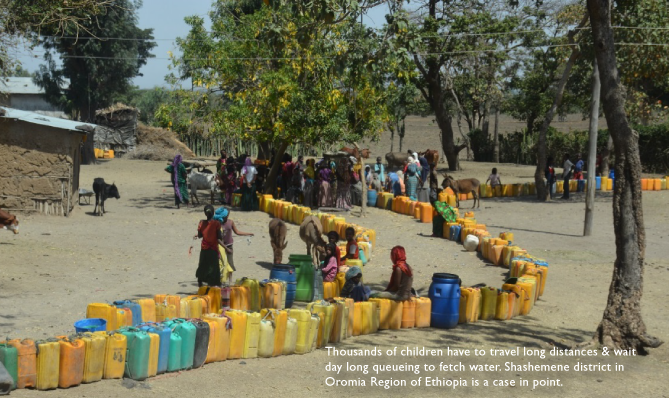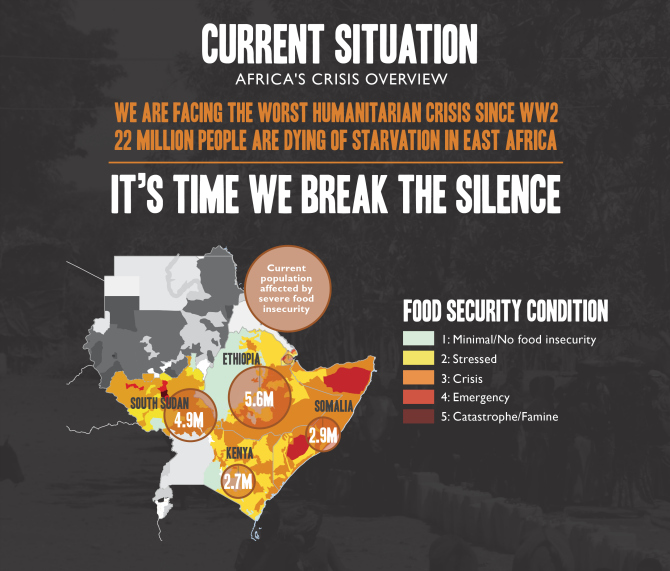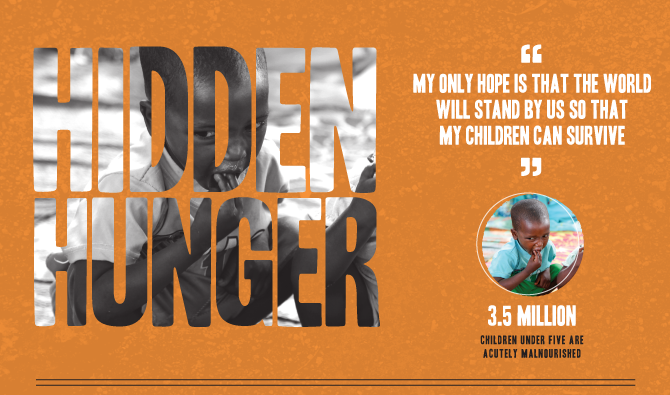 One-and-a-half-year-old Sumaya tries to feed on her mother's milk. Her mother Amandru gently pulls little Sumaya's mouth away from her breast again. Her breasts are empty. It has been more than seven days since she was able to last breastfeed Sumaya.
Amandru is tired — physically, mentally, emotionally.
A blank expression on her face, she stares through the crowd of children, women and men holding pans in their hands, waiting to receive their meal. With not much strength left to wait in the long queue, Amandru and her three children rest on the side of the tent where the meals are being served.
This is the first proper meal Amandru and her children will eat in weeks.
Amandru and her children fled more than 220 kilometers from her village in South Sudan before they reached a refugee reception centre — after about four weeks of walking.
She, little Sumaya and her other two children Ariye, 4 and Madasi, 6, had survived on a bag of beans for many months. During their journey, the family could only afford to share a handful of beans once every two days.
Tens of thousands of families like Amandru's are fleeing their homes to escape a crisis created by fighting, violence and food insecurity.
As for Amandru and her children, the simple hot meal at the reception centre has put a smile back on their faces.
"My only hope is that the world will stand by us so that my children can survive," said Amandru.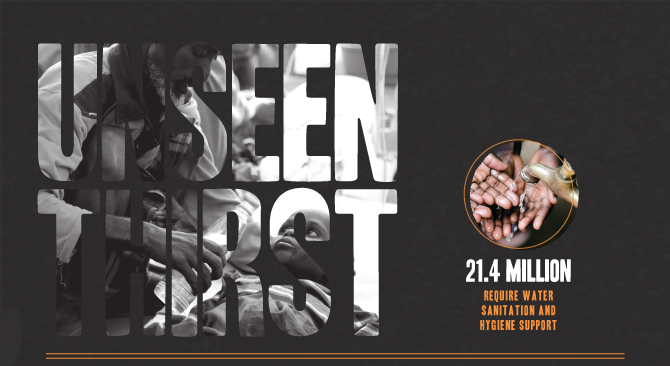 Nine-year-old Ali is rushed to Bay Hospital in Somalia, unconscious and severely
dehydrated. Doctors and nurses run to save his life. The boy's eyes are sunken, rolled up. He cannot make any movement and all you cansee is a mild heartbeat. His father wipes tears rolling down his cheeks, as he is anxious and not sure his son will survive.
They have come from a village in Khorile, about 20 kilometres away from Baidoa town in South Central Somalia.
The doctors quickly put two IV lines on his hands for rehydration. Fifteen minutes after receiving 1000ml of hydration, Ali opens his eyes.
"Water, give me water," he says to his father. Fortunately, they made it to the hospital just in time.
Due to the depletion of water sources as a result of severe drought in Somalia, some communities are relying on buying water, the prices of which are spiking beyond the reach of many.
Communities are then forced to resort to unsafe water sources, increasing the risk of water-borne diseases such as Acute Watery Diarrhoea (AWD)/cholera. According to the UN, a total of 7,909 AWD/cholera cases and 196 deaths have been reported in 11 regions (38 districts) in Somalia since the beginning of 2017. Like Ali, there are many more who are dying from drinking contaminated water or are lacking access to this basic necessity of life.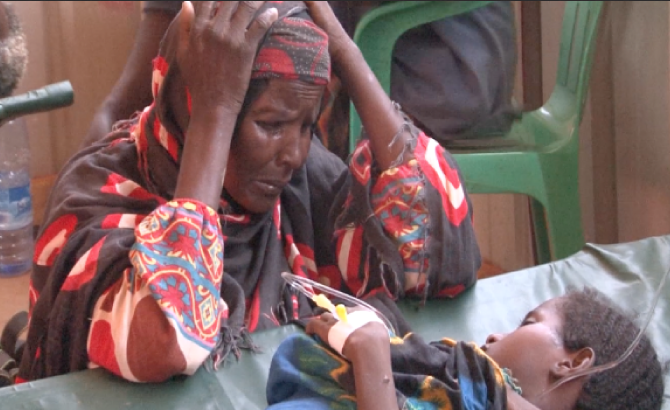 Grandmother deeply grieved after her granddaughter - Mariam fell ill of acute watery diarrhoea. She is receiving treatment at the Cholera Treatment Centre (CTC) supported by World Vision.
Helaule Osman, also nursing his three children, Hussein -10, Mariam -13 and Mohamed -10 who were admitted at the Bayhaaw Cholera treatment centre, had just buried his other two children who succumbed to acute diarrhoea.
"When I brought my children here, they were so weak. They had vomiting and diarrhoea a lot. We don't have any hospital at the village and many people are also sick back there. We met someone in the village who told us about a special hospital in Baidoa that treats this disease and that's how I came here," Helaule explains.
"I had five children, but two have already died. We don't have clean water in the village. What is there is bitter, not even animals can take. The drought is worse than what I have seen in the past," he adds. World Vision and the Ministry of Water and Sanitation Southwest state have established a mobile water quality testing unit.
Since January 2017, the water testing team has tested 196 water points in Baidoa district, finding that 22% were already contaminated. These wells were immediately targeted for chlorination.

FOOD
Enhance access to nutritious food for children and their families by:
• Providing food assistance
• Distributing nutritional supplements
• Protecting livelihoods
WATER
Increase access to clean and safe water for drinking and other household uses by:
• Mobilising water trucks
• Rehabilitation of water points
HEALTH
Improve access to essential primary health services by:
• Setting up mobile clinics
• Providing treatment and immunisation
• Stemming the spread of common communicable diseases
SAFETY
• Timely building of safe emergency shelters
• Strengthening protection services for vulnerable children and women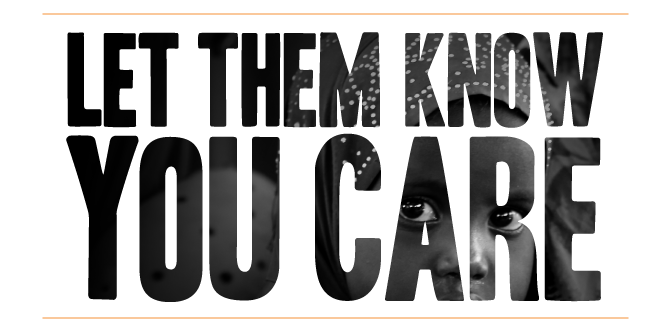 Sponsor a child in Ethiopia today!