Cyclone Pam: Responding to needs in Vanuatu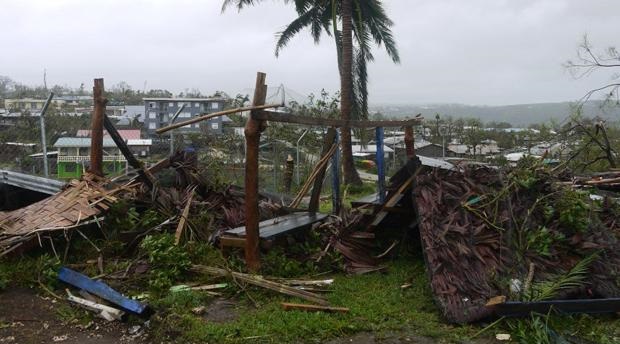 Last weekend, a category 5 storm, Cyclone Pam, pounded the islands of Vanuatu with heavy rain and winds.
Pre-positioned relief supplies distributed to affected families
World Vision has started distribution of pre-positioned kits of shelter materials, hygiene supplies, and kitchen/cooking sets*. Cyclone Pam struck the Pacific island nation late on March 13. World Vision staff reported houses leveled, trees uprooted, and roofs blown away. Electricity could be out for weeks in Port Vila.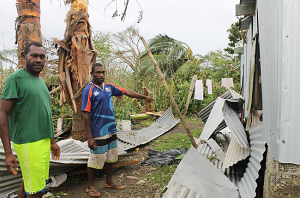 On Monday, World Vision was the first relief organisation to reach Tanna on an outlying island in Tafea province. World Vision staff took basic food supplies and water on a chartered flight, and connected with staff there. They reported major devastation, including homes destroyed. "People have been shocked by how devastating it was and how terrifying it was," says World Vision communications officer Chloe Morrison.
Clean water a critical need
Water and sanitation will be among the top priorities for Vanuatu's recovery, say government authorities and organisations involved in the disaster response. In Port Vila, the water system was damaged and service is intermittent, posing a health threat. On other islands with less developed infrastructure, the situation is likely much worse. "If we can't reach some of these communities, hunger and a lack of clean water could really become a problem," says Morrison. World Vision anticipates helping to repair damaged water systems. Long before Cyclone Pam, World Vision was working with the communities in all six provinces (Tafea, Torba, Sanma, Penama, Malampa and Shefa) across the country to bring cost-effective access to clean water, like catchment and gravity-fed water systems.
_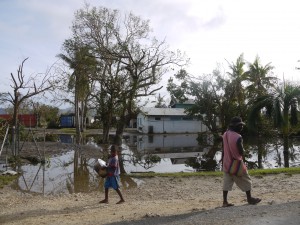 In addition to helping communities and families prepare for disasters, World Vision's own preparedness means we are ready to help communities when a disaster strikes. Your gift to World Vision's Disaster Response Fund will enable us to send immediate aid to the victims at the onset of a disaster.

*Shelter Kits contain items such as tarpaulins, hammers, nails, saws, ropes, shovels. Hygiene Kits contain items such as toothpaste and toothbrush, soap, sanitary items for women, shaving razors, sewing kit, bucket, candles and waterproof matches. Kitchen Sets contain items such as cooking pots, cups, plates and cutlery.