Celebrating Young Peacebuilders at Youth For Change Conference 2022
On 17-18 December 2022, students and young adults from Cambodia, Indonesia, Malaysia, Singapore, and Vietnam came together for the seventh edition of our annual Youth For Change Conference (YFCC), hosted at Republic Polytechnic, Singapore. The theme of the conference was "Peace Talks", and was prompted by the recognition that, in addition to climate change and COVID-19, many children worldwide have been affected directly or indirectly by conflict this past year, with crises in countries such as Afghanistan, Ethiopia, Myanmar, and Ukraine drawing the most international attention.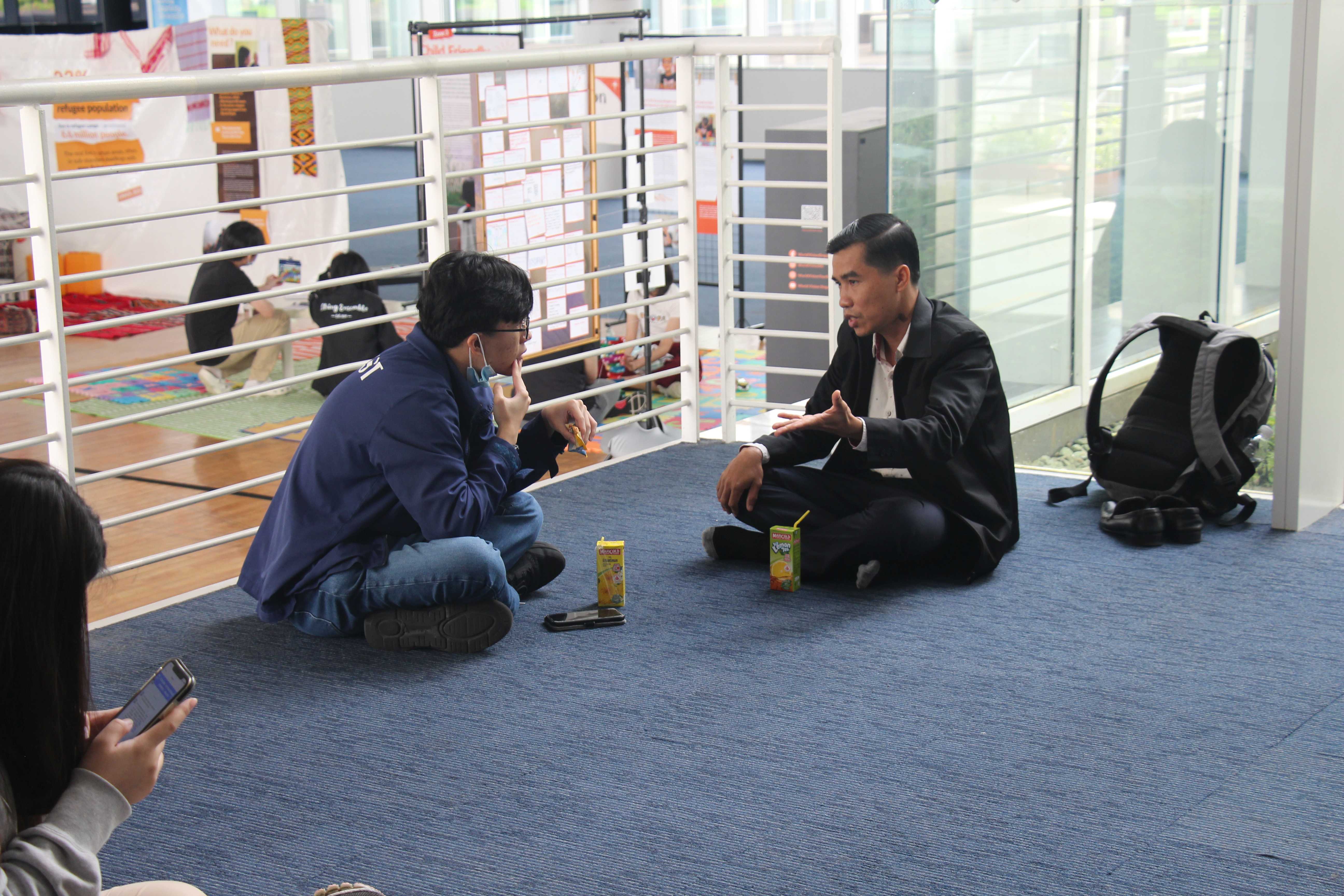 Participants connecting with one another during lunch.
The programme for YFCC 2022 shed light on how conflict mitigation, humanitarian operations, and post-conflict rehabilitation in crisis settings help to build community resilience and protect children.
Humanitarian practitioners from World Vision offices in Myanmar, Afghanistan, Cambodia, the Philippines and Kenya were invited to share their experiences of working on the ground to help children and families recover from the effects of conflict, and to forge peace and reconciliation so as to forestall the (re)emergence of violence. Participants could also choose from a range of workshops that introduced them to the processes involved in setting up a social enterprise, embarking on an advocacy campaign, and using conflict risk assessment tools.
On Day 1, Mr. Moe Thu, Director for Humanitarian Emergency Affairs from World Vision Myanmar, shared how political unrest and conflict have contributed to food insecurity and the displacement of people within his country, and how efforts have been made to help conflict-affected communities survive, adapt, and thrive. A panel of speakers from the Philippines, Kenya, and Cambodia spoke about World Vision's Empowering Children as Peacebuilders (ECaP) project, which is an ongoing youth peacebuilding initiative. They discussed differences between the rationale for and approaches to peacebuilding in their varying contexts, and engaged with questions posed by the attendees. Attendees also participated in a simulated ECaP activity session to understand how World Vision's field workers teach youth in fragile contexts to appreciate that by seeking common ground, it is possible to establish and sustain peace.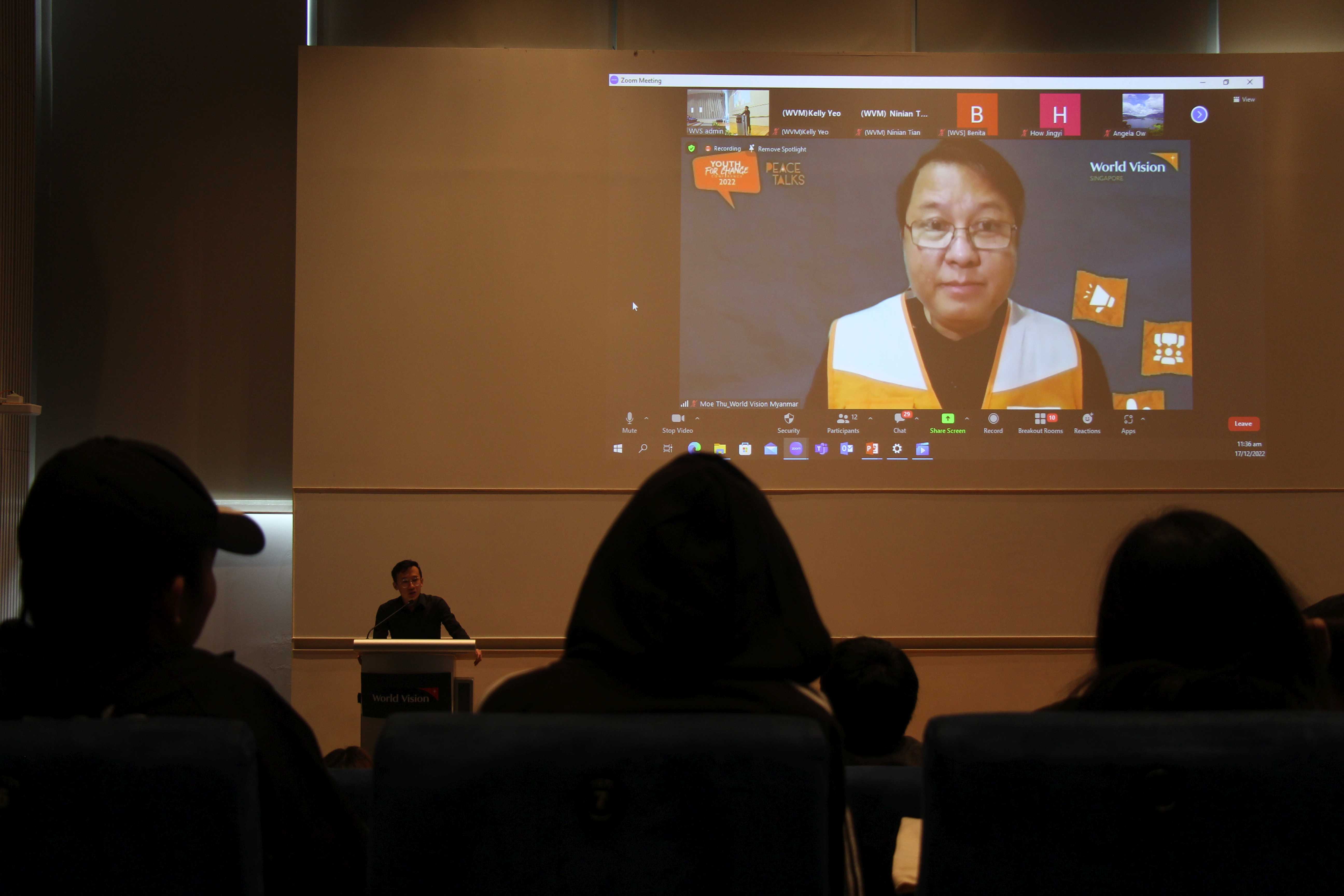 Mr. Moe Thu giving his first-hand account of World Vision's work in Myanmar.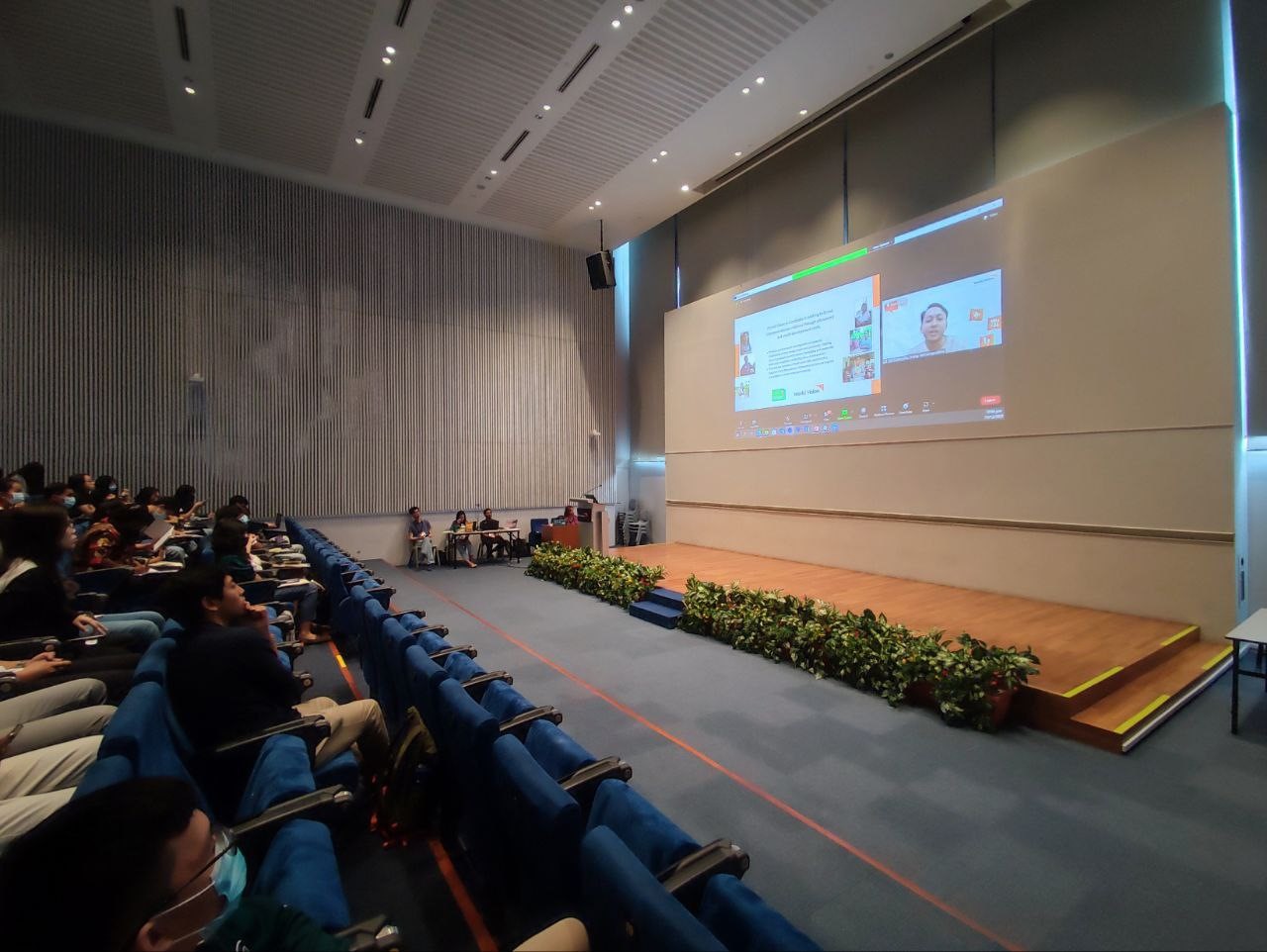 Participants hearing from Mr. Sethsamprathna from WV Cambodia, who spoke on how nurturing youth as peacebuilders has been essential for addressing the country's history of violence and intergenerational tensions.
After lunch, each participant attended one of the following three workshops:
Coffee Talks: Ms. Madeline Chan, founder of Mad Coffee Roasters, introduced participants to the processes and challenges she worked through in the course of setting up a social enterprise in Singapore that seeks to support refugee livelihoods overseas. Participants were subsequently given the chance to devise their own business plan to meet the needs of a vulnerable community of their choice.
Climate Talks: Ms. Rahel Sharp, World Vision International's Conflict Sensitivity Advisor, shared how climate change can be a threat multiplier in communities with low levels of conflict resilience. Participants then had the opportunity to conduct a threat level analysis on a real-life case study involving people displaced by drought-induced famine in South Sudan.
Campaign Talks: Ms. Brianna Piazza, World Vision International's Emergency Communications Specialist, shared her personal experience in advocating for children in crisis, where speed and accuracy are of the essence in gathering information, communicating needs, and social mobilisation. Participants then had the chance to craft a social media copy and design a graphic to share about World Vision Singapore's emergency appeal for Syria.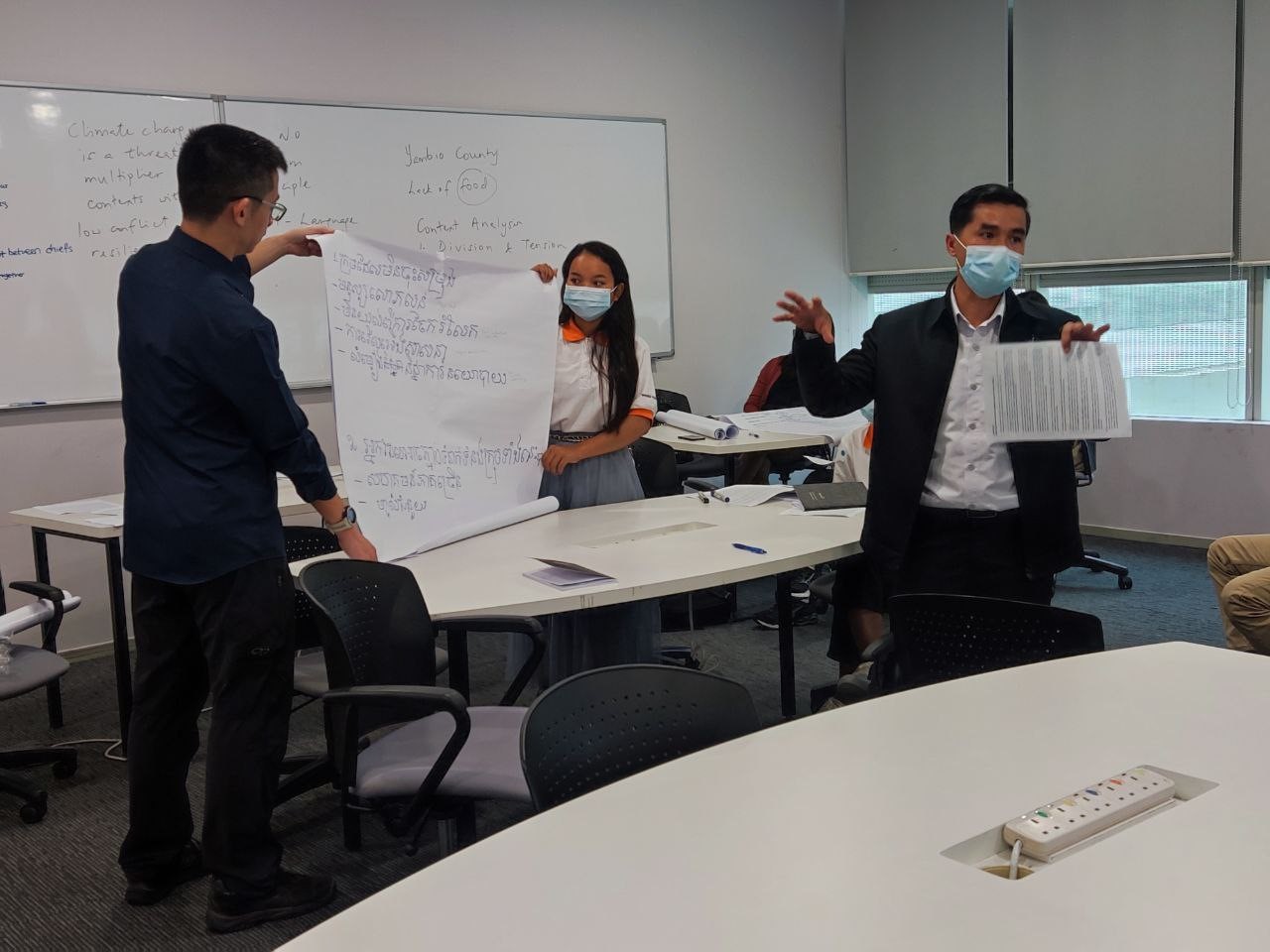 Participants from Cambodia presenting their ideas during the Climate Talks workshop.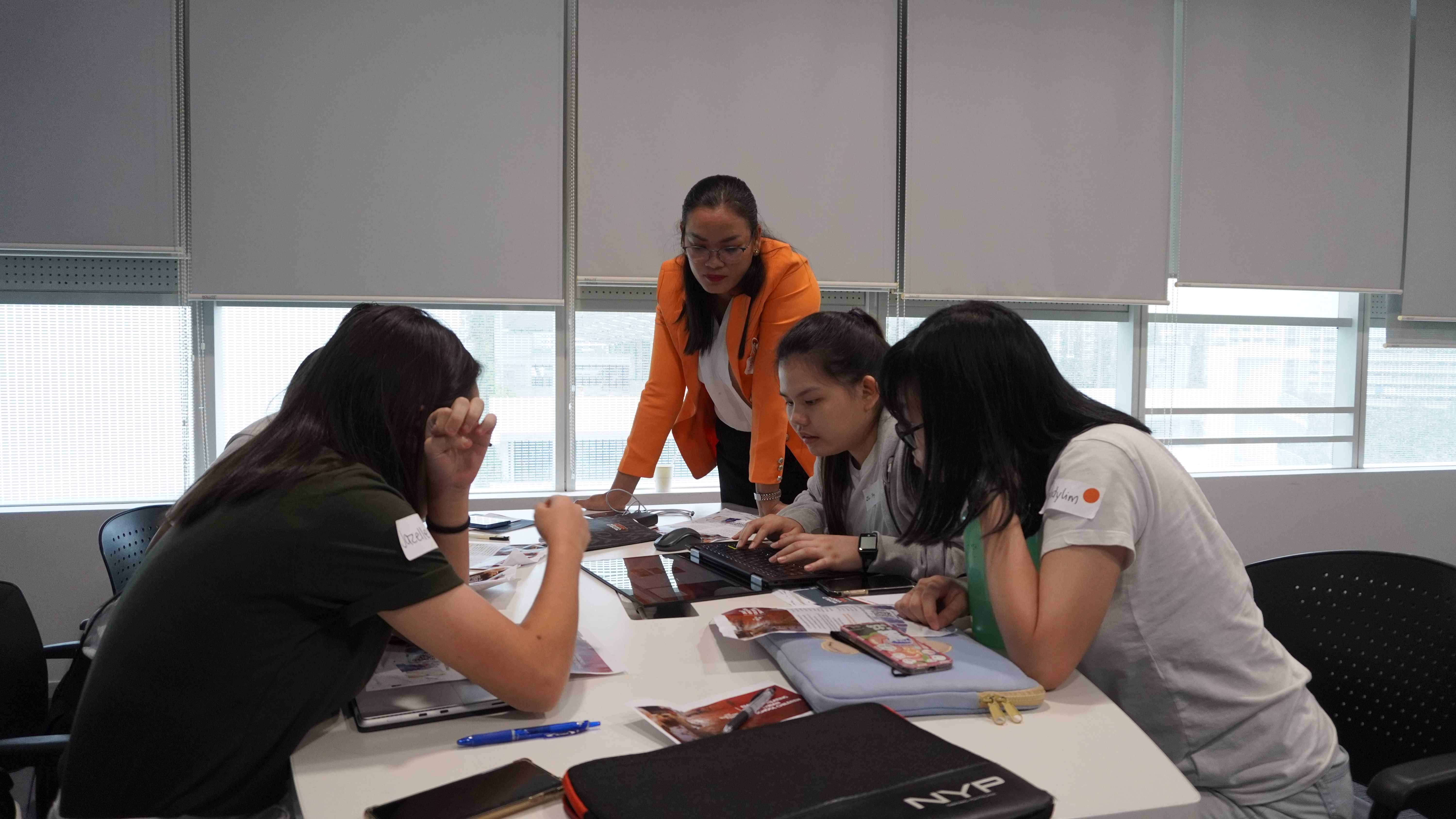 Participants discussing ideas during the Campaign Talks workshop.
On Day 2, Ms. Asuntha Charles, the National Director of World Vision Afghanistan, shared her first-hand account of how conflict in Afghanistan has affected the lives of women and children in the country, and how World Vision has been working to overcome the challenges of operating in a volatile political environment, and through the winter season, to respond to emergency needs in the country.
A participant interacting with Ms. Asuntha Charles after her presentation.
Afterwards, participants embarked on a virtual visit to Marawi and Cotabato, two cities in the Philippines that have been recovering from the effects of armed conflict since 2017. The virtual visit comprised a combination of interviews and "live" interactive segments with World Vision's field staff in Mindanao and youth from different backgrounds who had been trained as peacebuilders. Participants heard first-hand accounts about the impact of armed violence on families, and the interventions that the field team in Mindanao has implemented to equip communities to rebuild their lives.
YFCC participants also had the opportunity to walk in the shoes of children in crisis through an exhibition, titled "Rebuilding Lost Childhoods", which showcased first-hand accounts of people living in conflict zones and displacement settlements.
Conflict (Zone 1): Participants learned about how children are the most vulnerable victims of conflict due to a variety of risk factors, such as separation from parents, the dangers of trafficking and sexual exploitation, malnutrition, and psychological trauma.
Displacement (Zone 2): Participants had a glimpse into the living environment of a forcibly displaced family in a refugee camp, where meeting basic needs like food, shelter, and healthcare is a daily struggle.
Child Friendly Space (Zone 3): Participants learnt how World Vision establishes and utilises Child Friendly Spaces in displacement settlements to allow children some respite from the horrors of conflict that they have witnessed, by providing a warm and nurturing environment where children can interact, play, receive education, and heal.
Once participants journeyed through all three zones, they were invited to join the call for a safe and peaceful world for children by taking part in an advocacy art installation, titled "Peace by Piece". Participants wrote their vision of peace on stickers before adding them to the installation, symbolising how their collective vision of peace could bring hope to life in the face of a child.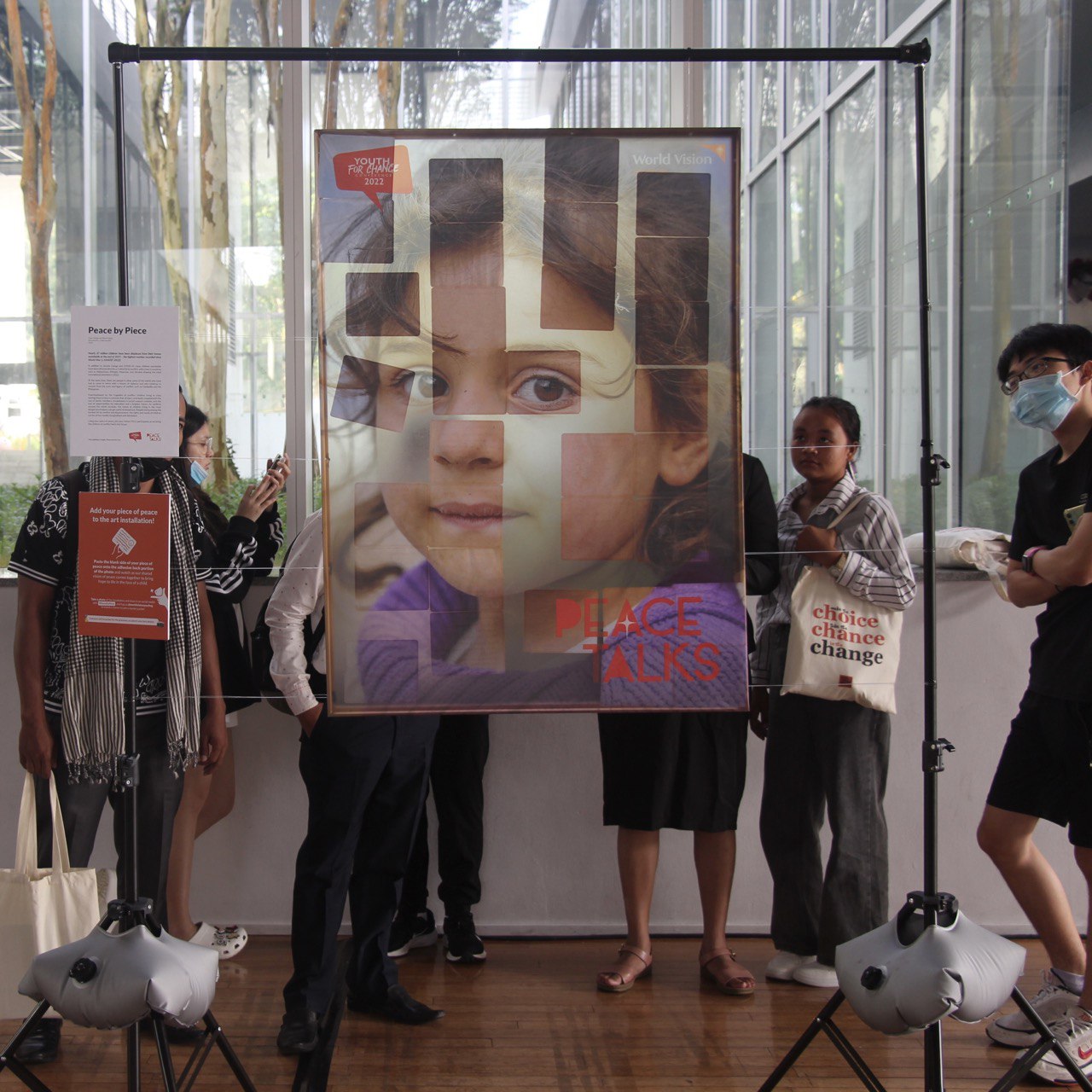 Above: Participants completing Peace by Piece, an interactive art installation. Below: A participant pasting his reflections onto the interactive art installation.
Hear what our participants had to say about YFCC 2022!
Having the National Director of World Vision Afghanistan be physically present at the conference was enriching. Her experiences and the work on the ground were so inspiring to hear. The heart and compassion she has are what make the difference to the children and enable them to have more meaningful and fulfilling lives. This has left a much greater impact on me and has made me motivated to do more for vulnerable children. (Kenneth, 18, Republic Polytechnic)
The guest speakers invited were really insightful and passionate about helping shape children into peace leaders. (Eileen, 19, Singapore Management University)
Coffee Talks [was the most enriching part of the programme] as I am able to know what considerations to take when making a business proposal. Hearing the insightful sharing from World Vision Afghanistan was very eye opening too. (Siti, 33, Singapore)
[The most enriching part of the programme was] definitely listening to the first-hand experiences of the people impacted by the problems and issues, and their efforts and experiences in recovering and surviving. (Rui Heng, 17, Singapore Management University)
I enjoyed the Campaign Talks workshop because it was interactive and I learnt how to create impactful campaigns as well as understand the real situation in places Syria and Afghanistan. (Chris, 19, St Andrew's Junior College)