Bringing Hope to Children Through Heartstrings in Taikkyi
5 students from National Junior College, Joyce Goh, Ker Jun Sheng, Vernice Teo, Allysa Tan and Xavier Cheah, started a project to raise awareness and funds for the community in Taikkyi, Myanmar. The team was convicted by the educational and child protection needs in Taikkyi, and were determined to spread awareness and advocate for the cause to their classmates. World Vision was invited to share about our work as well as highlight the concerns in Taikkyi to the Secondary 4 cohort. This talk was followed by a school-wide interactive exhibition mounted from 19 - 20 August 2019 to share more details about the community in Taikkyi, as well as simple ways students can play a part in making a difference. The team was able to raise funds through the sales of t-shirts, and invited their peers to write letters to the children living in Taikkyi to encourage them to push on and keep fighting no matter how difficult the going might get. The Heartstrings of Taikkyi team shares about their experience: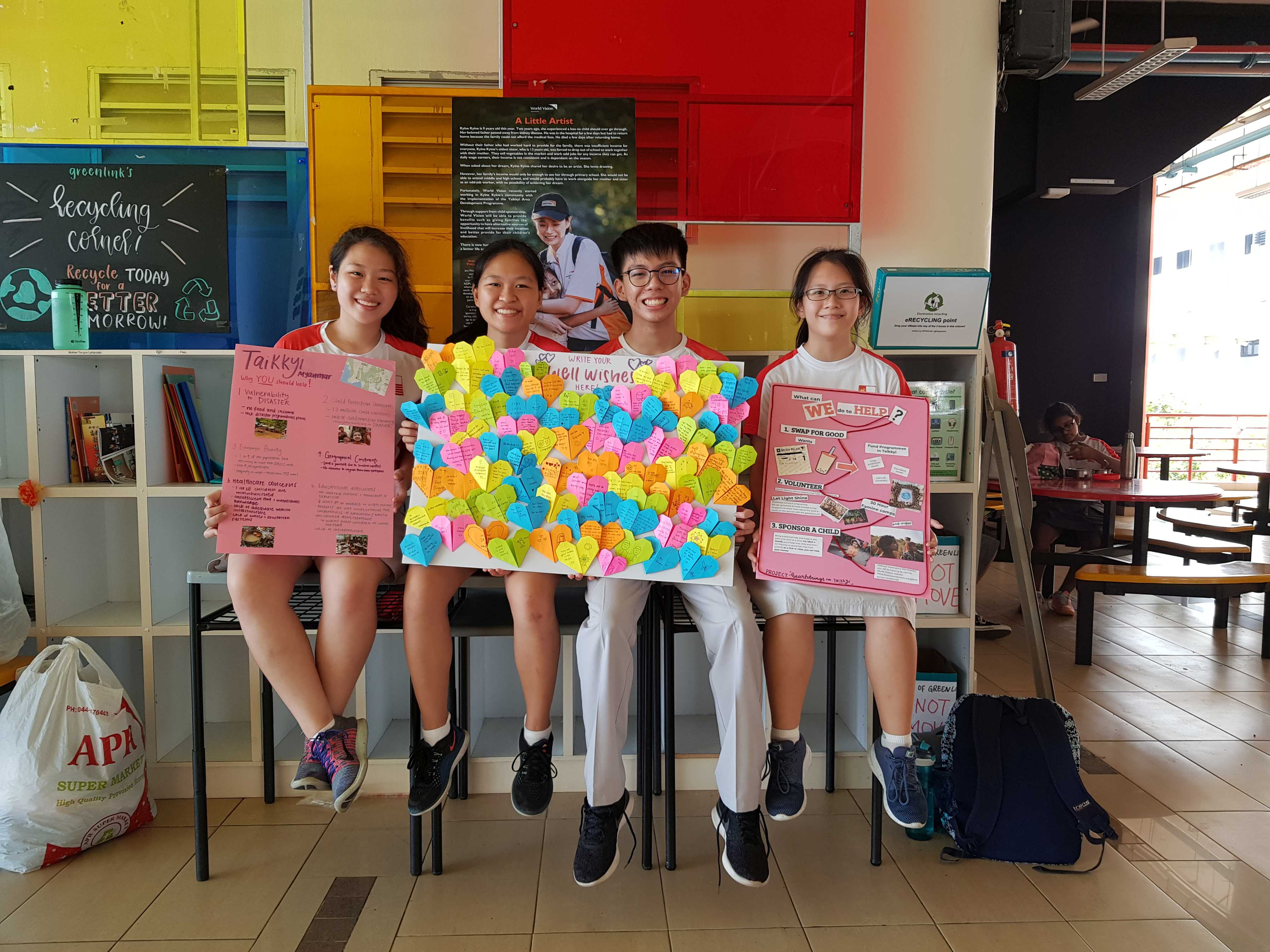 A few of us from the Heartstrings in Taikkyi team!
Our team found out about World Vision when our class had a sharing of different beneficiaries that we could potentially volunteer for, and one of our classmates brought up his story on sponsoring a child through World Vision, and the communities the beneficiary serves. His sharing touched our hearts, and we ended up researching more and more on World Vision and their mission. Our team has always had a heart for helping the less fortunate, as we believe that everyone should be given equal opportunities to succeed in life. The more we researched, the more we realised how much World Vision's work supported the cause we believed in, and so we decided to contact them to see if there was any way we can help, and also spread this cause to the students in our school and beyond.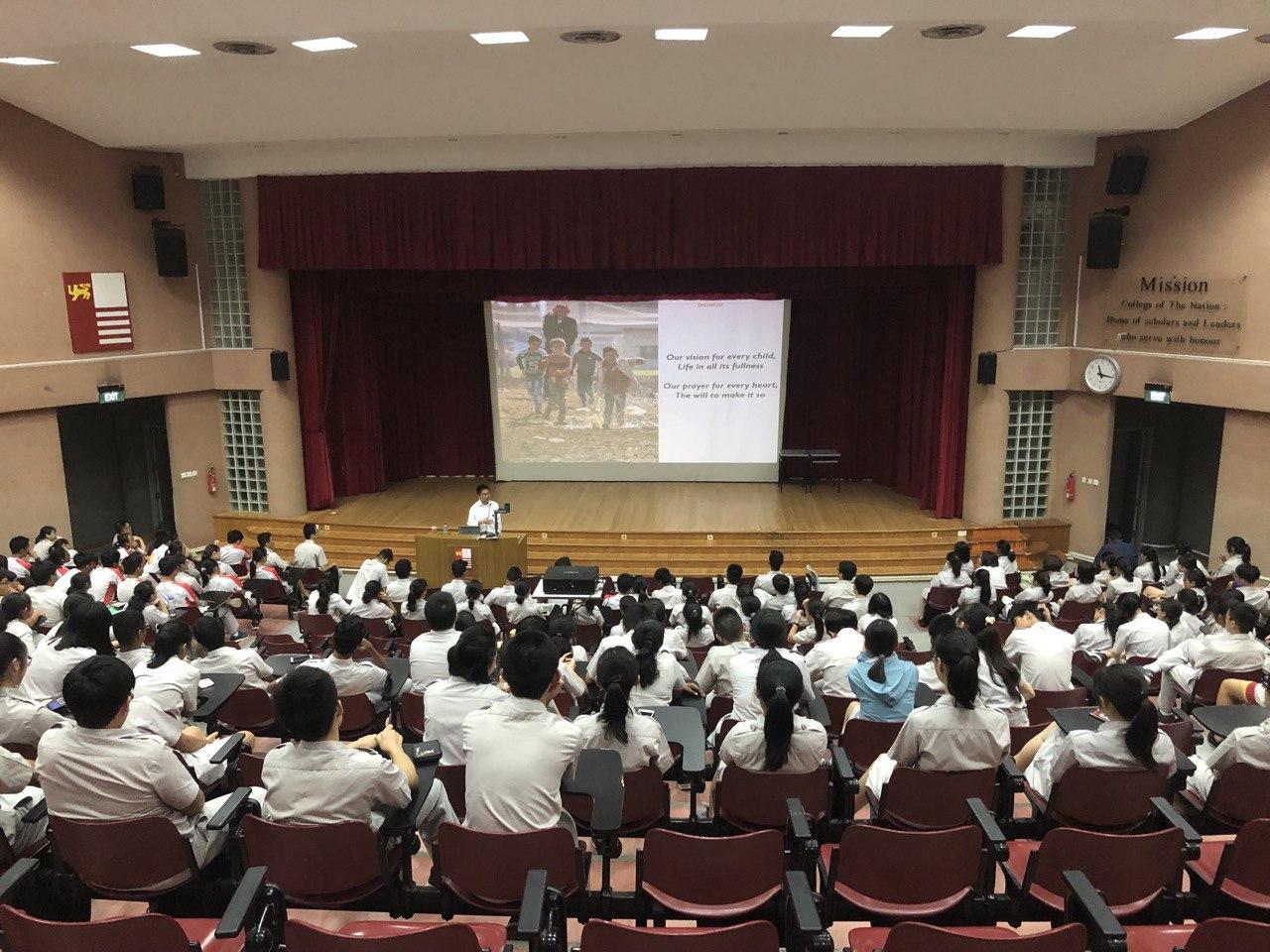 World Vision was invited to share more about our work and the needs in Taikkyi to the Secondary 4 cohort. 
Two big problems World Vision was trying to help Taikkyi tackle was child protection concerns, and education. Since both of these issues dealt with children, we felt extremely empathetic towards them, as here we were in Singapore living privileged lives, yet in Taikkyi, the children do not even have proper safety. These issues resonated with us, and thus we wanted to help them in any way we could, to allow these children to receive better education, better healthcare, and be given more opportunities in life.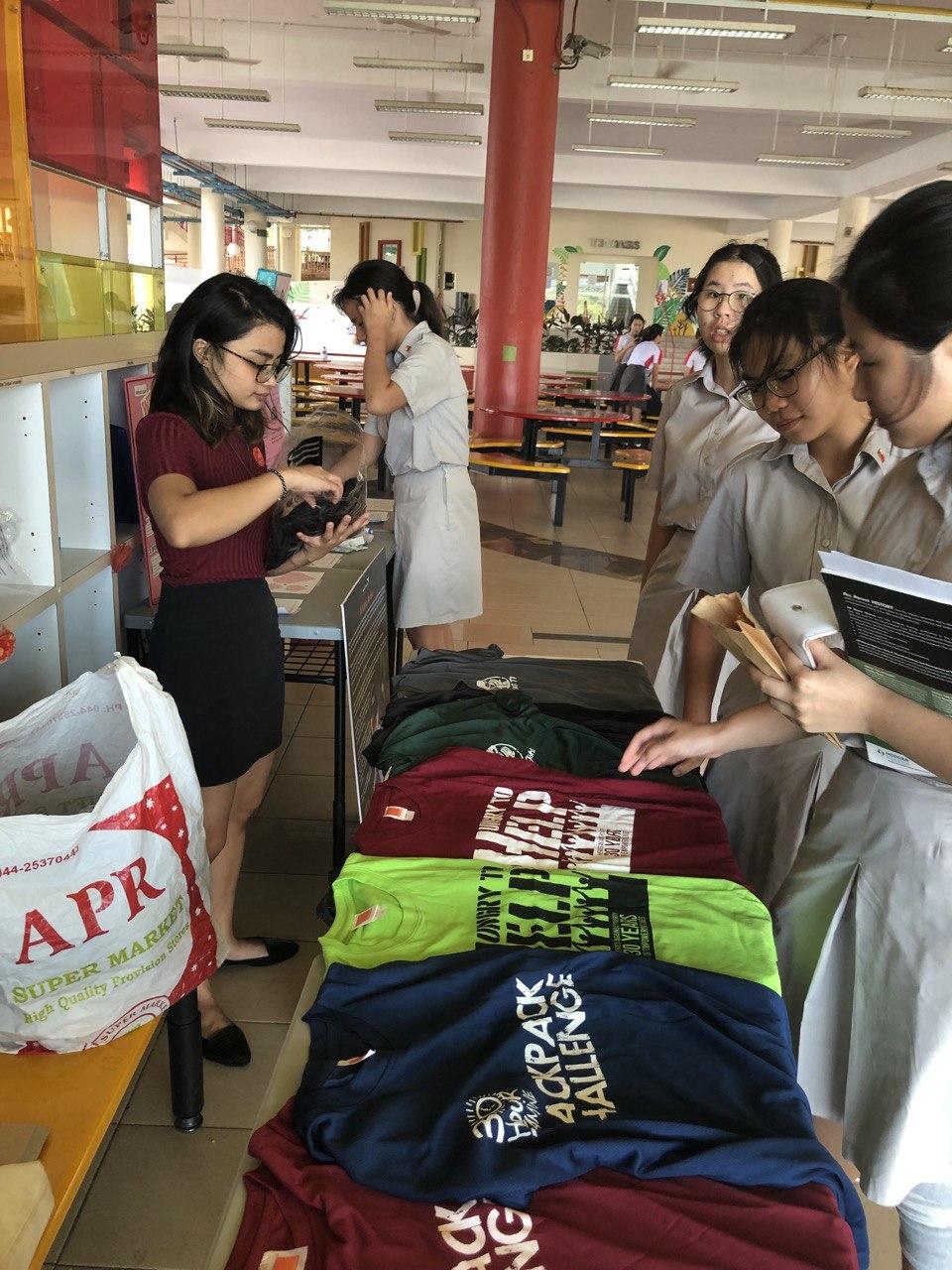 We sold past 30 Hour Famine Camp t-shirts at the canteen to raise funds for Taikkyi!
Naturally, we chose to implement some fundraising to help fund programmes in Taikkyi to tackle education and child protection concerns. As World Vision had a large stock of shirts from their past 30 Hour Famine Camps, we decided to sell them to students and staff at our school to raise funds To spread more awareness about the issues in Taikkyi, we made posters to share more about these issues, to encourage students to put in their own effort in this cause. The posters also provided ways for students to support our cause, or to help other less developed countries who are facing similar issues, such as volunteering at World Vision events or sponsoring a child. Short meaningful messages can go a long way. To encourage the children in Taikkyi to continue fighting and live happily, we decided to let the students in NJC write letters to the children on origami hearts, which represented our care and encouragement to them. We hope that the hearts could serve as a lifeline while they are going through difficult times.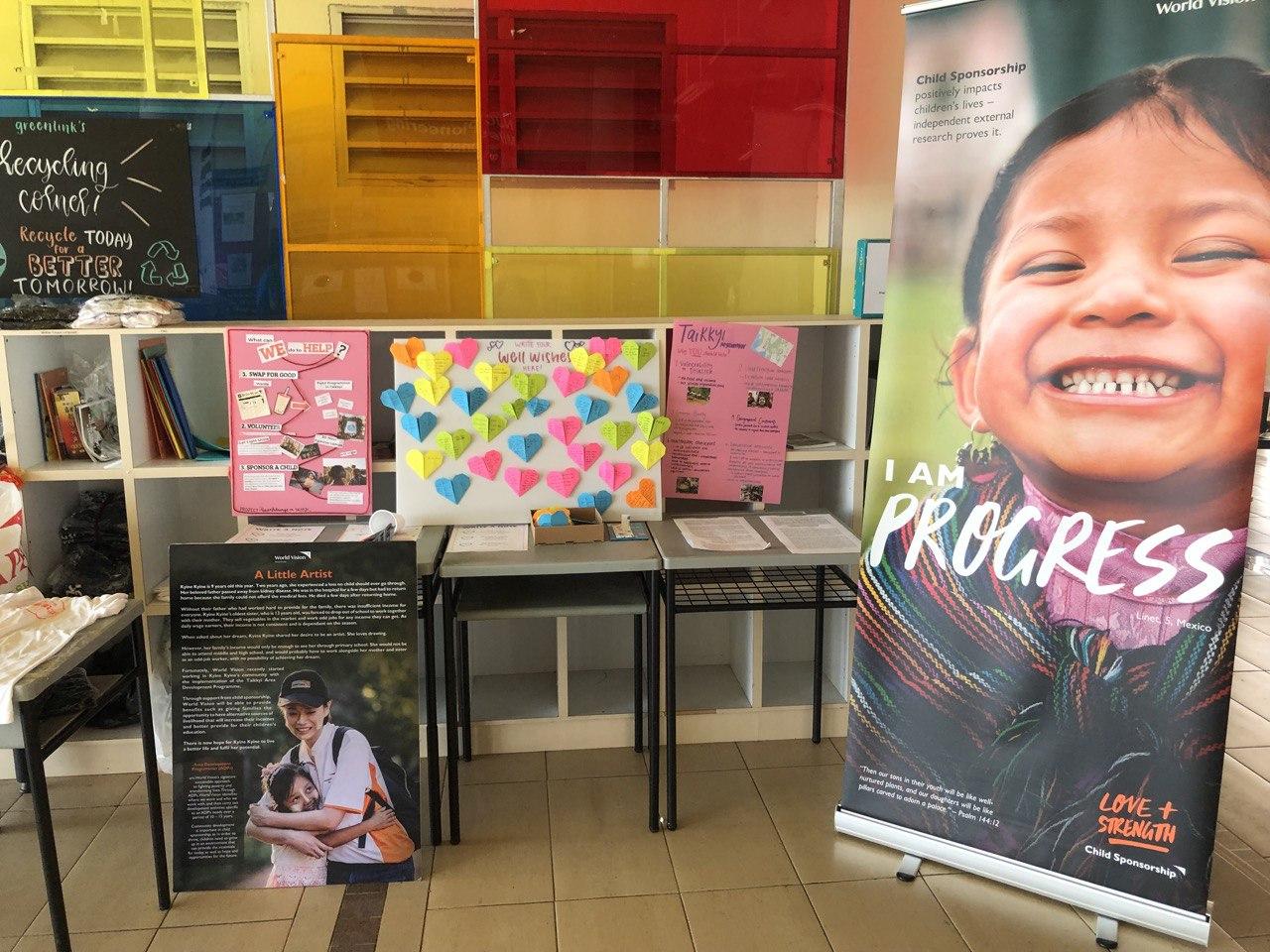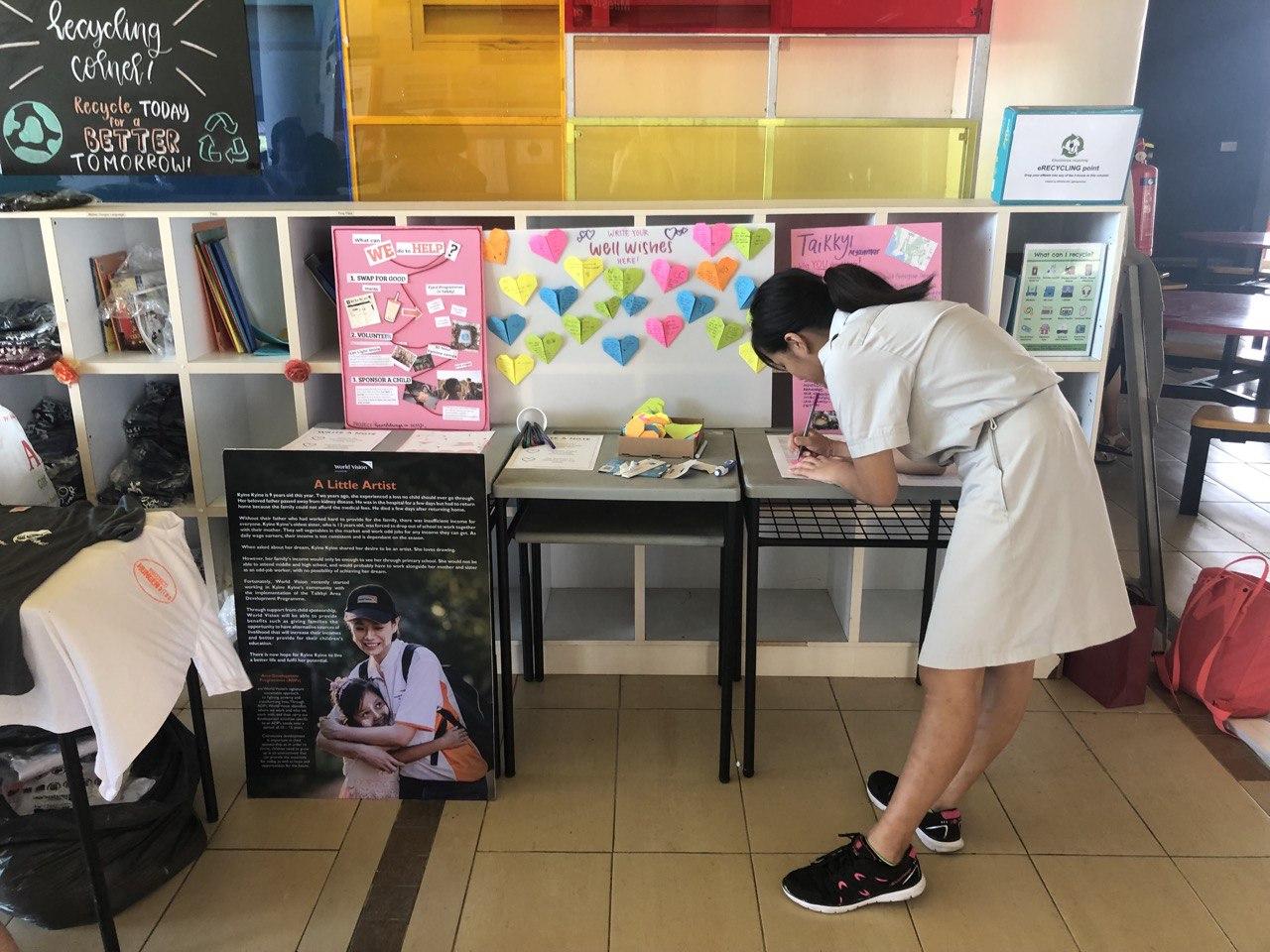 A photo of our exhibition area (LEFT) and Joyce penning her letter of encouragement to a child in Taikkyi (RIGHT). 
A few of us went for the 30 Hour Famine Camp organised by World Vision and we all greatly enjoyed it and found it very meaningful. Seeing the communities we are trying to benefit come to life, and experience what it is like to live in their shoes, it only strengthened our passion to help these beneficiaries in all ways we can, and to continue fighting for this cause. It was through this camp that gave us the idea to write hearts of encouragement to the children. During the camp, we were put into a scenario where we had to try and keep as many members in our "family" alive as possible despite facing natural disasters and an unstable lack of income. Though it is already a very scaled down version of what they experience on a daily basis, it was still not easy, and at times we really needed some moral encouragement to keep facing the challenges in order to earn money and resources to survive, all while being on an empty stomach. We sincerely hope that through our hearts that we give to these children, it will encourage them to keep on pushing and fighting, no matter how difficult situations get.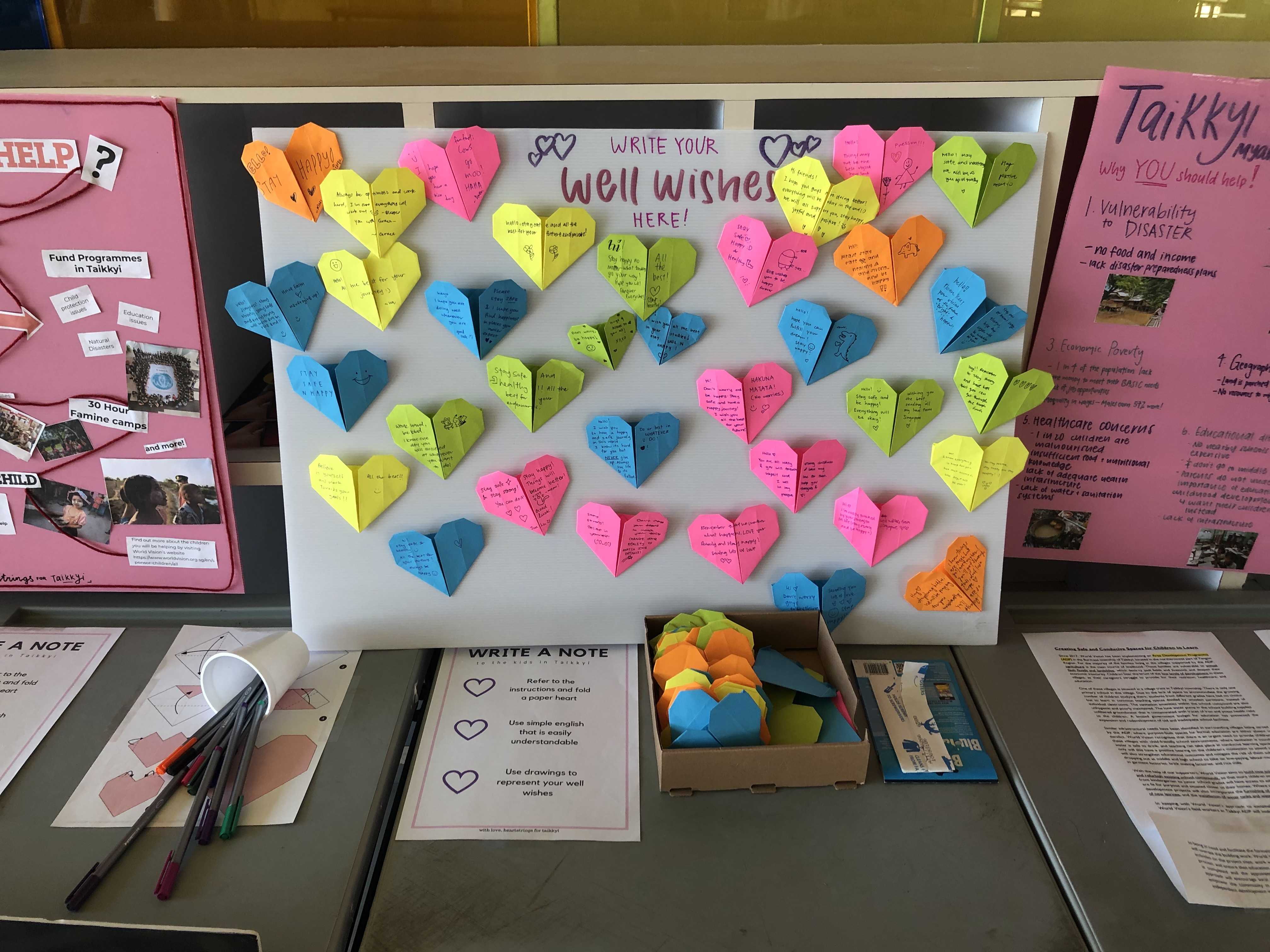 The notes of encouragement that our peers wrote and folded into hearts for the children in Taikkyi.
Through this fundraising, we were able to understand more about the difficulties faced by organisations when attempting to raise funds. Initially, we thought that many will be willing to donate and buy our shirts, but we soon realised that it was not as easy as we thought. However, we were heartened to see many students putting in a lot of effort into writing cards and reading more about the stories of kids in Taikkyi. This fundraising also gave us the opportunity to share more about our cause, spreading awareness about these issues around the world. This fundraising has been a meaningful one, and we hope that we can organise more events like this in the future for students to have a realistic exposure to what children in Taikkyi, Myanmar and other less developed countries go through, and gain a deeper, more thorough understanding of the lives of these children. This will hopefully encourage others to support our cause, and try and help these communities as well. We would like to sincerely thank World Vision for all their support and hard work throughout this treacherous journey. We met many obstacles in the way, but despite all that, they continued to support us, and find different ways for us to contribute to the cause. Our project wouldn't have succeeded without them. Once again, thank you World Vision.
Written By:
Joyce Goh, Ker Jun Sheng, Vernice Teo, Allysa Tan and Xavier Cheah